Get the 2021 latest RackNerd Promo Codes / discount Coupon Codes and RackNerd review for their hosting plans located in LA and other datacenters. RackNerd LLC is a premium provider of Dedicated Servers, Colocation, VPS hosting, and shared hosting with decades of experience in managed services, data center operations, and Infrastructure-as-a-Service.

Overall RackNerd Review
Hosting Service: AMD Ryzen 3900X KVM VPS, Dedicated Server, Shared Hosting
Datacenter Location: Los Angeles, Utah, Dallas, New York, New Jersey, Seattle, Montreal, Chicago, San Jose, Atlanta, Tampa, Ashburn, USA | London, UK | Amsterdam, Netherlands
Payment Methods: PayPal, Bitcoin and Crypto Currency, Credit Cards
Refund Policy: Refunds are issued on a case-by-case basis since by default no refunds are provided once payment is received.
Network Uptime: 100% guarantee on uptime.
Customer Service: Email / Telephone number / Ticket system!
TOS: Only legal contents allowed, include Adult content.
RackNerd Promo Coupon Codes 2022
| | |
| --- | --- |
| 15OFFDEDI | Get 15% OFF for life on all dedicated servers |
RackNerd 2022-7 VPS Speical Offer
Racknerd July specials. Below are available to deploy out of our Seattle datacenter location.
Labor Day Promo - 3GB KVM
3x vCPU Core
45 GB SSD Cached RAID-10 Storage
3 GB RAM
6500GB Monthly Premium Bandwidth
1Gbps Public Network Port
Full Root Admin Access
1 Dedicated IPv4 Address
KVM / SolusVM Control Panel - Reboot, Reinstall, Manage rDNS, & much more
LOCATION: Los Angeles
JUST $24.28/YEAR or $47.06/2 YEARS
INSTANTLY DEPLOYED: https://my.racknerd.com/cart.php?a=add&pid=199
---
512 MB KVM VPS (New Year 2022)
1x vCPU Core
10 GB PURE SSD RAID-10 Storage
512 MB RAM
1000GB Monthly Premium Bandwidth
1Gbps Public Network Port
Full Root Admin Access
1 Dedicated IPv4 Address
KVM / SolusVM Control Panel - Reboot, Reinstall, Manage rDNS, & much more
Available in Multiple Locations
JUST $9.89/YEAR - WOW!!
INSTANTLY DEPLOYED: https://my.racknerd.com/cart.php?a=add&pid=620
---
768 MB KVM VPS Special (CNY)
1x vCPU Core
13 GB PURE SSD RAID-10 Storage
768 MB RAM
1000GB Monthly Premium Bandwidth
1Gbps Public Network Port
Full Root Admin Access
1 Dedicated IPv4 Address
KVM / SolusVM Control Panel - Reboot, Reinstall, Manage rDNS, & much more
Available in Multiple Locations
JUST $10.88/YEAR - WOW!!
(Limit Max. 2 Per Customer)
INSTANTLY DEPLOYED: https://my.racknerd.com/cart.php?a=add&pid=632
---
1 GB KVM VPS Special (San Jose Location)
1x vCPU Core
12 GB PURE SSD RAID-10 Storage
1 GB RAM
1000GB Monthly Premium Bandwidth
1Gbps Public Network Port
Full Root Admin Access
1 Dedicated IPv4 Address
KVM / SolusVM Control Panel - Reboot, Reinstall, Manage rDNS, & much more
Available in San Jose Datacenter
JUST $11.88/YEAR - WOW!!
INSTANTLY DEPLOYED: https://my.racknerd.com/cart.php?a=add&pid=648
---
1 GB KVM VPS (New Year 2022)
1x vCPU Core
20 GB PURE SSD RAID-10 Storage
1 GB RAM
2000GB Monthly Premium Bandwidth
1Gbps Public Network Port
Full Root Admin Access
1 Dedicated IPv4 Address
KVM / SolusVM Control Panel - Reboot, Reinstall, Manage rDNS, & much more
Available in Multiple Locations
JUST $13.98/YEAR - WOW!!
INSTANTLY DEPLOYED: https://my.racknerd.com/cart.php?a=add&pid=621
---
1GB KVM VPS
1x vCPU Core
25 GB PURE SSD RAID-10 Storage
1 GB RAM
4000GB Monthly Premium Bandwidth
1Gbps Public Network Port
Full Root Admin Access
1 Dedicated IPv4 Address
KVM / SolusVM Control Panel - Reboot, Reinstall, Manage rDNS, & much more
Available in Multiple Locations
JUST $14.88/YEAR - WOW!!
INSTANTLY DEPLOYED: https://my.racknerd.com/cart.php?a=add&pid=588
---
2 GB KVM VPS Special (San Jose Location)
1x vCPU Core
25 GB PURE SSD RAID-10 Storage
2 GB RAM
3000GB Monthly Premium Bandwidth
1Gbps Public Network Port
Full Root Admin Access
1 Dedicated IPv4 Address
KVM / SolusVM Control Panel - Reboot, Reinstall, Manage rDNS, & much more
Available in San Jose Datacenter
JUST $17.88/YEAR - WOW!!
INSTANTLY DEPLOYED: https://my.racknerd.com/cart.php?a=add&pid=649
---
LEB New Website Special - 1.5GB KVM
2x vCPU Core
20 GB SSD Cached RAID-10 Storage
1.5 GB RAM
4000GB Monthly Premium Bandwidth
1Gbps Public Network Port
Full Root Admin Access
1 Dedicated IPv4 Address
KVM / SolusVM Control Panel - Reboot, Reinstall, Manage rDNS, & much more
LOCATION: Available in Multiple Locations
JUST $16.55/YEAR - WOW!!
INSTANTLY DEPLOYED: https://my.racknerd.com/cart.php?a=add&pid=135
RackNerd AMD RYZEN VPS Offer
RAM
CPU(AMD Ryzen 3900X)
NVMe SSD
Bandwidth
IPv4
Pricing
Location
Order
512 MB
1
10 GB
2000 GB @ 1Gbps
1
$14.18 /year
Dallas | Atlanda
ORDER NOW
1 GB
1
15 GB
2000 GB @ 1Gbps
1
$21.49 /year
Dallas | Atlanda
ORDER NOW
1 GB
1
24 GB
2500 GB @ 1Gbps
1
$18.18 /year
Dallas | Atlanda
ORDER NOW
1 GB
1
15 GB
3000 GB @ 1Gbps
1
$30.88 /year
plus LA DC-02
ORDER NOW
1.5 GB
1
20 GB
3000 GB @ 1Gbps
1
$27.49 /year
Dallas | Atlanda
ORDER NOW
2 GB
2
38 GB
4000 GB @ 1Gbps
1
$31.88 /year
Dallas | Atlanda
ORDER NOW
2.5 GB
2
40 GB
5000 GB @ 1Gbps
1
$39.95 /year
Dallas | Atlanda
ORDER NOW
3 GB
2
55 GB
5000 GB @ 1Gbps
1
$48.79 /year
Dallas | Atlanda
ORDER NOW
4 GB
2
55 GB
8000 GB @ 1Gbps
1
$64.00 /year
Dallas | Atlanda
ORDER NOW
RackNerd Intel KVM VPS with PURE SSD
RAM
CPU
SSD RAID-10
Bandwidth
IPv4
Pricing
Order
768 MB
1
12 GB
2000 GB @ 1Gbps
1
$9.49 /year
ORDER NOW
2.5 GB
2
45 GB
5000 GB @ 1Gbps
1
$21.50 /year
ORDER NOW
3 GB
3
80 GB
10000 GB @ 1Gbps
1
$35.49 /year
ORDER NOW
Ping IP "204.13.154.3" From Texas, USA:

Starting PING to: 204.13.154.3	0.00s
$] ping -O -v -c8 -i0.2 -W5 204.13.154.3

PING 204.13.154.3 (204.13.154.3) 56(84) bytes of data.	0.00s
64 bytes from 204.13.154.3: icmp_seq=1 ttl=50 time=73.5 ms	
64 bytes from 204.13.154.3: icmp_seq=2 ttl=50 time=73.9 ms	0.28s
64 bytes from 204.13.154.3: icmp_seq=3 ttl=50 time=73.6 ms	0.48s
64 bytes from 204.13.154.3: icmp_seq=4 ttl=50 time=73.6 ms	0.68s
64 bytes from 204.13.154.3: icmp_seq=5 ttl=50 time=73.5 ms	0.88s
64 bytes from 204.13.154.3: icmp_seq=6 ttl=50 time=73.6 ms	1.08s
64 bytes from 204.13.154.3: icmp_seq=7 ttl=50 time=73.7 ms	1.28s
64 bytes from 204.13.154.3: icmp_seq=8 ttl=50 time=73.5 ms	1.48s
--- 204.13.154.3 ping statistics ---	
8 packets transmitted, 8 received, 0% packet loss, time 404ms	
rtt min/avg/max/mdev = 73.455/73.595/73.922/0.274 ms	
Ping complete
RackNerd Reviews: Benchmark Data
Racknerd free RYZEN NVMe - 1 GB Ryzen KVM VPS

---------------------------------------------------------------------------
 OS           : Ubuntu 20.04.3 LTS (64 Bit)
 Virt/Kernel  : KVM / 5.4.0-28-generic
 CPU Model    : AMD Ryzen 9 3900X 12-Core Processor
 CPU Cores    : 1 @ 3792.872 MHz x86_64 512 KB Cache
 CPU Flags    : AES-NI Enabled & VM-x/AMD-V Disabled
 Load Average : 0.12, 0.03, 0.01
 Total Space  : 23G (4.4G ~21% used)
 Total RAM    : 981 MB (78 MB + 145 MB Buff in use)
 Total SWAP   : 1023 MB (2 MB in use)
 Uptime       : 0 days 6:35
---------------------------------------------------------------------------
 ASN & ISP    : AS36352, ColoCrossing
 Organization : ColoCrossing
 Location     : Atlanta, United States / US
 Region       : Georgia
---------------------------------------------------------------------------

 ## Geekbench v4 CPU Benchmark:

  Single Core : 5611  (EXCELLENT)
   Multi Core : 5318

 ## IO Test

 CPU Speed:
    bzip2     : 137 MB/s
   sha256     : 290 MB/s
   md5sum     : 653 MB/s

 RAM Speed:
   Avg. write : 3276.8 MB/s
   Avg. read  : 10205.9 MB/s

 Disk Speed:
   1st run    : 1.6 GB/s
   2nd run    : 1.6 GB/s
   3rd run    : 1.6 GB/s
   -----------------------
   Average    : 1638.4 MB/s

 ## Asia Speedtest.net

 Location                         Upload           Download         Ping
---------------------------------------------------------------------------
 Nearby                           482.14 Mbit/s    371.60 Mbit/s    30.774 ms
---------------------------------------------------------------------------
 India, New Delhi (Weebo)         13.42 Mbit/s     108.83 Mbit/s   254.416 ms
 India, Bengaluru (I-ON)          24.69 Mbit/s     19.92 Mbit/s    219.302 ms
 Sri Lanka, Colombo (Telecom PLC) 5.11 Mbit/s      1.15 Mbit/s     319.702 ms
 Pakistan, Islamabad (Telenor)    13.12 Mbit/s     73.60 Mbit/s    282.490 ms
 Mongolia, Ulaanbaatar (Mobicom)  20.90 Mbit/s     31.43 Mbit/s    229.143 ms
 Bangladesh, Dhaka (Skytel)       19.67 Mbit/s     49.10 Mbit/s    252.564 ms
 Bhutan, Thimphu (Bhutan Telecom) 31.35 Mbit/s     76.52 Mbit/s    269.798 ms
 Myanmar, Mandalay (Ooredoo)      24.98 Mbit/s     78.65 Mbit/s    275.911 ms
 Laos, Vientaine (Mangkone)       38.25 Mbit/s     105.34 Mbit/s   251.366 ms
 Thailand, Bangkok (CAT Telecom)  48.42 Mbit/s     87.40 Mbit/s    237.080 ms
 Cambodia, Phnom Penh (Smart)     27.99 Mbit/s     62.66 Mbit/s    254.317 ms
 Vietnam, Hanoi (Viettel)         6.51 Mbit/s      53.37 Mbit/s    245.564 ms
 Malaysia, Kuala Lumpur (Extreme) 44.81 Mbit/s     122.45 Mbit/s   224.061 ms
 Singapore (PT FirstMedia)        19.77 Mbit/s     16.16 Mbit/s    253.361 ms
 Indonesia, Jakarta (Desnet)      31.59 Mbit/s     37.30 Mbit/s    224.885 ms
 Philippines, Manila (Globe Tel)  45.38 Mbit/s     13.66 Mbit/s    200.467 ms
 Hong Kong (fdcservers)           67.55 Mbit/s     173.32 Mbit/s   198.153 ms
 Taiwan, Taipei (TAIFO)           9.71 Mbit/s      55.78 Mbit/s    175.496 ms
 Japan, Tsukuba (SoftEther)       74.90 Mbit/s     126.02 Mbit/s   157.856 ms
---------------------------------------------------------------------------

 Finished in : 13 min 13 sec
 Timestamp   : 2021-09-09 04:48:36 GMT
 Saved in    : /root/speedtest.log

 Share results:
 - https://www.speedtest.net/result/12007277845.png
 - https://browser.geekbench.com/v4/cpu/16337715
 - https://clbin.com/1KmAO

[RYZEN-NVMe] 2.5 GB Ryzen KVM VPS

# ## ## ## ## ## ## ## ## ## ## ## ## ## ## ## ## ## #
#              Yet-Another-Bench-Script              #
#                     v2020-12-29                    #
# https://github.com/masonr/yet-another-bench-script #
# ## ## ## ## ## ## ## ## ## ## ## ## ## ## ## ## ## #

Basic System Information:
---------------------------------
Processor  : AMD Ryzen 9 3900X 12-Core Processor
CPU cores  : 2 @ 3792.874 MHz
AES-NI     : ✔ Enabled
VM-x/AMD-V : ✔ Enabled
RAM        : 2.4 GiB
Swap       : 2.5 GiB
Disk       : 36.9 GiB

fio Disk Speed Tests (Mixed R/W 50/50):
---------------------------------
Block Size | 4k            (IOPS) | 64k           (IOPS)
  ------   | ---            ----  | ----           ---- 
Read       | 410.42 MB/s (102.6k) | 1.72 GB/s    (26.9k)
Write      | 411.50 MB/s (102.8k) | 1.73 GB/s    (27.1k)
Total      | 821.92 MB/s (205.4k) | 3.46 GB/s    (54.0k)
           |                      |                     
Block Size | 512k          (IOPS) | 1m            (IOPS)
  ------   | ---            ----  | ----           ---- 
Read       | 1.66 GB/s     (3.2k) | 1.64 GB/s     (1.6k)
Write      | 1.75 GB/s     (3.4k) | 1.75 GB/s     (1.7k)
Total      | 3.42 GB/s     (6.6k) | 3.40 GB/s     (3.3k)

iperf3 Network Speed Tests (IPv4):
---------------------------------
Provider        | Location (Link)           | Send Speed      | Recv Speed     
                |                           |                 |                
Clouvider       | London, UK (10G)          | 180 Mbits/sec   | 339 Mbits/sec  
Online.net      | Paris, FR (10G)           | 118 Mbits/sec   | 225 Mbits/sec  
WorldStream     | The Netherlands (10G)     | 358 Mbits/sec   | 425 Mbits/sec  
Biznet          | Jakarta, Indonesia (1G)   | 456 Mbits/sec   | 58.9 Mbits/sec 
Clouvider       | NYC, NY, US (10G)         | 321 Mbits/sec   | 612 Mbits/sec  
Velocity Online | Tallahassee, FL, US (10G) | 173 Mbits/sec   | 571 Mbits/sec  
Clouvider       | Los Angeles, CA, US (10G) | 824 Mbits/sec   | 833 Mbits/sec  
Iveloz Telecom  | Sao Paulo, BR (2G)        | 147 Mbits/sec   | 189 Mbits/sec  

Geekbench 5 Benchmark Test:
---------------------------------
Test            | Value                         
                |                               
Single Core     | 1278                          
Multi Core      | 2404                          
Full Test       | https://browser.geekbench.com/v5/cpu/7532793

[RYZEN-NVMe] 1.5 GB Ryzen KVM VPS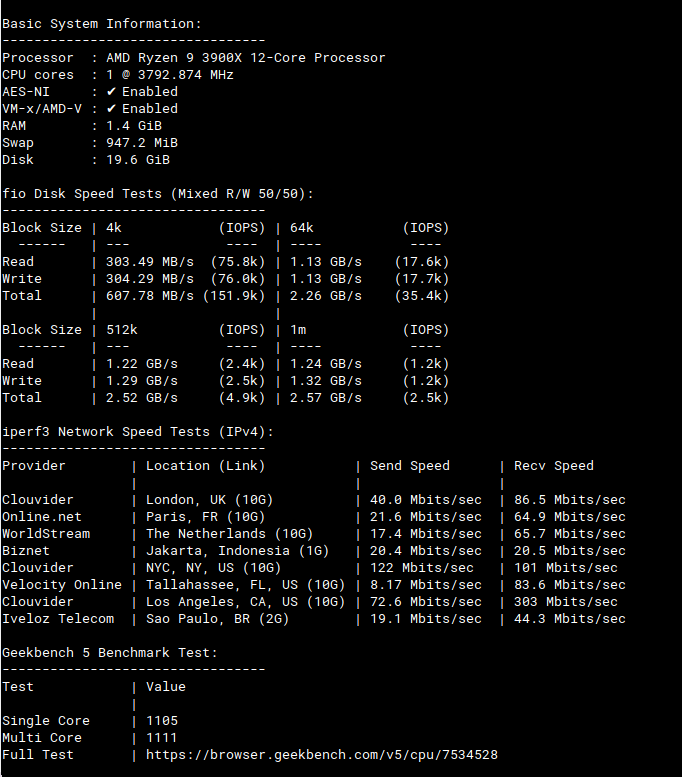 Another Ryzen NVMe KVM VPS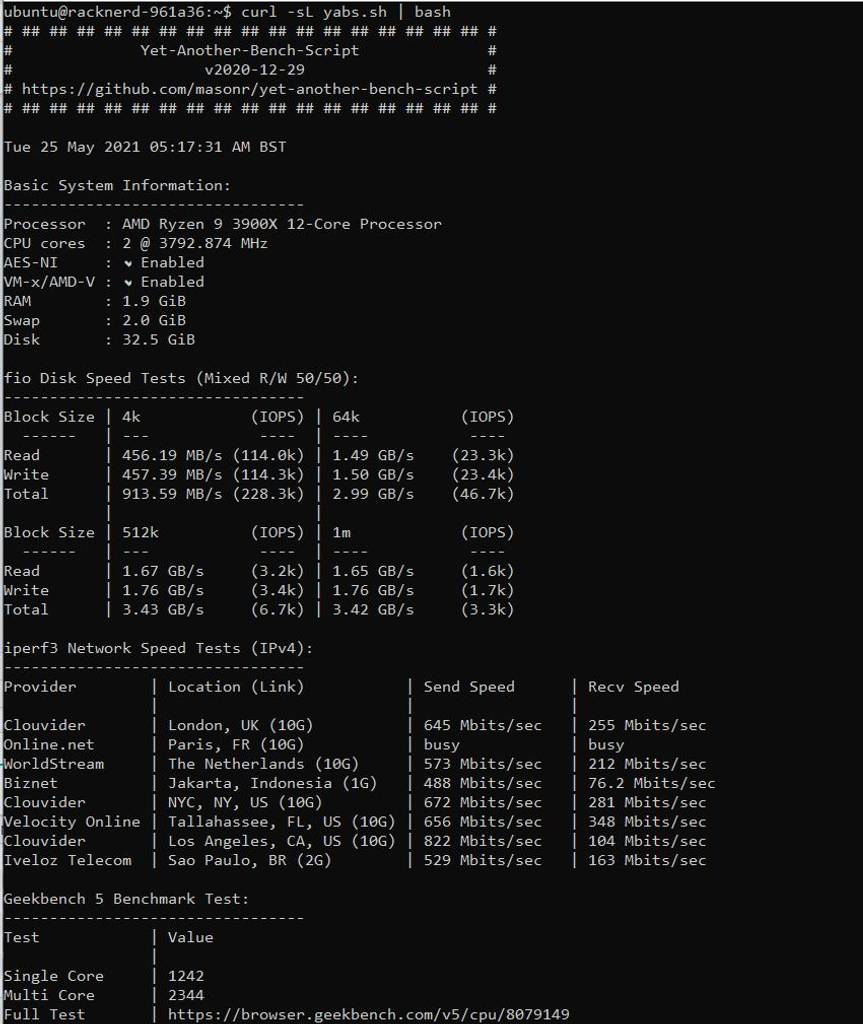 3Core 3.5GB RAM Tested with Bench.sh (Not in special offers)
----------------------------------------------------------------------
CPU model            : Intel(R) Xeon(R) CPU E5-2690 v3 @ 2.60GHz
Number of cores      : 3
CPU frequency        : 2599.996 MHz
Total size of Disk   : 41.2 GB (2.4 GB Used)
Total amount of Mem  : 3440 MB (102 MB Used)
Total amount of Swap : 3583 MB (0 MB Used)
System uptime        : 0 days, 0 hour 19 min
Load average         : 0.00, 0.04, 0.04
OS                   : Ubuntu 18.04.1 LTS
Arch                 : x86_64 (64 Bit)
Kernel               : 4.15.0-38-generic
----------------------------------------------------------------------
I/O speed(1st run)   : 227 MB/s
I/O speed(2nd run)   : 279 MB/s
I/O speed(3rd run)   : 300 MB/s
Average I/O speed    : 268.7 MB/s
----------------------------------------------------------------------
Node Name                       IPv4 address            Download Speed
CacheFly                        205.234.175.175         83.8MB/s      
Linode, Tokyo2, JP              139.162.65.37           5.31MB/s      
Linode, Singapore, SG           139.162.23.4            2.29MB/s      
Linode, London, UK              176.58.107.39           1.65MB/s      
Linode, Frankfurt, DE           139.162.130.8           1004KB/s      
Linode, Fremont, CA             50.116.14.9             16.1MB/s      
Softlayer, Dallas, TX           173.192.68.18           10.1MB/s      
Softlayer, Seattle, WA          67.228.112.250          10.7MB/s      
Softlayer, Frankfurt, DE        159.122.69.4            2.31MB/s      
Softlayer, Singapore, SG        119.81.28.170           2.57MB/s      
Softlayer, HongKong, CN         119.81.130.170          4.31MB/s      
----------------------------------------------------------------------

2GB KVM VPS Special Tested with unixBench (Special offers)

========================================================================
   BYTE UNIX Benchmarks (Version 5.1.3)

   System: racknerd-05675a: GNU/Linux
   OS: GNU/Linux -- 4.14.168-bbrplus -- #1 SMP Wed Jan 29 15:44:04 CST 2020
   Machine: x86_64 (unknown)
   Language: en_US.utf8 (charmap="UTF-8", collate="UTF-8")
   CPU 0: Intel(R) Xeon(R) CPU E5-2680 v2 @ 2.80GHz (5600.0 bogomips)
          x86-64, MMX, Physical Address Ext, SYSENTER/SYSEXIT, SYSCALL/SYSRET
   CPU 1: Intel(R) Xeon(R) CPU E5-2680 v2 @ 2.80GHz (5600.0 bogomips)
          x86-64, MMX, Physical Address Ext, SYSENTER/SYSEXIT, SYSCALL/SYSRET
   14:04:36 up 1 day, 58 min,  2 users,  load average: 0.08, 0.05, 0.01; runlevel 5

------------------------------------------------------------------------
Benchmark Run: Sat Nov 07 2020 14:04:36 - 14:32:35
2 CPUs in system; running 1 parallel copy of tests

Dhrystone 2 using register variables       34066331.5 lps   (10.0 s, 7 samples)
Double-Precision Whetstone                     5145.4 MWIPS (9.4 s, 7 samples)
Execl Throughput                               3148.6 lps   (30.0 s, 2 samples)
File Copy 1024 bufsize 2000 maxblocks        470021.3 KBps  (30.0 s, 2 samples)
File Copy 256 bufsize 500 maxblocks          123168.0 KBps  (30.0 s, 2 samples)
File Copy 4096 bufsize 8000 maxblocks       1195766.9 KBps  (30.0 s, 2 samples)
Pipe Throughput                              703322.8 lps   (10.0 s, 7 samples)
Pipe-based Context Switching                  85269.8 lps   (10.0 s, 7 samples)
Process Creation                               5454.3 lps   (30.0 s, 2 samples)
Shell Scripts (1 concurrent)                   7695.8 lpm   (60.0 s, 2 samples)
Shell Scripts (8 concurrent)                   1547.1 lpm   (60.0 s, 2 samples)
System Call Overhead                         403563.3 lps   (10.0 s, 7 samples)

System Benchmarks Index Values               BASELINE       RESULT    INDEX
Dhrystone 2 using register variables         116700.0   34066331.5   2919.1
Double-Precision Whetstone                       55.0       5145.4    935.5
Execl Throughput                                 43.0       3148.6    732.2
File Copy 1024 bufsize 2000 maxblocks          3960.0     470021.3   1186.9
File Copy 256 bufsize 500 maxblocks            1655.0     123168.0    744.2
File Copy 4096 bufsize 8000 maxblocks          5800.0    1195766.9   2061.7
Pipe Throughput                               12440.0     703322.8    565.4
Pipe-based Context Switching                   4000.0      85269.8    213.2
Process Creation                                126.0       5454.3    432.9
Shell Scripts (1 concurrent)                     42.4       7695.8   1815.1
Shell Scripts (8 concurrent)                      6.0       1547.1   2578.6
System Call Overhead                          15000.0     403563.3    269.0
                                                                   ========
System Benchmarks Index Score                                         887.6

------------------------------------------------------------------------
Benchmark Run: Sat Nov 07 2020 14:32:35 - 15:00:38
2 CPUs in system; running 2 parallel copies of tests

Dhrystone 2 using register variables       67556435.3 lps   (10.0 s, 7 samples)
Double-Precision Whetstone                    10361.0 MWIPS (9.4 s, 7 samples)
Execl Throughput                               6088.6 lps   (30.0 s, 2 samples)
File Copy 1024 bufsize 2000 maxblocks        823501.4 KBps  (30.0 s, 2 samples)
File Copy 256 bufsize 500 maxblocks          213173.9 KBps  (30.0 s, 2 samples)
File Copy 4096 bufsize 8000 maxblocks       2395331.5 KBps  (30.0 s, 2 samples)
Pipe Throughput                             1405793.0 lps   (10.0 s, 7 samples)
Pipe-based Context Switching                 272479.1 lps   (10.0 s, 7 samples)
Process Creation                               9710.7 lps   (30.0 s, 2 samples)
Shell Scripts (1 concurrent)                  11037.9 lpm   (60.0 s, 2 samples)
Shell Scripts (8 concurrent)                   1644.9 lpm   (60.1 s, 2 samples)
System Call Overhead                         784962.7 lps   (10.0 s, 7 samples)

System Benchmarks Index Values               BASELINE       RESULT    INDEX
Dhrystone 2 using register variables         116700.0   67556435.3   5788.9
Double-Precision Whetstone                       55.0      10361.0   1883.8
Execl Throughput                                 43.0       6088.6   1416.0
File Copy 1024 bufsize 2000 maxblocks          3960.0     823501.4   2079.5
File Copy 256 bufsize 500 maxblocks            1655.0     213173.9   1288.1
File Copy 4096 bufsize 8000 maxblocks          5800.0    2395331.5   4129.9
Pipe Throughput                               12440.0    1405793.0   1130.1
Pipe-based Context Switching                   4000.0     272479.1    681.2
Process Creation                                126.0       9710.7    770.7
Shell Scripts (1 concurrent)                     42.4      11037.9   2603.3
Shell Scripts (8 concurrent)                      6.0       1644.9   2741.6
System Call Overhead                          15000.0     784962.7    523.3
                                                                   ========
System Benchmarks Index Score                                        1640.0



======= Script description and score comparison completed! =======