PacificRack was founded in 2007 a sub-brand of QuadraNet, and QuadraNet was originally formed in 2001 as a telecommunications provider in Los Angeles and the surrounding areas. PacificRack specializes in providing high-performance KVM SSD VPS and Hybrid servers at extremely low prices. PacificRack provides a low latency network backed by hundreds of backbones, including Asia-Optimized network. PacificRack datacenter has the tools needed to guarantee your software and information is both secure and running flawlessly. Security and efficiency are pivotal in our modern technological era, and having professional, powerful hardware at one's disposal is often what draws the line between a thriving business and a lagging operation.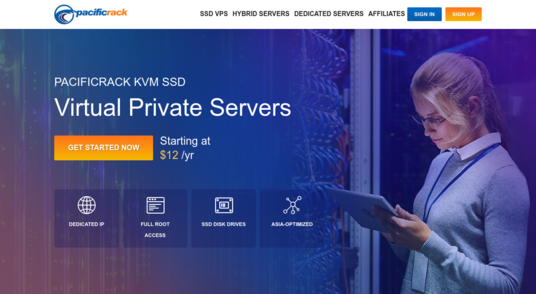 PacificRack Promo Coupon Code
| | |
| --- | --- |
| LEB | Get Free Setup One Time Discount |
PacificRack Promotion VPS Offers
This offer is in LA and only for Annual contract. The hardware of the node looks pretty nice: KVM on Virtualizor riding on E5-2620 v2 or v4 with SSD RAID 10. The price is at 1GB of RAM per dollar per month. The 4GB and 8GB plans also provide the Quarterly discount!


1GB KVM VPS

____

1GB RAM

1GB Swap

1 x CPU Cores

20GB SSD

1 IPv4

1TB @ 100Mbps

KVM/Virtualizor

____

2GB KVM VPS

____

2GB RAM

2GB Swap

2 x CPU Cores

40GB SSD

1 IPv4

2TB @ 100Mbps

KVM/Virtualizor

____

4GB KVM VPS

____

4GB RAM

4GB Swap

4 x CPU Cores

80GB SSD

1 IPv4

4TB @ 100Mbps

KVM/Virtualizor

____

8GB KVM VPS

____

8GB RAM

8GB Swap

8 x CPU Cores

160GB SSD

1 IPv4

8TB @ 100Mbps

KVM/Virtualizor

____
Ping IP "204.152.218.25" From Texas, USA:

Starting PING to: 204.152.218.25	0.00s
$] ping -O -v -c8 -i0.2 -W5 204.152.218.25

PING 204.152.218.25 (204.152.218.25) 56(84) bytes of data.	0.00s
64 bytes from 204.152.218.25: icmp_seq=1 ttl=56 time=64.0 ms	
64 bytes from 204.152.218.25: icmp_seq=2 ttl=56 time=64.1 ms	0.27s
64 bytes from 204.152.218.25: icmp_seq=3 ttl=56 time=64.0 ms	0.47s
64 bytes from 204.152.218.25: icmp_seq=4 ttl=56 time=64.1 ms	0.67s
64 bytes from 204.152.218.25: icmp_seq=5 ttl=56 time=64.0 ms	0.87s
64 bytes from 204.152.218.25: icmp_seq=6 ttl=56 time=64.0 ms	1.07s
64 bytes from 204.152.218.25: icmp_seq=7 ttl=56 time=64.3 ms	1.27s
64 bytes from 204.152.218.25: icmp_seq=8 ttl=56 time=64.0 ms	1.47s
--- 204.152.218.25 ping statistics ---	
8 packets transmitted, 8 received, 0% packet loss, time 404ms	
rtt min/avg/max/mdev = 64.001/64.084/64.306/0.203 ms	
Ping complete
PacificRack Review Benchmark

----------------------------------------------------------------------
CPU model            : Intel(R) Xeon(R) CPU E5-2620 0 @ 2.00GHz
Number of cores      : 4
CPU frequency        : 2000.000 MHz
Total size of Disk   : 954.2 GB (1.2 GB Used)
Total amount of Mem  : 7752 MB (632 MB Used)
Total amount of Swap : 7871 MB (0 MB Used)
System uptime        : 0 days, 0 hour 43 min
Load average         : 0.00, 0.00, 0.00
OS                   : CentOS 6.10
Arch                 : x86_64 (64 Bit)
Kernel               : 2.6.32-754.el6.x86_64
----------------------------------------------------------------------
I/O speed(1st run)   : 480 MB/s
I/O speed(2nd run)   : 504 MB/s
I/O speed(3rd run)   : 581 MB/s
Average I/O speed    : 521.7 MB/s
----------------------------------------------------------------------
Node Name                       IPv4 address            Download Speed
CacheFly                        205.234.175.175         91.6MB/s
Linode, Tokyo2, JP              139.162.65.37           16.0MB/s
Linode, Singapore, SG           139.162.23.4            6.86MB/s
Linode, London, UK              176.58.107.39           8.63MB/s
Linode, Frankfurt, DE           139.162.130.8           6.97MB/s
Linode, Fremont, CA             50.116.14.9             84.0MB/s
Softlayer, Dallas, TX           173.192.68.18           44.4MB/s
Softlayer, Seattle, WA          67.228.112.250          48.5MB/s
Softlayer, Frankfurt, DE        159.122.69.4            9.29MB/s
Softlayer, Singapore, SG        119.81.28.170           7.74MB/s
Softlayer, HongKong, CN         119.81.130.170          8.89MB/s
----------------------------------------------------------------------
Benchmark Run: Sun Sep 06 2020 08:20:47 - 08:49:02
4 CPUs in system; running 4 parallel copies of tests

Dhrystone 2 using register variables      102694843.0 lps   (10.0 s, 7 samples)
Double-Precision Whetstone                    11019.8 MWIPS (9.9 s, 7 samples)
Execl Throughput                               9777.2 lps   (30.0 s, 2 samples)
File Copy 1024 bufsize 2000 maxblocks        571425.3 KBps  (30.0 s, 2 samples)
File Copy 256 bufsize 500 maxblocks          150283.6 KBps  (30.0 s, 2 samples)
File Copy 4096 bufsize 8000 maxblocks       1916749.3 KBps  (30.0 s, 2 samples)
Pipe Throughput                             1732379.9 lps   (10.0 s, 7 samples)
Pipe-based Context Switching                 504947.9 lps   (10.0 s, 7 samples)
Process Creation                              29622.5 lps   (30.0 s, 2 samples)
Shell Scripts (1 concurrent)                  12802.1 lpm   (60.0 s, 2 samples)
Shell Scripts (8 concurrent)                   1758.9 lpm   (60.1 s, 2 samples)
System Call Overhead                        1411842.3 lps   (10.0 s, 7 samples)

System Benchmarks Index Values               BASELINE       RESULT    INDEX
Dhrystone 2 using register variables         116700.0  102694843.0   8799.9
Double-Precision Whetstone                       55.0      11019.8   2003.6
Execl Throughput                                 43.0       9777.2   2273.8
File Copy 1024 bufsize 2000 maxblocks          3960.0     571425.3   1443.0
File Copy 256 bufsize 500 maxblocks            1655.0     150283.6    908.1
File Copy 4096 bufsize 8000 maxblocks          5800.0    1916749.3   3304.7
Pipe Throughput                               12440.0    1732379.9   1392.6
Pipe-based Context Switching                   4000.0     504947.9   1262.4
Process Creation                                126.0      29622.5   2351.0
Shell Scripts (1 concurrent)                     42.4      12802.1   3019.4
Shell Scripts (8 concurrent)                      6.0       1758.9   2931.6
System Call Overhead                          15000.0    1411842.3    941.2
                                                                   ========
System Benchmarks Index Score                                        2064.0