About Los Angeles VPS
Los Angeles VPS was founded with the goal to provide the absolute best VPS experience in Los Angeles. Today we host over 1800 VPS customers on our network. Hosting your server in Los Angeles provides various advantages, from a network connectivity standpoint as well as redundancy.
Los Angeles VPS offer fast Web Hosting, VPS, Dedicated, Reseller Hosting hosting services in a bespoke manner. The services are mosted located in LA Internap, what make it different is Unmetered Bandwidth and free 10Gbps DDoS Protection, and free to change IPV4 per month.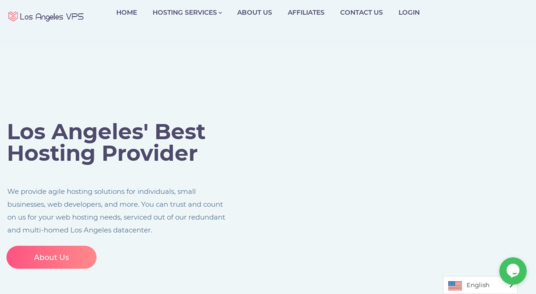 LosAngelesVPS Cheap KVM VPS Offer
CPU
RAM
SSD
BANDWIDTH
ipv4
DDOS
PROTECTION
PRICE
ORDER
1
1GB
25GB
1Gbps
Unmetered
1
10Gbps
$19/year
Order Link
1
2GB
40GB
1Gbps
Unmetered
1
10Gbps
$25/year
Order Link
2
2.5GB
50GB
1Gbps
Unmetered
1
10Gbps
$34.99/year
Order Link
2
3GB
60GB
1Gbps
Unmetered
1
10Gbps
$39.00/year
Order Link
3
5GB
60GB
1Gbps
Unmetered
1
10Gbps
$52.75/year
Order Link
LosAngelesVPS Cheap Hybrid Dedicated Server
CPU
RAM
SSD
BANDWIDTH
ipv4
DDOS
PROTECTION
PRICE
ORDER
2
6GB
120GB
1Gbps
Unmetered
5
10Gbps
$15/mo
Order Link
4
12GB
240GB
1Gbps
Unmetered
5
10Gbps
$21/mo
Order Link
NETWORK INFO:

Internap LAX014 Datacenter, Los Angeles, CA, USA
Test IPv4: 45.12.110.109
Test file: http://45.12.110.109/10gb.bin

KVM Nodes:

Dual Intel Xeon E5-2620 v2
256GB RAM
8x 2TB SSD's
Hardware RAID-10 w/ Cache
Dual 1Gbps Uplink
#by Superbench

----------------------------------------------------------------------
CPU Model : Intel(R) Xeon(R) CPU E5-2620 v2 @ 2.10GHz
CPU Cores : 4 Cores @ 2099.998 MHz x86_64
CPU Cache : 15360 KB
OS : CentOS 7.6.1810 (64 Bit) KVM
Kernel : 3.10.0-957.1.3.el7.x86_64
Total Space : 1.2 GB / 56.0 GB
Total RAM : 79 MB / 3789 MB (231 MB Buff)
Total SWAP : 0 MB / 4094 MB
Uptime : 0 days 7 hour 44 min
Load Average : 0.01, 0.04, 0.05
TCP CC : cubic
ASN & ISP : AS35913, DediPath
Organization : Dedipath
Location : Los Angeles, United States / US
Region : California
----------------------------------------------------------------------
I/O Speed( 1.0GB ) : 749 MB/s
I/O Speed( 1.0GB ) : 871 MB/s
I/O Speed( 1.0GB ) : 800 MB/s
Average I/O Speed : 806.7 MB/s
----------------------------------------------------------------------

#by Nench

————————————————-

Processor: Intel(R) Xeon(R) CPU E5-2620 v2 @ 2.10GHz
CPU cores: 4
Frequency: 2099.998 MHz
RAM: 3.8Gi
Swap: 4.0Gi
Kernel: Linux 5.2.14-1-default x86_64

Disks:
vda 60G HDD

CPU: SHA256-hashing 500 MB
4.308 seconds
CPU: bzip2-compressing 500 MB
7.487 seconds
CPU: AES-encrypting 500 MB
2.389 seconds

ioping: seek rate
min/avg/max/mdev = 108.0 us / 210.1 us / 7.16 ms / 172.4 us
ioping: sequential read speed
generated 9.69 k requests in 5.00 s, 2.37 GiB, 1.94 k iops, 484.5 MiB/s

dd: sequential write speed
1st run: 323.30 MiB/s
2nd run: 270.84 MiB/s
3rd run: 290.87 MiB/s
average: 295.00 MiB/s

IPv4 speedtests
your IPv4: 45.88.179.xxxx

Cachefly CDN: 93.28 MiB/s
Leaseweb (NL): 6.24 MiB/s
Softlayer DAL (US): 30.11 MiB/s
Online.net (FR): 9.42 MiB/s
OVH BHS (CA): 18.47 MiB/s

No IPv6 connectivity detected
————————————————-