Get the latest GetWebHosting promno codes / discount coupon codes and read the GetWebHosting Reviews benchmark testing before buying! GetWebHosting offer UK & Finland SSD VPS Hosting using only KVM virtualization technology with super-fast NVMe SSD RAID storage, AMD Ryzen 5 & 7 processors and on one of the worlds largest networks based in south-east London and in Helsinki. All VPS Hosting services come with Anti DDoS Protection, IPv6, IPv4 , Snapshot Backups and Windows licenses included, as well as a large category of operating systems and control panels to choose from.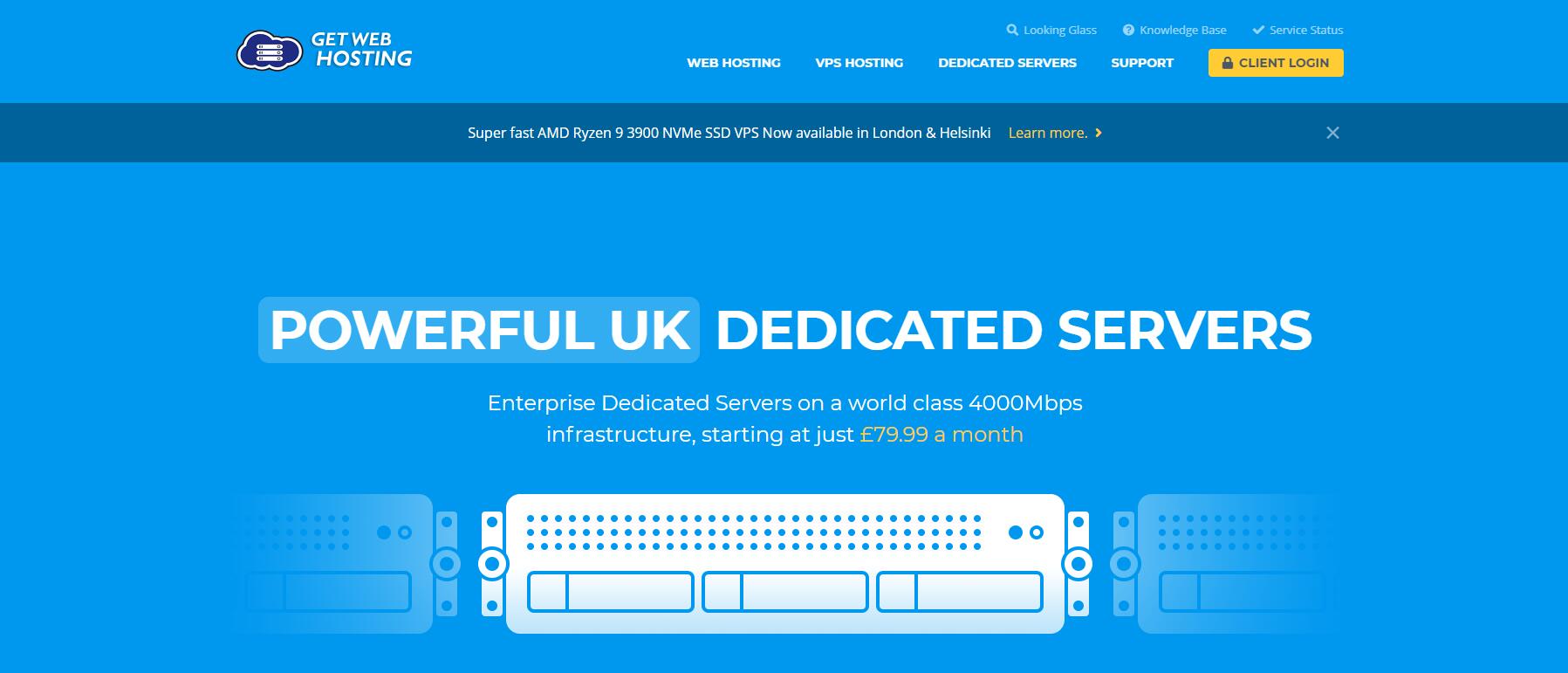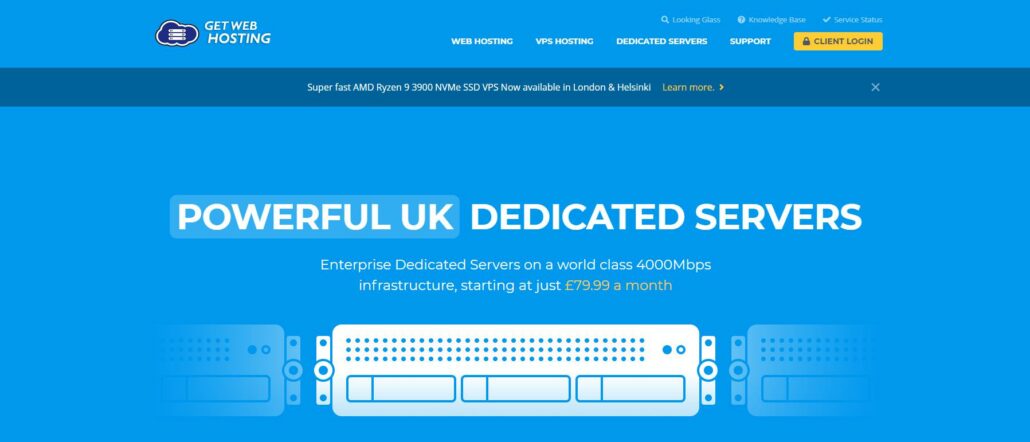 GetWebHosting UK Overall Review:
Hosting Services: Shared Hosting, Reseller Hosting, VPS Hosting, Dedicated Server
Datacenter Location: London, UK | Falkenstein, Germany | Gravelines, France | Helsinki, Finland
Hardware: AMD Ryzen 9, Intel Xeon, NVMe SSD
Payment Methods: Bitcoin, Paypal, Credit Card
Money Back: 7 day no questions asked full refund
Network Uptime: Average uptime is 99.99% and have nodes that have achieved over 320 days of uptime.
Customer Support: Ticket system, or live chat when they are online.
Operating Systems: Windows, Linux, or Upload your own ISOs.
GetWebHosting Promo Codes / Discount Coupon Codes
There are no promo codes for GetWebHosting UK now since they provide many cheap low end hosting plans, please check the cheap hosting offers below:

KVM VPS in Finland, HELSINKI

[go_pricing id="getwebhosting_finland"] [go_pricing id="getwebhost_london"]

LOW END VPS Hosting Plans

[go_pricing id="getwebhost_lowend"] [go_pricing id="getwebhost_game"]

GetWebHosting Network Info
Ping IP "51.89.201.152" From Texas, USA:

Starting PING to: 51.89.201.152	0.00s
$] ping -O -v -c8 -i0.2 -W5 51.89.201.152

PING 51.89.201.152 (51.89.201.152) 56(84) bytes of data.	0.00s
64 bytes from 51.89.201.152: icmp_seq=1 ttl=53 time=69.2 ms	
64 bytes from 51.89.201.152: icmp_seq=2 ttl=53 time=69.2 ms	0.27s
64 bytes from 51.89.201.152: icmp_seq=3 ttl=53 time=69.2 ms	0.48s
64 bytes from 51.89.201.152: icmp_seq=4 ttl=53 time=69.1 ms	0.68s
64 bytes from 51.89.201.152: icmp_seq=5 ttl=53 time=69.2 ms	0.88s
64 bytes from 51.89.201.152: icmp_seq=6 ttl=53 time=69.2 ms	1.08s
64 bytes from 51.89.201.152: icmp_seq=7 ttl=53 time=69.2 ms	1.28s
64 bytes from 51.89.201.152: icmp_seq=8 ttl=53 time=70.2 ms	1.48s
--- 51.89.201.152 ping statistics ---	
8 packets transmitted, 8 received, 0% packet loss, time 406ms	
rtt min/avg/max/mdev = 69.121/69.296/70.192/0.449 ms	
Ping complete
GetWebHosting Reviews: Benchmarks Data
France

# ## ## ## ## ## ## ## ## ## ## ## ## ## ## ## ## ## #
#              Yet-Another-Bench-Script              #
#                     v2020-09-21                    #
# https://github.com/masonr/yet-another-bench-script #
# ## ## ## ## ## ## ## ## ## ## ## ## ## ## ## ## ## #

Mon 02 Nov 2020 06:00:04 PM CET

Basic System Information:
---------------------------------
Processor  : AMD Ryzen 7 3800X 8-Core Processor
CPU cores  : 1 @ 3892.692 MHz
AES-NI     : ✔ Enabled
VM-x/AMD-V : ❌ Disabled
RAM        : 1.9Gi
Swap       : 126Mi
Disk       : 19G

fio Disk Speed Tests (Mixed R/W 50/50):
---------------------------------
Block Size | 4k            (IOPS) | 64k           (IOPS)
  ------   | ---            ----  | ----           ----
Read       | 72.28 MB/s   (18.0k) | 565.46 MB/s   (8.8k)
Write      | 72.47 MB/s   (18.1k) | 568.43 MB/s   (8.8k)
Total      | 144.75 MB/s  (36.1k) | 1.13 GB/s    (17.7k)
           |                      |
Block Size | 512k          (IOPS) | 1m            (IOPS)
  ------   | ---            ----  | ----           ----
Read       | 473.98 MB/s    (925) | 446.84 MB/s    (436)
Write      | 499.17 MB/s    (974) | 476.60 MB/s    (465)
Total      | 973.15 MB/s   (1.8k) | 923.44 MB/s    (901)

iperf3 Network Speed Tests (IPv4):
---------------------------------
Provider        | Location (Link)           | Send Speed      | Recv Speed
                |                           |                 |
Clouvider       | London, UK (10G)          | 778 Mbits/sec   | 546 Mbits/sec
Online.net      | Paris, FR (10G)           | 819 Mbits/sec   | 418 Mbits/sec
WorldStream     | The Netherlands (10G)     | 858 Mbits/sec   | 249 Mbits/sec
Wifx            | Zurich, CH (10G)          | 887 Mbits/sec   | 213 Mbits/sec
Biznet          | Jakarta, Indonesia (1G)   | 681 Mbits/sec   | 22.1 Mbits/sec
Clouvider       | NYC, NY, US (10G)         | 742 Mbits/sec   | 109 Mbits/sec
Velocity Online | Tallahassee, FL, US (10G) | 743 Mbits/sec   | 157 Mbits/sec
Clouvider       | Los Angeles, CA, US (10G) | busy            | busy
Iveloz Telecom  | Sao Paulo, BR (2G)        | busy            | busy

iperf3 Network Speed Tests (IPv6):
---------------------------------
Provider        | Location (Link)           | Send Speed      | Recv Speed
                |                           |                 |
Clouvider       | London, UK (10G)          | 860 Mbits/sec   | 673 Mbits/sec
Online.net      | Paris, FR (10G)           | 836 Mbits/sec   | 554 Mbits/sec
WorldStream     | The Netherlands (10G)     | 813 Mbits/sec   | 543 Mbits/sec
Wifx            | Zurich, CH (10G)          | 302 Mbits/sec   | 283 Mbits/sec
Clouvider       | NYC, NY, US (10G)         | 342 Mbits/sec   | 206 Mbits/sec
Clouvider       | Los Angeles, CA, US (10G) | busy            | busy

Geekbench 5 Benchmark Test:
---------------------------------
Test            | Value
                |
Single Core     | 1193
Multi Core      | 1150
Full Test       | https://browser.geekbench.com/v5/cpu/4507640

UK - Limited Edition

# ## ## ## ## ## ## ## ## ## ## ## ## ## ## ## ## ## #
#              Yet-Another-Bench-Script              #
#                     v2020-09-21                    #
# https://github.com/masonr/yet-another-bench-script #
# ## ## ## ## ## ## ## ## ## ## ## ## ## ## ## ## ## #

Mon  2 Nov 12:39:56 EST 2020

Basic System Information:
---------------------------------
Processor  : Intel(R) Xeon(R) W-2145 CPU @ 3.70GHz
CPU cores  : 2 @ 3695.996 MHz
AES-NI     : ✔ Enabled
VM-x/AMD-V : ❌ Disabled
RAM        : 3.7G
Swap       : 126M
Disk       : 20G

fio Disk Speed Tests (Mixed R/W 50/50):
---------------------------------
Block Size | 4k            (IOPS) | 64k           (IOPS)
  ------   | ---            ----  | ----           ---- 
Read       | 76.88 MB/s   (19.2k) | 190.37 MB/s   (2.9k)
Write      | 77.08 MB/s   (19.2k) | 191.37 MB/s   (2.9k)
Total      | 153.97 MB/s  (38.4k) | 381.75 MB/s   (5.9k)
           |                      |                     
Block Size | 512k          (IOPS) | 1m            (IOPS)
  ------   | ---            ----  | ----           ---- 
Read       | 171.87 MB/s    (335) | 172.30 MB/s    (168)
Write      | 181.00 MB/s    (353) | 183.77 MB/s    (179)
Total      | 352.87 MB/s    (688) | 356.08 MB/s    (347)

iperf3 Network Speed Tests (IPv4):
---------------------------------
Provider        | Location (Link)           | Send Speed      | Recv Speed     
                |                           |                 |                
Clouvider       | London, UK (10G)          | 969 Mbits/sec   | 4.39 Gbits/sec 
Online.net      | Paris, FR (10G)           | 959 Mbits/sec   | 3.25 Gbits/sec 
WorldStream     | The Netherlands (10G)     | 961 Mbits/sec   | 7.46 Gbits/sec 
Wifx            | Zurich, CH (10G)          | 888 Mbits/sec   | 521 Mbits/sec  
Biznet          | Jakarta, Indonesia (1G)   | 711 Mbits/sec   | 207 Mbits/sec  
Clouvider       | NYC, NY, US (10G)         | 901 Mbits/sec   | 2.63 Gbits/sec 
Velocity Online | Tallahassee, FL, US (10G) | 865 Mbits/sec   | 1.38 Gbits/sec 
Clouvider       | Los Angeles, CA, US (10G) | busy            | busy           
Iveloz Telecom  | Sao Paulo, BR (2G)        | busy            | busy           

iperf3 Network Speed Tests (IPv6):
---------------------------------
Provider        | Location (Link)           | Send Speed      | Recv Speed     
                |                           |                 |                
Clouvider       | London, UK (10G)          | 953 Mbits/sec   | 3.56 Gbits/sec 
Online.net      | Paris, FR (10G)           | 952 Mbits/sec   | 3.29 Gbits/sec 
WorldStream     | The Netherlands (10G)     | 948 Mbits/sec   | 8.01 Gbits/sec 
Wifx            | Zurich, CH (10G)          | 856 Mbits/sec   | 461 Mbits/sec  
Clouvider       | NYC, NY, US (10G)         | 877 Mbits/sec   | 2.59 Gbits/sec 
Clouvider       | Los Angeles, CA, US (10G) | busy            | busy           

Geekbench 5 Benchmark Test:
---------------------------------
Test            | Value                         
                |                               
Single Core     | 887                           
Multi Core      | 1255                          
Full Test       | https://browser.geekbench.com/v5/cpu/4508041

Germany Special

# ## ## ## ## ## ## ## ## ## ## ## ## ## ## ## ## ## #
#              Yet-Another-Bench-Script              #
#                     v2020-09-21                    #
# https://github.com/masonr/yet-another-bench-script #
# ## ## ## ## ## ## ## ## ## ## ## ## ## ## ## ## ## #

Mon Nov  2 09:55:55 PST 2020

Basic System Information:
---------------------------------
Processor  : AMD Ryzen 9 3900 12-Core Processor
CPU cores  : 2 @ 3094.188 MHz
AES-NI     : ✔ Enabled
VM-x/AMD-V : ❌ Disabled
RAM        : 1.9G
Swap       : 254M
Disk       : 49G

fio Disk Speed Tests (Mixed R/W 50/50):
---------------------------------
Block Size | 4k            (IOPS) | 64k           (IOPS)
  ------   | ---            ----  | ----           ---- 
Read       | 68.25 MB/s   (17.0k) | 650.38 MB/s  (10.1k)
Write      | 68.43 MB/s   (17.1k) | 653.81 MB/s  (10.2k)
Total      | 136.68 MB/s  (34.1k) | 1.30 GB/s    (20.3k)
           |                      |                     
Block Size | 512k          (IOPS) | 1m            (IOPS)
  ------   | ---            ----  | ----           ---- 
Read       | 998.47 MB/s   (1.9k) | 1.02 GB/s     (1.0k)
Write      | 1.05 GB/s     (2.0k) | 1.09 GB/s     (1.0k)
Total      | 2.05 GB/s     (4.0k) | 2.12 GB/s     (2.0k)

iperf3 Network Speed Tests (IPv4):
---------------------------------
Provider        | Location (Link)           | Send Speed      | Recv Speed     
                |                           |                 |                
Clouvider       | London, UK (10G)          | 944 Mbits/sec   | 582 Mbits/sec  
Online.net      | Paris, FR (10G)           | 931 Mbits/sec   | 805 Mbits/sec  
WorldStream     | The Netherlands (10G)     | 933 Mbits/sec   | 724 Mbits/sec  
Wifx            | Zurich, CH (10G)          | 925 Mbits/sec   | 299 Mbits/sec  
Biznet          | Jakarta, Indonesia (1G)   | 763 Mbits/sec   | 188 Mbits/sec  
Clouvider       | NYC, NY, US (10G)         | 261 Mbits/sec   | 395 Mbits/sec  
Velocity Online | Tallahassee, FL, US (10G) | 852 Mbits/sec   | 352 Mbits/sec  
Clouvider       | Los Angeles, CA, US (10G) | busy            | busy           
Iveloz Telecom  | Sao Paulo, BR (2G)        | busy            | busy           

Geekbench 5 Benchmark Test:
---------------------------------
Test            | Value                         
                |                               
Single Core     | 857                           
Multi Core      | 1491                          
Full Test       | https://browser.geekbench.com/v5/cpu/4508205