Get the latest TerraHost promo codes / discount coupon codes and read the TerraHost review with benchmark data before buying! TerraHost is a hosting provider founded in 2006 located in Sandefjord, Norway. We own and operate our own datacenters. The newest datacenter DC2 was completed in Q2 2018 and is built within a bunker. We also have DC1 rebuilt in 2018-2019 which is our Colocation facilities.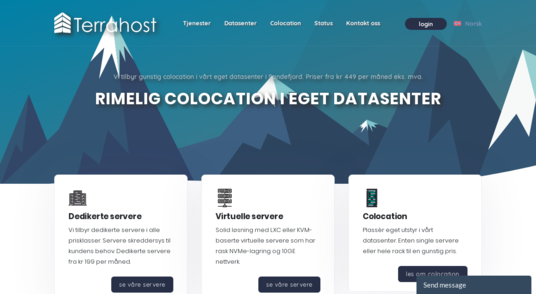 Overall TerraHost Review
Hosting Services: VPS Hosting, Dedicated Server, Colocation service.
Datacenter: Sandefjord, Vestfold og Telemark. Centrally placed in southern Norway
Payment Methods: PayPal, AliPay, Stripe (card), BitPay (bitcoin)
Refund: TerraHost offers a 7-day money back guarantee if your services are not as they should be
Uptime: TerraHost guarantees 99.95% service uptime.
Customer Service: Phone Call / Ticket Email System
TOS: All services can be used for anything permitted by Norwegian law.
TerraHost Promo Coupon Codes
Terrahost celebrates 16 years in business! Join us for our Sweet Sixteen Party with insane Ryzen 3600 and 3950X offers!
TerraHost 16 Years Special Offer
RYZEN DEDICATED SERVERS (60% OFF!)
 Location: Sandefjord, Norway
AMD Ryzen 3600 - 16GB RAM - 1TB NVMe - 1G Unmetered (FUP) - 10G Port - $66/mo Order here
AMD Ryzen 3600 - 32GB RAM - 1TB NVMe - 1G Unmetered (FUP) - 10G Port - $78/mo Order here
AMD Ryzen 3600 - 64GB RAM - 1TB NVMe - 1G Unmetered (FUP) - 10G Port - $100/mo Order here
AMD Ryzen 3600 - 128GB RAM - 1TB NVMe - 1G Unmetered (FUP) - 10G Port - $120/mo Order here
Additional configs on our website - Up to Ryzen 3950X with 128GB RAM
COUPON CODE FOR ALL RYZEN SERVERS: TH-SWEET16
KVM VIRTUAL SERVERS (40% OFF!)
 Location: Lagos, Nigeria
1 vCPU Ryzen 5950X - 2GB RAM - 20GB NVMe - 5TB @ 1G - $6.6/mo Order here
1 vCPU Ryzen 5950X - 3GB RAM - 30GB NVMe - 5TB @ 1G - $9.9/mo Order here
Additional configs on our website - Up to 8 cores with 32GB RAM
 Location: Amsterdam, Netherlands
1 vCPU Ryzen 5950X - 2GB RAM - 40GB NVMe - 1G Unmetered (FUP) - 10G Port - $6.6/mo Order here
1 vCPU Ryzen 5950X - 3GB RAM - 60GB NVMe - 1G Unmetered (FUP) - 10G Port - $9.9/mo Order here
Additional configs on our website - Up to 8 cores with 32GB RAM
COUPON CODE FOR ALL NG AND NL KVM VPS: TH-SWEET16-VPS
---
ADDITIONAL 15% OFF EVERYTHING ABOVE WITH ANNUAL PAYMENT
TerraHost AMD Ryzen KVM VPS Plans
All come with Ryzen 5950X 3.4GHz+ and NVMe SSD Storge
| CORES | MEMORY | STORAGE | BANDWIDTH | IP | PRICE EXCL VAT | ORDER |
| --- | --- | --- | --- | --- | --- | --- |
| 1 vCPU | 2 GB | 40 GB | Unmetered/1Gbit | 1 IPv4 /48 IPv6 | NOK 90 /month | ORDER LINK |
| 2 vCPU | 4 GB | 80 GB | Unmetered/1Gbit | 1 IPv4 /48 IPv6 | NOK 180 /month | ORDER LINK |
| 4 vCPU | 8 GB | 160 GB | Unmetered/1Gbit | 1 IPv4 /48 IPv6 | NOK 360 /month | ORDER LINK |
| 6 vCPU | 16 GB | 360 GB | Unmetered/1Gbit | 1 IPv4 /48 IPv6 | NOK 720 /month | ORDER LINK |
| 8 vCPU | 32 GB | 640 GB | Unmetered/1Gbit | 1 IPv4 /48 IPv6 | NOK 1440 /month | ORDER LINK |
TerraHost AMD Ryzen/Epyc Dedicated Servers
| PROCESSOR | DDR4 MEMORY | NVMe STORAGE | BANDWIDTH | PRICE EXCL VAT | ORDER |
| --- | --- | --- | --- | --- | --- |
| AMD Ryzen 3600 | 16 GB | 1 TB | Unmetered/10Gbit | NOK 1299 /month | ORDER LINK |
| AMD Ryzen 3600 | 32 GB | 1 TB | Unmetered/10Gbit | NOK 1549 /month | ORDER LINK |
| AMD Ryzen 3600 | 64 GB | 1 TB | Unmetered/10Gbit | NOK 1949 /month | ORDER LINK |
| AMD Ryzen 3600 | 128 GB | 1 TB | Unmetered/10Gbit | NOK 2449 /month | ORDER LINK |
| AMD Ryzen 3950X | 128 GB | 1 TB | Unmetered/10Gbit | NOK 3549 /month | ORDER LINK |
| AMD EPYC 7302P | 64 GB | 250GB + 2*1TB | Unmetered/10Gbit | NOK 5499 /month | ORDER LINK |
| AMD EPYC 7402P | 128 GB | 250GB + 2*1TB | Unmetered/10Gbit | NOK 7149 /month | ORDER LINK |
| AMD EPYC 7702P | 256 GB | 250GB + 10*1TB | Unmetered/10Gbit | NOK 16499 /month | ORDER LINK |
NETWORK

Network Info

:

Server Location: Sandefjord, Norway
IPv4 Address: 185.181.61.25
IPv6 Address: 2a03:94e0:1803::1
Looking Glass: https://lg.terrahost.no/
AS Info: https://bgp.he.net/AS56655
BGP session: No
Recurring: Yes

Ping test IP from Texas:

Starting PING to: 185.181.61.25	0.00s
$] ping -O -v -c8 -i0.2 -W5 185.181.61.25

PING 185.181.61.25 (185.181.61.25) 56(84) bytes of data.	0.00s
64 bytes from 185.181.61.25: icmp_seq=1 ttl=46 time=103 ms	
64 bytes from 185.181.61.25: icmp_seq=2 ttl=46 time=102 ms	0.31s
64 bytes from 185.181.61.25: icmp_seq=3 ttl=46 time=102 ms	0.51s
64 bytes from 185.181.61.25: icmp_seq=4 ttl=46 time=102 ms	0.71s
64 bytes from 185.181.61.25: icmp_seq=5 ttl=46 time=102 ms	0.91s
64 bytes from 185.181.61.25: icmp_seq=6 ttl=46 time=102 ms	1.11s
64 bytes from 185.181.61.25: icmp_seq=7 ttl=46 time=102 ms	1.31s
64 bytes from 185.181.61.25: icmp_seq=8 ttl=46 time=102 ms	1.51s
--- 185.181.61.25 ping statistics ---	
8 packets transmitted, 8 received, 0% packet loss, time 405ms	
rtt min/avg/max/mdev = 102.141/102.280/102.766/0.301 ms	1.52s
Ping complete

TerraHost Review Benchmark

# ## ## ## ## ## ## ## ## ## ## ## ## ## ## ## ## ## #
#              Yet-Another-Bench-Script              #
#                     v2021-06-05                    #
# https://github.com/masonr/yet-another-bench-script #
# ## ## ## ## ## ## ## ## ## ## ## ## ## ## ## ## ## #

Sun Sep 19 10:18:34 UTC 2021

Basic System Information:
---------------------------------
Processor  : AMD Ryzen 5 3600 6-Core Processor
CPU cores  : 1 @ 3647.843 MHz
AES-NI     : ✔ Enabled
VM-x/AMD-V : ✔ Enabled
RAM        : 1.0 GiB
Swap       : 2.0 GiB
Disk       : 29.4 GiB

fio Disk Speed Tests (Mixed R/W 50/50):
---------------------------------
Block Size | 4k            (IOPS) | 64k           (IOPS)
  ------   | ---            ----  | ----           ----
Read       | 543.00 MB/s (135.7k) | 976.94 MB/s  (15.2k)
Write      | 544.44 MB/s (136.1k) | 982.09 MB/s  (15.3k)
Total      | 1.08 GB/s   (271.8k) | 1.95 GB/s    (30.6k)
           |                      |
Block Size | 512k          (IOPS) | 1m            (IOPS)
  ------   | ---            ----  | ----           ----
Read       | 2.27 GB/s     (4.4k) | 2.24 GB/s     (2.1k)
Write      | 2.39 GB/s     (4.6k) | 2.39 GB/s     (2.3k)
Total      | 4.67 GB/s     (9.1k) | 4.64 GB/s     (4.5k)

iperf3 Network Speed Tests (IPv4):
---------------------------------
Provider        | Location (Link)           | Send Speed      | Recv Speed
                |                           |                 |
Clouvider       | London, UK (10G)          | 1.22 Gbits/sec  | 2.00 Gbits/sec
Online.net      | Paris, FR (10G)           | 1.01 Gbits/sec  | 1.91 Gbits/sec
WorldStream     | The Netherlands (10G)     | 1.29 Gbits/sec  | 1.80 Gbits/sec
Biznet          | Jakarta, Indonesia (1G)   | busy            | busy
Clouvider       | NYC, NY, US (10G)         | 441 Mbits/sec   | 1.47 Gbits/sec
Velocity Online | Tallahassee, FL, US (10G) | 384 Mbits/sec   | 600 Mbits/sec
Clouvider       | Los Angeles, CA, US (10G) | 468 Mbits/sec   | 1.10 Gbits/sec
Iveloz Telecom  | Sao Paulo, BR (2G)        | 91.9 Mbits/sec  | 681 Mbits/sec

iperf3 Network Speed Tests (IPv6):
---------------------------------
Provider        | Location (Link)           | Send Speed      | Recv Speed
                |                           |                 |
Clouvider       | London, UK (10G)          | 984 Mbits/sec   | 1.96 Gbits/sec
Online.net      | Paris, FR (10G)           | 833 Mbits/sec   | 1.53 Gbits/sec
WorldStream     | The Netherlands (10G)     | 1.06 Gbits/sec  | 2.41 Gbits/sec
Clouvider       | NYC, NY, US (10G)         | 440 Mbits/sec   | 904 Mbits/sec
Clouvider       | Los Angeles, CA, US (10G) | 209 Mbits/sec   | 631 Mbits/sec

Geekbench 5 Benchmark Test:
---------------------------------
Test            | Value
                |
Single Core     | 1178
Multi Core      | 1191
Full Test       | https://browser.geekbench.com/v5/cpu/9928914