SiteGround Review Summary
SiteGround is one of the most popuar hosting company officially recommended by Wordpress, Woocommerce and Yoast. If you are looking for a shared hosting innovator apart from those bigger brands, Siteground is your choice. SiteGround is known for both their rock solid server performance and unbeatable customer services. The company offers full range of web hosting features, including integrated Cloudflare CDN, integrated wordpress caching plugin, cPanel with SSH access, and GIT version control.
We have built many woocommerce stores for our clients with SiteGround and got best exepriences with this company. In this detailed Siteground review, we will take a through look and put their promises to test. Read our Siteground Review to find out if the Siteground is the best choice for you?". Also you can get the latest Siteground Coupon Codes and Promotion Discount Link before buying.

[lwptoc numerationSuffix="dot" title="Table of Review Contents" width="auto" float="right" backgroundColor="#eeeeee" skipHeadingText="Uptime|Server Loading Speed|Pros|Cons|Interested in SiteGround?"]
About Siteground
SiteGround is a privately owned hosting company founded in 2004 in Bulgarian by a group of university students, and since then it has grown into one of the most popular wordpress hosting provider with 500+ employees and hosted over 2 million domains with their worldwide 6 data centers. SiteGround promote their fully managed services include: Shared Web Hosting, Wordpress, Woocommerce Hosting, Cloud Hosting and more.
Overall SiteGround Review
Our Rating: New Standard for Wordpress Hosting.
Hosting Plans: Shared, Cloud, Enterprise, Wordpress and more.
Datacenters: Selectable servers with 6 locations in 4 countries
Uptime: 99.99% uptime guaranteed (Regularly 99.99%)
Help & Support: 24/7 expert support via live chat, phone, email
PRICING: 63% Discount on Shared Hosting Starting at $6.99/month (30-day money-back guarantee, renews at $14.99/month)
There are many factors to consider when choosing a web hosting provider and all companies have their own pros and cons. let's check the Pros and Cons of Siteground to help you make the decision.
Pros
Super Fast Worldwide Servers: Siteground provide highly optimized servers with latest speed technologies that make your sites load faster: NGINX-based SuperCacher, SSD-drives, PHP 7, CDN, HTTP/2,etc.
Selectable 6 Server Locations: You can choose between 6 datacenters located in America, Asia, Australia and Europe during signup, or they can help you to change the location after buying.
Rock Solid Server Performance: Siteground offers 99.9% uptime guarantee for their network on an annual base. Regularly it's 99.99% rate according to our 12 months testing.
Free CDN and SG Optimizer Plugin: All for Speed. Free Cloudflare CDN with Railgun is included in all plans, and even more, they have their own SG Optimizer plugin to speed up your wordpress with simply few clicks.
Easy to Use for Beginners: The cPanel is really easy to use and offers fast access to features. You just need to point and click in most cases.
Money-Back Guarantee: Siteground offers a 30-day money back guarantee for all of their shared hosting plans and 14 days money back guarantee for cloud hosting plans.
Excellent Customer Service: Siteground provide 24/7 customer support via live chat, telephone call, email based ticket system with their knowledgeable and and friendly support team.
Many Other Features: Managed Wordpress, Free daily backups, Free SSL certification, Free site migration, Wordpress staging, Own Git repositories, Unlimited database, and more.
Cons
Price: The price is not cheap for beginners, and the renewal price will be doubled if you choose the monthly billing. It's better to choose yearly payment to get big discount.
Limited Storage: Different with other popular providers, all of the Siteground hosting plans come with fixed storage. But personally, I think that SiteGround offers a good price-quality ratio.
No Free Domain: Many other providers offer free domain name for the first year, but SiteGround doesn't. So you need to registe a domain with them at $15.95/year or with other registrars.
[wpcd_coupon id=4344]
Uptime
Network Uptime is always one of the most important metric to consider when choosing a web host because it actually show your service availability for your customers around the world. Any time your website goes down, you will not only lose sales but potential new customers will look elsewhere, and even more, it may drop in your SEO ranking. SiteGround claims an uptime of 99.9%, but regularly they deliver 99.99% even 100% for most of time according to our 1 year of testing, that means there are only 3-4 minutes of downtime each month, which is excellent.
We've been monitoring Siteground's network uptime for more than 1 year with a clean wordpress blog with dummy content and default Twenty Seventeen theme, there is no any caching plugin installed, and here's what we see:

The average Siteground uptime is 99.992% in the latst 12 months, there were only 3 hours downtime in the 1 year. Let's step to check the monthly breakdown of the past 12 months:
100% uptime in 7 months of the 12, that's perfect for user experience and SEO ranking. So if you are looking for reliable hosting service which can provide the uptime number to be as close to 100 percent as possible, SiteGround provides that! Indeed, Siteground promised if the network uptime fall below 99.9%, they will compensate you 1 month free hosting with 99.9% - 99.00% uptime, and an additional month of free hosting for every 1% of uptime lost below 99.00% in their service terms.
Server Loading Speed
Site speed is another important metric to consider when choosing web host, the research by Google shows that 53% of people will leave if your pages don't load within three seconds. With the clean dummy wordpress blog, we got the average server response time in the past 1 year is 692ms, it's about 0.6-0.7s for a blog without any optimization. it's acceptable and pretty normal for most of the popular hosting providers:

Let's check a typical month: December 2019


The average loading time for December 2019 is 571ms, this isn't the fastest we've seen, but it does place SiteGround near the top 10 at speed. Remeber this just a dummy site with no caching plugin or CDN service installed. So don't worry for it's not NO.1 since their SG Optimizer plugin and CDN service can help you speed up your websites.
Siteground Hosting Plans Features and Pricing
Siteground offers the full range of hosting types for all budgets and sizes: Shared Hosting, WordPress Hosting, WooCommerce Hosting, Cloud Hosting, Enterprise Hosting, as well as the Reseller Hosting. We've broken down the details of each type in this Siteground review, but let's take a look at the features first.
Shared Hosting: The is recommended for beginners and new websites with low traffic volume, you can upgrade when needed.
Wordpress Hosting: Optimized shared hosting for Wordpress. It's built on top of the Google Cloud platform and includes a free Cloudflare CDN service and the free SG Optimizer plugin for powerful caching, front-end and image optimizations, PHP version control & more! Recommended by Wordpress.org
WooCommerce hosting: Recommended by Woocommerce and Yoast plugin. Get all the features of Wordpress hostign plan, and get Woocommerce pre-installed with the popular and flexible Storefront theme so you can have your ecommerce work station fully ready and set your business up online.
Managed Cloud Hosting: The cloud hosting allows you to use resources of multiple servers on a cloud architecture. Collaboration tools included give your clients whitelabel access to their site's Site Tools. Best for agent or growing websites, popular blogs, or businesses.
Enterprise Hosting: This is custom hosting solution for large businesses and high traffic sites. Instead of offering ready-made plans, the Sitegound expert will cutom a whole infrastructure based on these needs.
[wpcd_coupon id=4344]
Shared / Wordpress / WooCommerce Hosting
Recommended by Wordpress.org, Woocommerce, Yoast Plugin
Shared hosting is the most common type of hosting, it is recommended for beginners and new websites with low traffic volume. If you are just starting out, then their shared hosting plans would be a perfect fit for your needs. You can easily setup your business website / blog with their user-friendly control panel, there is no professional skilles needed and you can upgrade your hosting plans later as your website grows. Their shared hosting is available in 3 different plans: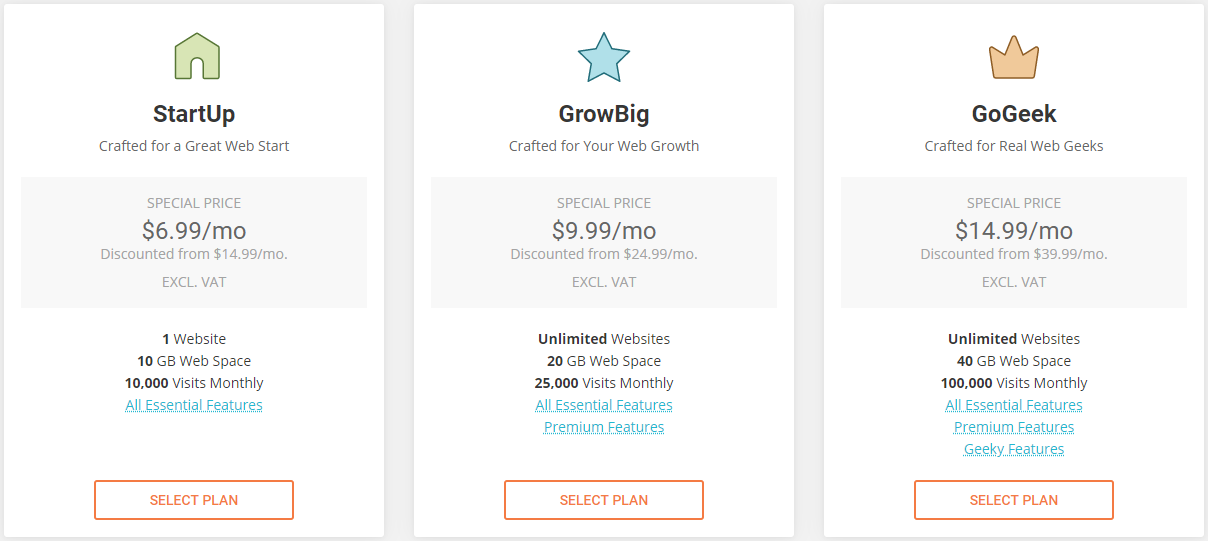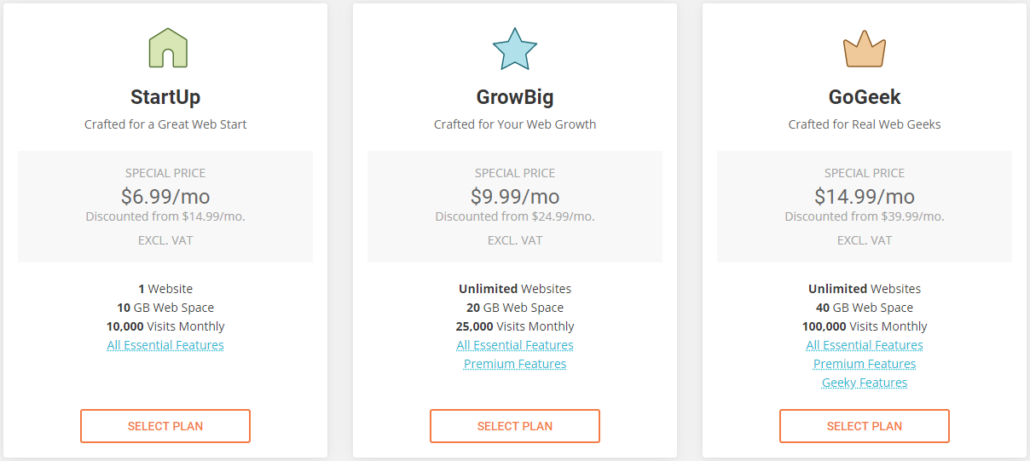 Sitground has merged 3 hosting plans as 1 to make it easy to choose. Just consider the Startup as Shared hosting, GrowBig as Wordpress hosting and GoGeek as Woocommerce hosting. There is no more hesitation for those complicated parameters and packages.
Features: SiteGround offers three different packages for their shared hosting to suit a variety of needs. All the 3 packages come with the essentials: free sitebuilder; free SSL and HTTPS; free email accounts; free CloudFlare CDN; free daily backups; unmetered traffic; unlimited MySQL, plus with 24/7 support and a 30-day money-back guarantee. Let's take a look at what's the difference between each plan.
Startup ($6.99 per month): This is the choice for kick-starting a single site, with 10 GB SSD Storage and 10,000 Visits monthly limitation. You'll also get all essential features like 1-click WordPress install, free setup, website transfer, daily backups, and more. This package is also known as Shared Hosting
GrowBig ($9.99 per month): This package lets you host Unlimited websites with 20 GB SSD Storage and 25,000 Visits monthly limitation. You'll get all the features of the Startup plan, plus you'll get premium features like Super Cacher, Wordpress Staging, On-demand Backup and more. This package is also known as Wordpress Hosting
GoGeek ($14.99 per month): Good choice for growing business websites or small ecommerce store. Host Unlimited websites with 40 GB SSD Storage, can handle up to 100,000 monthly visits. In addition to all GrowBig's features, you'll get more advanced features like One-click Git Repo Creation, White-label Site Management, Highest Tier of Server Resources and more. This package is also known as Woocommerce Hosting
TO BE HONEST, Gitground is not the cheapest hosting provider but they offer many cool and special features for speed, and speed! – Every Extra Penny Deserves it's Value.
Pricing: Prices start at $6.99/month for the first year payment in advance, renew at $14.99/month.

Other Hosting Plans
Managed Cloud Hosting
SiteGround no longer has VPS hosting, but promotes cloud hosting, which allow you to have a network of servers interconnected as a hosting solution. The main benefits of cloud hosting are performance and scalability – if you need more resources you just add more hosting capabilities to your configuration. But of course, they tend to be more expensive than shared hosting. Let's check SiteGround's Cloud Hosting plans.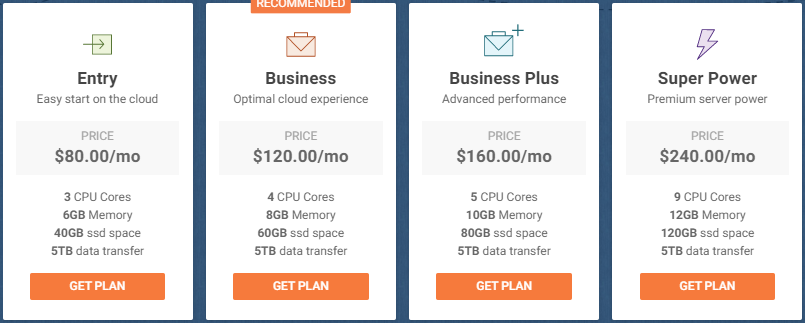 SiteGround's cloud hosting plans come with all the advanced features like the staging area, static and dynamic caching features, git repo creation and more. But since the higher price and the professional knowledge needed, unless your business is already very well established on the internet, it is unlikely you would need them. On the other hand, if you have a lot of visitors to your site or you need to do a lot of calculations or store a lot of data, the Cloud plans offer quite a lot.
Enterprise Hosting
SiteGround also provides enterprise hosting where they build custom servers for exactly your needs and then manage it for you. This plan is for large businesses and high traffic sites with challenging server requirements, you will have to contact them about this, however.
Features of Enterprise Hosting:

Reliable architecture: The custom solutions are based on Linux Containers and provide world-class level of availability and scalability.
Fully managed: You can concentrate fully on your core business, while Siteground take care of the management of the hosting infrastructure.
Development workflow: Want to use a custom development workflow? No problem, Sietground will help you create one or integrate yours in the solution.
Student Web Hosting
For Scholars, Educators, and Organizations. Being part of an academic organization does not mean you have to settle for second-best services when it comes to hosting. With Siteground you can work with the industry standards without breaking the bank.


Reseller Hosting
SiteGround offers a way for you to retail their services, or you can build and manage sites for your clients with white-label hosting service powered by their Collaboration Tools. This plan is suitable for those who wish to add web hosting as an extra service. For example, a web designer might want to offer hosting to their clients.

As you can see, their Reseller hosting is based on their Shared Hosting and Cloud Hosting packages. Which means the Reselling Collaboration Tools been included with those packages, so you can also set up your own web hosting business using these reseller plans, and white label everything, so your customers won't ever see the SiteGround brand.
Domain Names Services
Not Recommended

This is must have for all the popular hosting companies, choose your domain with their Domain Registration services, or use your own domain for other registrar such as Godaddy, Namesilo, etc.
REMEMBER: Their plans don't include a free domain name, you'll be asked to pay for it separately. [wpcd_coupon id=4344]
Siteground Customer Service
When choosing a website hosting provider, checking out the available support options is a must. SiteGround is best known for their outstanding customer support, they offer 24/7 customer via live chat, telephone call and a helpdesk ticket system. Their phone and live chat response times are almost instant. Email's get first response within less than 10 minutes. We tried out their live chat, Zhorzh from the support team got connected within 5 seconds, good experience all around.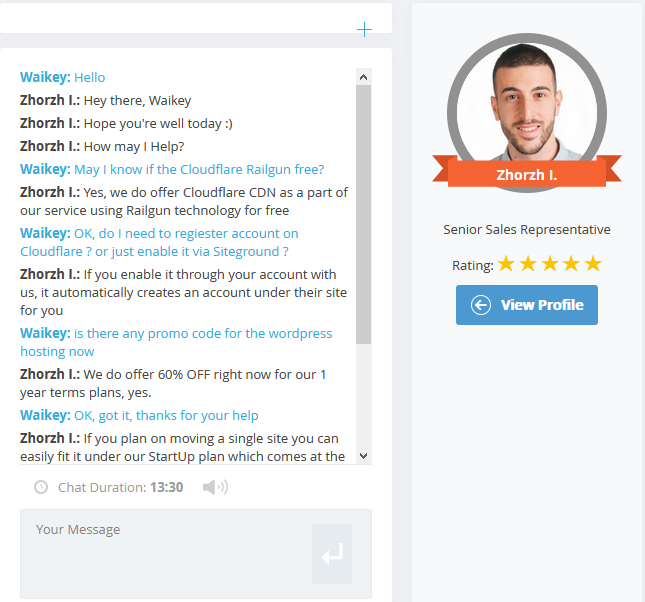 They also provide a detailed and comprehensive knowledge base of FAQs, articles, step by step guides, and video tutorials for those who prefer to fix things on their own, which are updated frequently to keep you up-to-speed with relevant web intel. A wide range of possible issues can be quickly resolved by this knowledgebase. It's also a good place to start if you're new to web hosting.
Sitegroun offers a a 30-day money back guarantee for all shared hosting plans and 14 days money back guarantee for cloud hosting plans, the money back guarantee gives you peace of mind that their services will meet the expectations they promised. If you no longer need a Service you have purchased or are unsatisfied with its performance, you can cancel it at any time.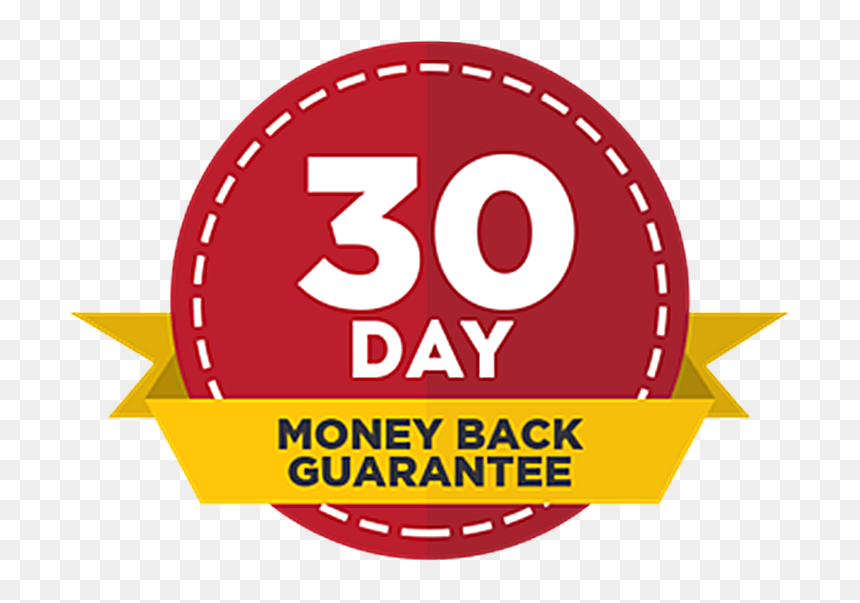 SiteGround Money-Back Policy:
Money Back Policy covers initial and renewal Orders for their Shared Hosting and Cloud Services and most additional features.
For the initial period after an account is activated you'll get a full refund for Shared Hosting Accounts and Services cancelled within 30 days from activation and for Cloud Accounts cancelled within 14 days of activation.
For renewal fees you'll get a full refund, if cancellation is requested within 30 days from the date on which you pay for renewal and the renewal Term has not started. If the renewal Term has already started, you'll get refund for the renewal fees less the fees due for the first month of the renewal Term.
Refunds are processed within ten (10) business days after a Service is cancelled.
Reseller packages are eligible for a refund only if the complete Reseller package is cancelled/terminated within 30 days after your Customer Account is activated. The Money Back Policy does not apply to termination of individual accounts in a Reseller package.
Services not covered by their Money Back Policy: Domain name registrations, Dedicated Server Services, SSL certificates, Paid support services, including Backup Creation and Backup Restore, and third-party Services.
Quick Facts
Performance: Excellent uptime rate, highly optimized for wordpress and been recommended.
Ease of Signup: Easy one-page sign-up process and quick account activation.
Payment Methods: Credit Card, contact their support for other payment options.
Hidden Fees: No hidden fees for annual payment or $14.95 setup fee for monthly payment.
Upselling Addons: Only a few, choose as you wish!
Money-Back: 30-days for shared hosting and 14-days for cloud hosting money-back guarantee.
Easy of Usage: Very easy to setup your blogs/business websites via Cpanel with few clicks.
More: SSD storage, 1-click wordpress installation, auto-updates, caching plugins, wordpress staging, free CDN, free SSL!
Is Siteground RIGHT FOR YOU?
For the performance:
SiteGround is a great company offering excellent support and great features for their hosting. They have delivered rock solid uptime rate for their network and they focus a lot on speed optimization and created their own caching plugin for wordpress, and thus, they been recommended by Wordpress.org, Woocommerce and Yoast plugin.
For the price:
Compared to well-known names in the industry, SiteGround comes with rather high prices. but they offer many cool features – Quality Comes at A Price. If your major concern is price, you can definitely find cheaper alternatives, but you shoud try Siteground if you want a fast and reliable web hosting service with great customer support.
For the support:
You will see high praise for SiteGround's customer support in every review article. Their team is very quick to respond, and highly knowledgeable about their hosting service and WordPress itself.
Our conclusion is: If you are looking for a web host with a rock-solid performance with reasonable price, Siteground is the one for you. Ready to get started with Siteground? Click here to select your hosting plan now.
Siteground Coupon Code and Discounts
You can currently get an exclusive 63% Off discount on Sitegroun hosting plans.
[wpcd_coupon id=4344]