Hostgator Review Summary
Hostgator is one of the oldest, biggest, and the most popular top ranked web hosting providers in the industry with over 8 million domains hosted and professional hosting service with their 850+ employees. Its uptime, customer support, and hosting plan features are literally second to none. With 1-click WordPress installation, 99.9% up time guarantee, and 24/7 custom support, live chat, free domain name and free SSL,  it's considered as a smart choice for every website owner.
In this detailed Hostgator review, we will take a thorough look at Hostgaotr. Read our Hostgator Review before buying, and get the answer for the question: "Should I choose HostGator?"


[lwptoc numerationSuffix="dot" title="Table of Review Contents" width="auto" float="right" backgroundColor="#eeeeee" skipHeadingText="Uptime|Server Loading Speed|Pros|Cons"]
About HostGator
HostGator was founded in Florida in 2002, and was acquired by EIG (Endurance International Group) with $225 million when 2012. HostGator is one of the oldest, largest and most popular hosting companies in the industry. They offer shared hosting, virtual private server(VPS hosting), dedicated servers, and managed WordPress hosting plans.
Overall Hosgator Review
Our Rating: Well Known Hosting for Small Business Websites
Hosting Plans: Shared, WordPress, VPS, Dedicated, and Cloud
Features: Free Domain with SSL certificate, Email account, Unmetered bandwidth
Uptime: 99.99% guarantee
Help & Support: 24/7 live chat, phone, and email
PRICING: Starting at $2.75/month (renews at $6.95/mo)
Uptime
HostGator offers a 99.99% uptime guarantee (it's impossible to guarantee 100% uptime for all hosting companies). You will be able to monitor your site uptime via dashbord, so you know that if the company is delivering what they promise. If your shared or reseller server has a physical downtime that falls short of the 99.9% uptime guarantee, you may receive one 1 month of credit on your account. This means that your site will experience less than an hour of downtime per year. Let's look at the last 5 months of uptime and response time of Hostgator measured by Pingdom.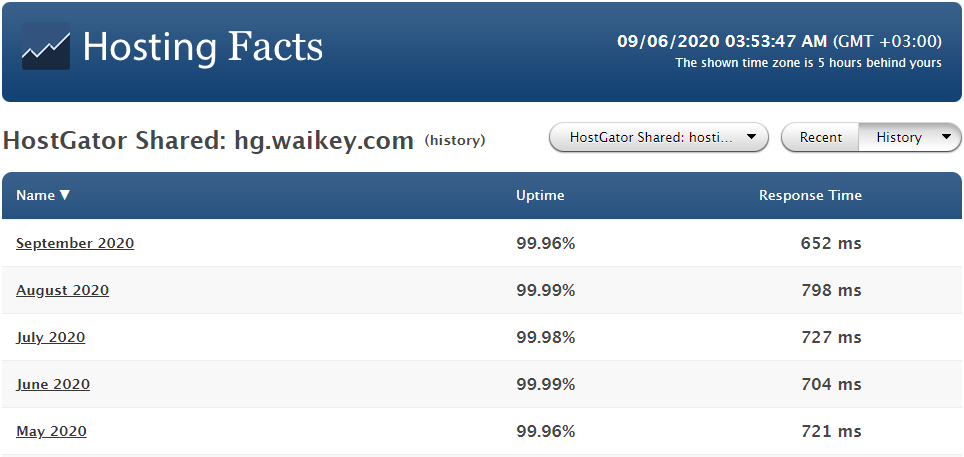 You can see that the average uptime of last 5 months is about 99.98%. Even this is pretty nomal for most popular hosting companies, but it's still an important metric you'll want your host to have sicne your losing revenue, and delivering a poor user experience for any time that your site got offline.
Server Loading Speed
Now let's check the server loading speed. The response time of a website will be affected by many factors, such as js code, css file and image size. We built a very clean wordpress site with some dummy content to test the loading speed with Bitcatcha which will only tests the response time of the server instead of loading the content, and here we got the result:

Wow, it's A+ grade, it was only 37ms loaded from United States, that's less than a second, measn you will get a high speed website loading time with Hostgator, and this is every important for user experience and SEO ranking.
HostGator Hosting Plans Features and Pricing
HostGator offers a variety of hosting plans that suit almost every kind of website owner, including, shared hosting, reseller hosting, VPS hosting, cloud hosting, dedicated servers, WordPress hosting and other 1-Click scripts hostings .
Shared Hosting Plans
Shared hosting means your website will share a server and its resources with other sites. Shared hosting is always the easiest and most affordable choice for new personal / business websites and beginners. You can easily setup your website with the user-friendly control panel and make it online in minutes, there is no professional skilles needed so you can concentrate to get more traffic to your site and growing your business. You can upgrade your hosting plans later as your website grows.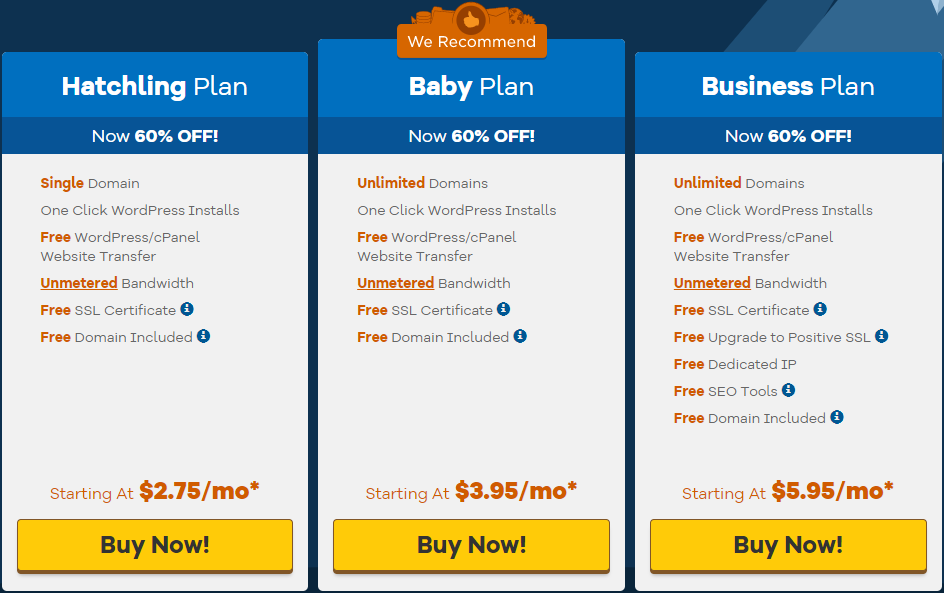 Pricing: Prices start at $2.75/month.
Features: HostGator's shared hosting plans include 3 different packages. All 3 plans include free domains, free SSL, unlimited storage and bandwidth. The main difference is the number of websites you can host.
Hatchling: Allows you to host only one website. It includes 1-click WordPress installer and comes with standard set of features.
Baby: Allows you hosting unlimited websites. It comes include all the standard set of features, and you can also use addons.
Business: Suitable for small business websites. The free Positive SSL and dedicated IP are need to create an eCommerce website.
Wordpress Hosting Plans
Managed WordPress hosting is the fastest and most integrated way to host a WordPress site. This is their shared hosting plan specially optimized for WordPress. It optimizes performance and protects your website from some common WordPress attacks. Free migration included, so if you have an existing WordPress site hosted on other provider, you can transfer it to HostGator with no cost.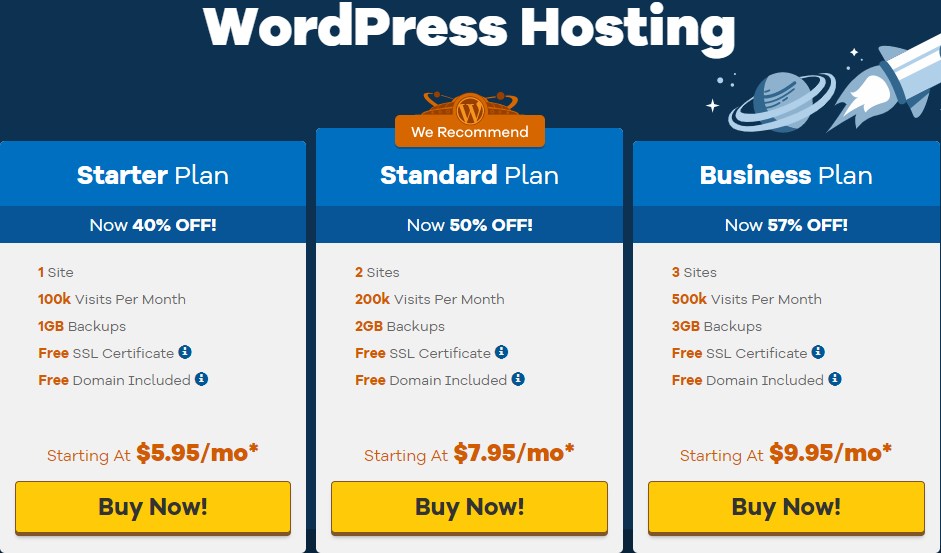 Pricing: Prices start at $5.95/month.
Features: 3 different plans with different visitors limition, different backups storage, and number of websites you can host.
HostGator Website Builder
So, if you don't want waste time on the hosting management and scripts coding, Hostgator Website Builder is a good option to start your business online. HostGator's drag and drop website builder is designed to be easy, eCommerce-friendly, and perfect for your new business.
Pricing: Prices start at $3.84/month.
Features: You may have known the Wix, Weebly or other website builders before, and the HostGator Website Builder is almost the same. You don't need to spend time on chosing and mantainning your web hosting, just use their online website building tools to create and publish your website on their servers step by step. Never worring about hosting and scripts problems, Hostgator will handle for your!
VPS Hosting Plans
VPS hosting is suitable for growing websites with frequent traffic spikes. It is an excellent choice when you are looking for more control flexibility for your website. VPS root access allows you to control and manage your own virtual resources on a virtualization server, and all the resources are specifically only for your site. It is more expensive than shared hosting, but you get what you pay for! Make sure you know how to manage a VPS hosting before you buy it. You may got hacked or lost your data if don't know how to operate and maintain it.
| Plan Name | CPU | RAM | Disk Space | IPV4 | Bandwidth | Price |
| --- | --- | --- | --- | --- | --- | --- |
| Snappy 2000 | 2 Cores | 2 GB | 120 GB | 2 | Unmetered | $19.95/month |
| Snappy 4000 | 2 Cores | 4 GB | 165 GB | 2 | Unmetered | $29.95/month |
| Snappy 8000 | 4 Cores | 8 GB | 240 GB | 2 | Unmetered | $39.95/month |
It's not recommed to buy VPS hosting from Hostgator since you can get more professional VPS services from other specialized cloud hosting provider, such as AWS, Google Cloud, Vultr and more. You can also check our Cheap VPS Hosting info for more options.
Dedicated Server Hosting
If you're looking for the ultimate in control, flexibility, and security, a dedicated server will provide you and your site visitors with the best experience. With dedicated hosting you get a server solely for hosting your website. It's also the most expensive type of hosting and comes with great responsibility because you have to maintain it by yourself. It is only necessary for high traffic/resources used websites or large ecommerce businesses.
Plan Name
CPU
(Intel Xeon-D)
RAM
Disk Space
IPV4
Bandwidth
Price
Value Server
4 Core / 8 Thread
8 GB
1 TB HDD
3
Unmetered
$89.98/month
Power Server
8 Core / 16 Thread
16 GB
2 TB HDD or
512 GB SSD
3
Unmetered
$119.89/month
Enterprise Server
8 Core / 16 Thread
30 GB
1 TB SSD
3
Unmetered
$139.99/month
You should know what are you doing when you are looking for a Dedicated Server, so we won't talking more about this. You can also check our Dedicated Servers info for more options
Reseller Hosting
Reseller plans are designed for you to earn money! You can resell Hostgator Hostings with this plan or use it as and addon to add value for your business, such as Web Design and local SEO Agency.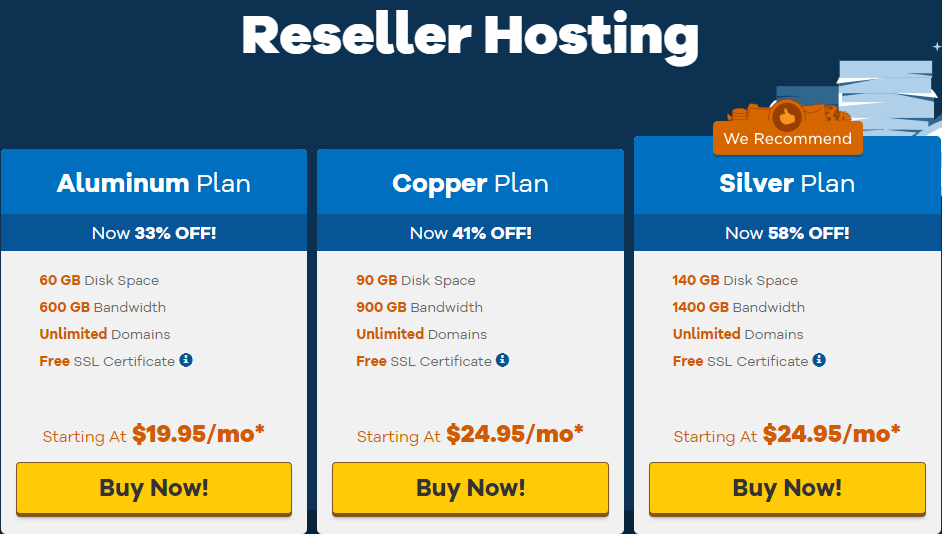 Pricing: Prices start at $19.95/month.
Features: You can create cPanels for each of your clients with WHM system provided, and also control the billing for your hosting business. You can limit packages, specify disk space, bandwidth, email, databases, and other features. It's a good choice to start your own hosting business with Hostgator Reseller Hosting plans.
HostGator Customer Service
Hostgator always provide their best 5 star customer service in the hosting industry. You can get help and support via their:
24/7 live chat service
24/7 phone service (toll-free)
Email based support ticket system
You can also find their support portal in the hosting dashboard, which is a Knowledge Base where you can find quick answers from 680+ articles and 500+ video tutorials.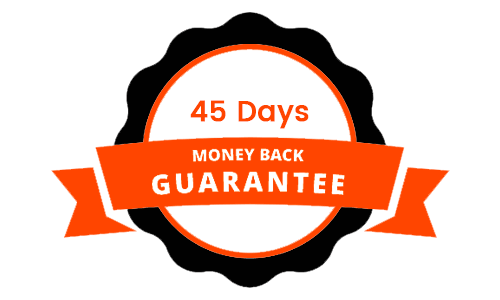 Let's point to Money-Back Service: HostGator offers a 45-day money-back guarantee, this guarantee applies to all shared, reseller, and VPS hosting packages. That means you can use their hosting for more than a month and still get your money back if you're not completely satisfied. Their is nothing to worry about to use their hosting service.

Like every other product and service, there are good and bad points with every hosting company. Here are the pros and cons of HostGator that we learned.
Pros
Reliable and Solid server performance: HostGator guarantees an uptime of 99.99% and they made it. You can get 1 month hosting credit for your account if you suffered downtime with their service.
45 Days Money Back Guarantee: HostGator offers 45 days money back guaranteed with no question asked. Normarly the hosting companies provide 30days money back but here you get 15 days more.
More Features Available: HostGator offers more features on their shared plans than most other hosting companies, include free email marketing software, Spam Assassin and more.
Free Site & cPanel Migration: HostGator offers free migration service for all new accounts. Their expert team will transfer your website with no extra cost within the 30 days of signing up.
Good Help and Support: HostGator provide 24/7 live chat or telephone support as well as the email base ticket system. You can also find answers from their Knowledge Base and Video Tutorials.
Cons
Price: HostGator's wordpress hosting plans are slightly more expensive than those of other popular companies. But you always get what you paid for.
No free domain: Free domain is only available if you sign up for 12, 24 or 36 months plan. HostGator does not offer a free domain registration upon signing up.
Free Backup Limitations: Hostgator provide free backup service for their shared hosting but their are limitations, you need to pay extra if you want truly automated backups.
Upselling Price Tricks: You need to sign up for 36 months to get the best deals, and there are many pre-selected additional paid services during the order process. You need to review them before place the order.
So now it's time to consider if HostGator is right for you. HostGator offers a variety of different hosting plans, and website builder tools with to suit all budgets and requirements. Plus, with their top-notch customer support and server reliability, and based on test results and studies shown above, we recommend Hostgator for those who want a cheap hosting option to start their new small personal or business websites. And I personally think their Gator Website Builder is particularly a good choice for newbies.
No host is 100% perfect, but over 2 million customers of Hostgator can't be wrong.
Ready to get started with HostGator? Click here to select your HostGator plan today.
HostGator Coupon Code and Discounts
Yes – you can currently get 70% Off discount on HostGator with this exclusive coupon code.
[wpcd_coupon id=4203]