Rebel Hosting Review Summary
Rebel is a fast growing Canadian hosting provider and domain registrar founded in 2006 and has been trusted by customers in 186 countries. Rebel offers domain names, web hosting solutions, site builders, professional email, and all the tools and resources needed to build and grow ideas online backed by their 24/7/365 custom support. Top-tier 12 server locations around the world to ensure the security and reliability, 99.9% uptime and safeguard your data with regular backups.
In this detailed Rebel Hosting review, we will take a thorough look at Rebel. Read our Rebel Review before buying, and get the answer for the question: "Should I choose Rebel?, is there any promo coupon codes for rebel Hosting?"


[lwptoc numerationSuffix="dot" title="Table of Review Contents" width="auto" float="right" backgroundColor="#eeeeee" skipHeadingText="Uptime|Server Loading Speed|Pros|Cons"]
About Rebel Hosting
Rebel was founded in Ottowa, Canada in 2006 by entrepreneur Rob Villeneuve, who continues to serve as the company's CEO after acquired by Momentous Corp, which owns Rebel brand, Internic brand and even an yogurt brand: Turkberry. Rebel offers shared hosting, virtual private server(VPS hosting), managed WordPress hosting, and domain name services.
Overall Rebel Hosting Review
Our Rating: A real deal in the ever-growing hosting market.
Hosting Plans: Shared, WordPress, VPS, Domain Name registration
Features: Free SSL certificate, Email accounts, Can choose server location
Uptime: 99.99% guarantee
Help & Support: 24/7/365 live chat, phone, and email
PRICING: Personal Plan Starting at $2.4/month (renews at $8.0/month)
Rebel Hosting Performance
Uptime
Same with most of other popular hosting companies, Rebel offers a 99.99% uptime guarantee from its AWS-hosted datacenters located in twelve different cities, regular backups, and protection against security threats, which means your site keeps SEO rankings and customers happy, so you're free to focus on you. But They do not appear to offer any refunds for extended downtime, which is unusual. We have monitored Rebel's Shared IP for months, here you go the last 3 months of uptime and response time of Rebel.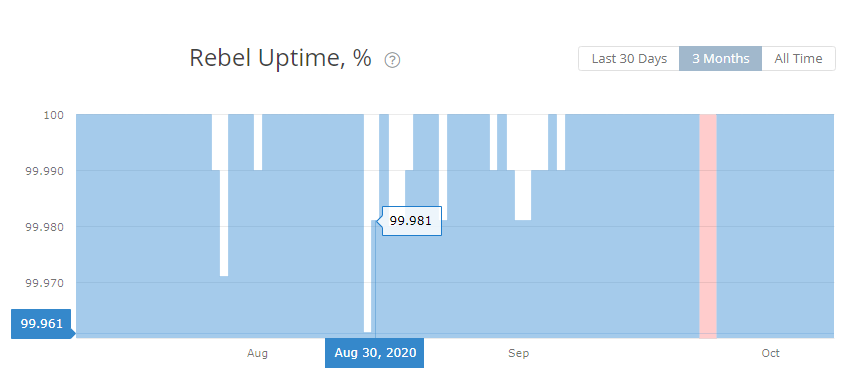 As you can see that the average uptime of last 3 months is about 99.9% (The Orange Color: there were 2days off since the monitor server under mantaince). It's pretty high even among those big brands, and it's very important for user experience to always keep your sites online!
Server Loading Speed
It's time to check the server loading speed. We monitored the websites served on the same Rebel shared IP and got the average loading time as reference since the response time of a website will be affected by many factors, such as js code, css file and image size. Here is the latest 3 months result: (sorry for the 2days offline!)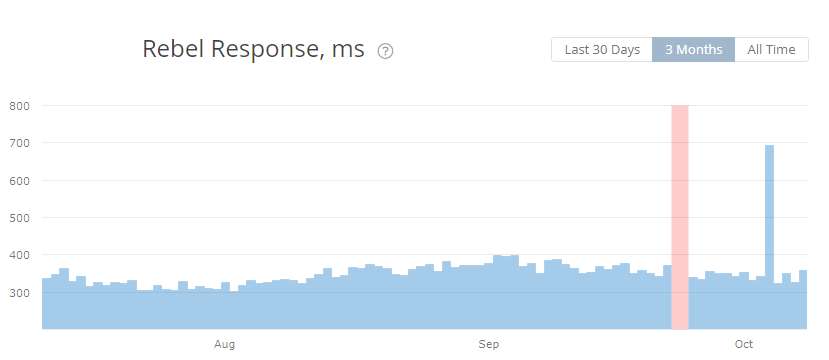 The average loading time is about 300-400ms, all less than 1 second. It's acceptable since all the sites been monitored are allocated with same IP and share the bandwidth resources. This speed is very normal among many other web hosting providers, and of course you can get better speed by optimizing assests of your site!
Rebel Hosting Plans Features and Pricing
Rebel offers offers many hosting options to meet the different needs of its customers, including clustered hosting (Cpanel panel), shared hosting (Plesk panel), managed wordpress hosting, VPS hosting, and domain regestration services.
Clustered Hosting Plans (Cpanel)
If you are a beginner and want to start a blogging website then clustered hosting can be a good option for you. It is cheap in price and easy to use. Rebel offers three different clustered hosting plans, all of which include a free domain name for the first year, and you can expand each of these plans with additional data transfer, disk space, and emails as your website grows.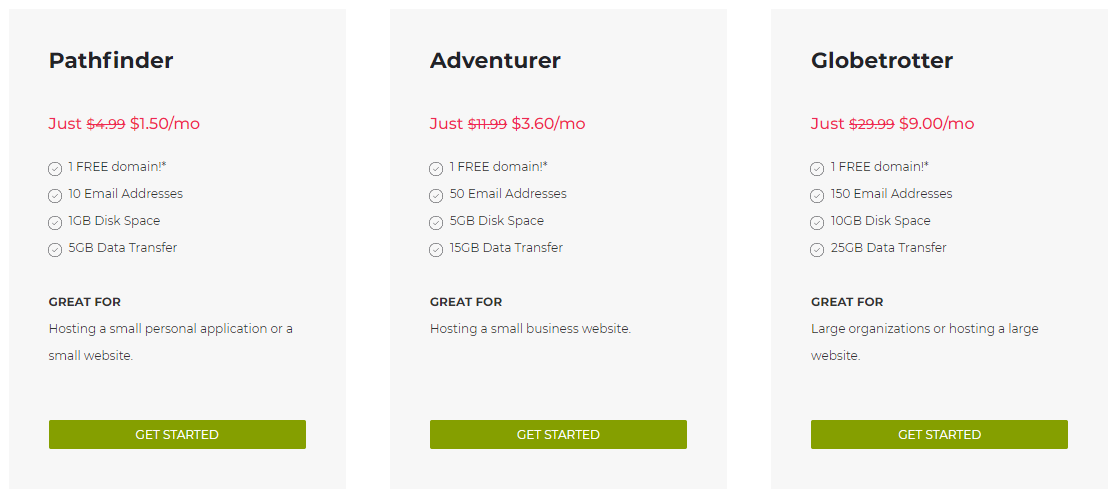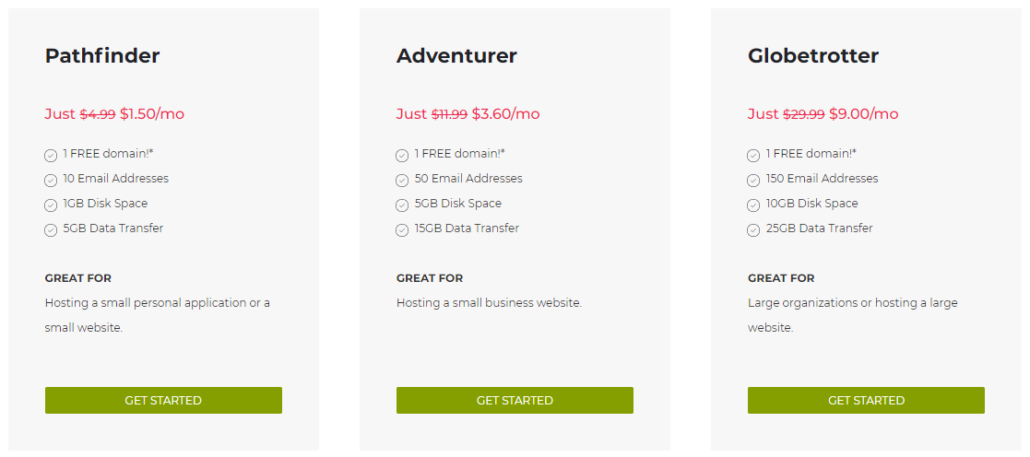 Features: Rebel's clustered hosting plans include 3 different packages. The clustered hosting using cPanel control panel, and all the 3 plans include free domains for the first year.
Pathfinder: Allows you to host only one website. Great for hosting a small personal application or a small website.
Adventurer: With more email, disk and bandwidth resources and Great for hosting a small business website.
Globetrotter: Suitable for large organizations or hosting a large website. Still 1 domian but with more resources
Pricing: Prices start at $1.50/month.

Full Control Web Hosting (Plesk)
If you have coding skills and need maximum control or want to host more than one website with one account, this plan might be right for you. Rebel's offers 2 full-control hosting plans with Plesk control panel: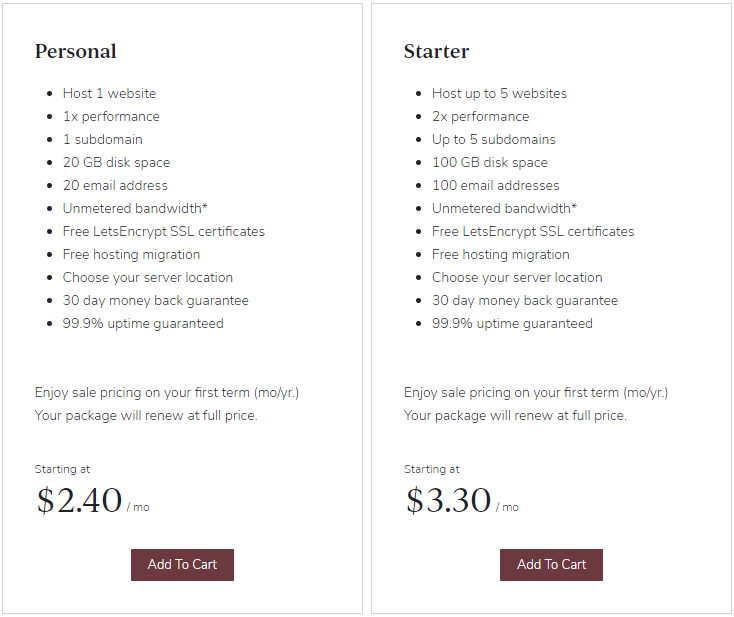 Features: All of the 2 Rebel's full-control hosting plans include Unmetered bandwidth, Free SSL Free hosting migration service, and can choose your server location. The difference is the Starter plan can host up to 5 websites.
Personal: Allows you to host only one website with 1 subdomain. Great for personal blog or small website.
Starter: Allows you to host up to 5 websites plus 5 subdomains with 2x performance than the Personal plan.
Pricing: Prices start at $2.40 for the 1st month and renew at $8.0/month.

Business Hosting
When your site needs a boost in power and performance to handle high traffic - that's where Business hosting Comes in. Enjoy unlimited websites, subdomains, disk space, email addresses and 4x performance. This plan a good option for e-commerce sites, high traffic publications, and other resource-heavy websites.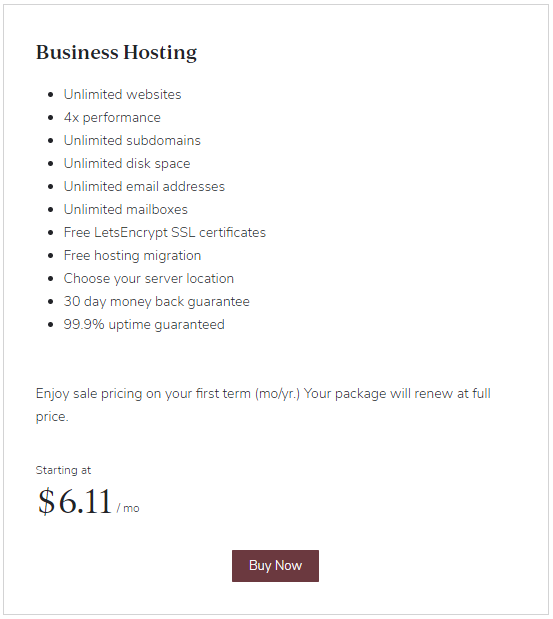 Features: It is essentially shared hosting, only named differently. You can choose your server location.
Pricing: Prices start at $6.11 for the 1st month and renew at $21.0/month.

Managed WordPress Hosting
Managed WordPress hosting is easier to build, migrate, or tune-up your WordPress website immediately. No design experience required. No maintenance. Rebel Managed WordPress is a Rebel hosting package specifically designed to supportWordPress websites. It's a great choice for anyone starting their first business website or for those who simply prefer to let someone else deal with the ins and outs of site building including the small hassles like updates and technical adjustments.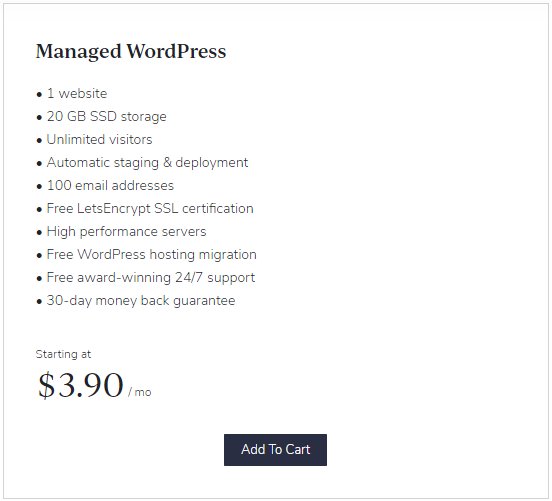 Features: High performance servers, CDN compatible, Imunify360 with firewall, Malware scans & removal.
Pricing: Prices start at $3.90 for the first month and renew at $13.0/month

VPS Hosting Plans
Need more power? Try our VPS plans. With a virtual private server hosting plan, resources like RAM and CPU are reserved and isolated so that only your website (or websites) can use them. VPS hosting is suitable for growing websites with frequent traffic spikes. It is an excellent choice when you are looking for more control flexibility for your website!


Make sure you know how to manage a VPS hosting before you buy it. You may got hacked or lost your data if don't know how to operate and maintain it.
It's not recommed to buy VPS hosting from Rebel or other popular web hosting companies since you can get more professional VPS services from other specialized cloud hosting provider, such as AWS, Google Cloud, Vultr and more. You can also check our
Cheap VPS Hosting
info for more options.
Domain Name
Rebel.com is also famous for its domain name services include regestration and Brokerage, as you may know they were previously known as Domains at Cost. Don't forget you will get a free domain for 1 year with their Clustered Hosting Plans


Additional Services
Website Builder
Rebel partners with Weebly to offer its customers a discounted website builder. There are four Weebly website builder options available:
Free: you a one-page website, and you can choose over 60 templates to help you get started.
Starter: you a five-page website, as well as access to over 60 templates.
Pro: you get a website with an unlimited number of pages, access to over 60 templates, and basic e-commerce functionality.
Business: you get all features offered by Weebly, as well as full e-commerce functionality.
Email Account
Rebel also provide the Email Hosting service with which you can get your email account to your domain and easily connect your email across all your devices. With the package you will get 3 GB of storage. The price is only $2/month and you will get first 3 months free!
SEO ToolKit
Start improving your site's SEO in minutes – no tech skills required, the Rebel SEO Toolkit is Powered by Marketgoo to boost traffic to your website by providing you:
Scan up to 1000 pages and Optimization tool for each page
Complete custom SEO plan with tasks
Keyword tracking & optimizing for up to 15 keywords
Track & monitor up to 4 competitors
Daily updates on how your website stacks up against your competitors
Rebel.com Customer Service
Rebel comes with adequate assistance in order to help you solve any trouble that you might encounter. You can contact Rebel's in-house support team via:
live chat service (Monday to Friday from 9 AM to 5 PM ET.)
24/7 phone service
Email based support ticket system
There is also a Knowledge Base full of articles where you can find quick answers for many problems!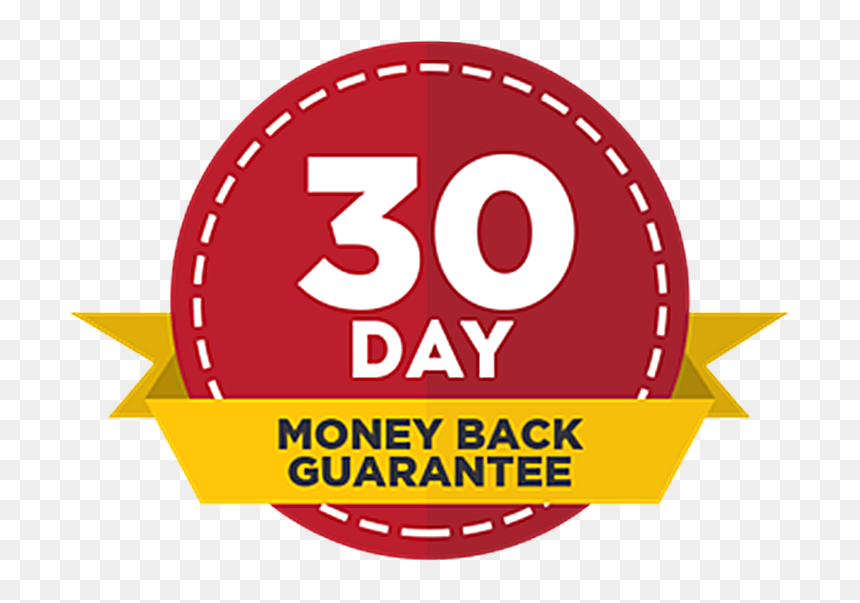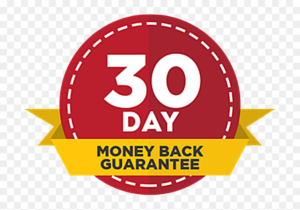 Now it's time to check the Money-Back Service: Rebel offers a 30-day money back guarantee if you are unsatisfied with what you've purchased. But this guarantee is not suit for the cheap Clustered Hosting and Domain Name services.

Is Rebel.com the best choice for you? It really depends upon your needs. Here are a few Pros and Cons to consider.
Pros
Global Service Location: Rebel's top-tier global partners provide access to 12 server locations around the world and ensure the security and reliability that your business needs.
Reliable and Solid server performance: Rebel offers a 99.99% uptime guarantee from its AWS-hosted datacenters located in twelve different cities and they made it.
30 Days Money Back Guarantee: Rebel offers 30 days money back guaranteed for most of their services. That means you can use their hosting for 1 month and still get your money back if not satisfied.
More Features Available: Rebel offers more features on their managed wordpress hosting, include CDN compatible, Imunify360 with firewall, Malware scans & removal.
Free Hosting Migration: Rebel offers free migration service for all new accounts. Their migration experts will do it for you - in fact, their Hosting Migration service has a 30-day money back guarantee.
FREE 24/7 CUSTOMER SUPPORT: Rebel provide live chat or telephone support as well as the email base ticket system. Their knowledgeable support team is available 24/7/365 to help you bring your vision to reality.
Cons
Price: Rebel's renew prices are slightly more expensive than those of other popular companies. But you always get what you paid for.
No free domain for some plans: Free dommain is not available for some of rebel's hosting plan. They only provide free domain for the clustered plans.
Resources VS Prices: Let's compare Rebel with other companies

Rebel.com
Bluehost
HostGator
InMotion Hosting
Bandwidth
5 GB
Unl
Unl
Unl
Storage
1 GB
50 GB
100 GB
Unl
Free Domain
Yes
Yes
Yes
Yes
Free SSL
No
Yes
Yes
Yes
Free CDN
No
Yes
No
No
Price
$1.50/mo
$2.95/mo
$2.75/mo
$6.39/mo
IF REBEL.COM IS RIGHT FOR YOU?
Rebel started in 2006,it is clear that the company is not new in this field. They offer a variery of hosting plans to meet different demands, but no host is 100% perfect, we collected and analysed many rebel.com reviews from the internet and most of them are positive. Their are some complaint about the storage and renew price, but as we always said: You get what you paid for. Our conclusion is: If you are looking to host a small personal to medium-large business, Rebel deserves your attention. And I personally think their Clustered Hosting Plan is a good choice for personal website.
Ready to get started with Rebel? Click here to select your Rebel hosting plan today.
Rebel Coupon Code and Discounts
Yes – you can currently get 70% Off discount on Revel's Managed Wordpress Hosting.