DreamHost Review Summary
DreamHost is a top player in the web hosting industry. Since founded in 1996, Dreamhost has powered more than 1.5million websites for their 400.000+ customers. DreamHost is known for its generous 97-day money-back guarantee for their hosting plans and the option for you to pay monthly instead of yearly, which means they don't increase the price when it's time to renew. As a WordPress.org's Officially Recommended host provider, DreamHost is a must choice for all types of websites.
To be honest, DreamHost is my first hosting provider for my first HTML site 10+ years ago, and I was impressed for their simple usability and customer service. 10years passed, they have grown into a popular award-winning hosting company and been recommended everywhere. I will try to give you detail information of their hosting features and performance in this DreamHost Review to help you decide if DreamHost is the right choice for your website.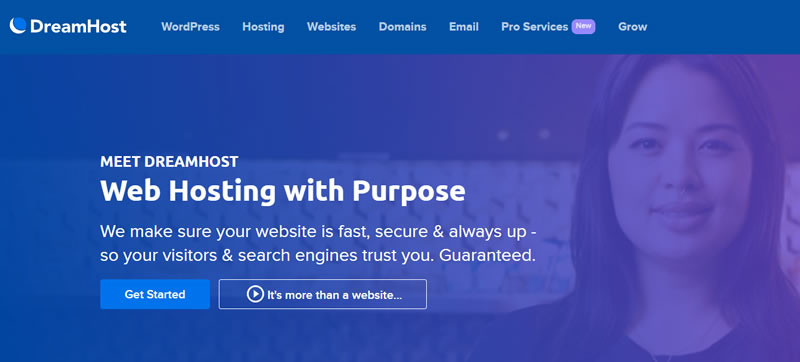 [lwptoc numerationSuffix="dot" title="Table of Review Contents" width="auto" float="right" backgroundColor="#eeeeee" skipHeadingText="Uptime|Server Loading Speed|Pros|Cons|Interested in DreamHost?"]
About DreamHost
DreamHost is an independently owned hosting company founded in 1997 buy four friends from Harvey Mudd College in California, and now they have powered over 1.5 million websites and have over 400.000 customers from over 100+ countries. DreamHost offers wide range of web hosting services: including affordabe shared hosting, wordress hosting, and high-end cloud dedicated server to meet different needs. They have been rated as the #1 hosting provider for three years in a row by PC Magazine and been recommded by Wordpress.org on their website.
Overall DreamHost Review
Our Rating: Fantastic hosting provider with competitive prices.
Uptime: 100% uptime guaranteed (Regularly 99.99%)
Refund: 97-day money-back guarantee for shared hosting
Help & Support: 24/7 Email, ChatBot, Forum, Knowledge Base
PRICING: 63% Discount on Shared Hosting Starting at $2.59/month with 97day money back guarantee
The Bottom Line: is DreamHost right for you? Let's check the Pros and Cons before reading this long review to help you make decision.
Pros
Trusted Award-Winning Hosting: DreamHost has been rated as the #1 hosting provider for three years in a row by PC Magazine. They are also one of only 3 web hosts that WordPress itself endorses.
97-Day Money Back Guarantee: Dreamhost offers a 97-day money back guarantee for their shared hosting plans and 30 days money back guarantee for other hosting plans, which is better than most web hosting companies out there.
100% Uptime Guarantee: Dreamhost offer 100% uptime gurantee for their network., So if they don't meet that standard, you'll receive a credit for one day of service, for every hour that your site is down.
No Upsells and Upgrades: Different with other providers pushing you into buying add-ons with aggressive pitches, DreamHost maked it clean on their ordering page.
Cheap Starting and Renewal Price: DreamHost is one of the cheapest shared hosting providers around, and they don't increase the price when it's time to renew.
Unlimited Bandwidth & Storage: All plans come with truly unlimited bandwidth and SSD storage. you don't have to worry about disk storage or network transfer when your site gets popular.
Free Wordpress Website Builder: All plans come with truly unlimited bandwidth and SSD storage. you don't have to worry about disk storage or network transfer when your site gets popular.
Everything You Expected for Wordpress Hosting: Instant WordPress Setup, Auto WordPress Updates, Free WordPress Migrations and more, Free Domain, Free SSL Certificate and more.
Cons
Control Panel: DreamHost uses their own custom-made control panel, which allows you to manage your hosting. It may take a bit of time to master for those used to cPanel dashboards.
Custom Support: DreamHost offers 24/7 support, but the live chat is only from 8AM – 4PM Pacific Time on Mondays – Fridays, and there is no direct phone support.
No Email Account for Starter Plan: Free email hosting is not available for Shared Starter hosting plan, but can be added for $1.67/mo per mailbox on a yearly email plan.
[wpcd_coupon id=4440]
Uptime
Their is a very important factor we need to concern about when it comes to web hosting service is UPTIME. Don't get it wrong, there are many other important factors that need to be considered, but none of them matter if your site is down. DreamHost guarantees 100% uptime in their Terms of Service - as far as I know, they are the only shared hosting provider offering this much.
We've been monitoring DreamHost's network uptime more than 1 year with a clean wordpress blog with dummy content and default Twenty Seventeen theme, there is no any caching plugin installed, and here's what we see:


Let's step to check the monthly breakdown of the past 12 months: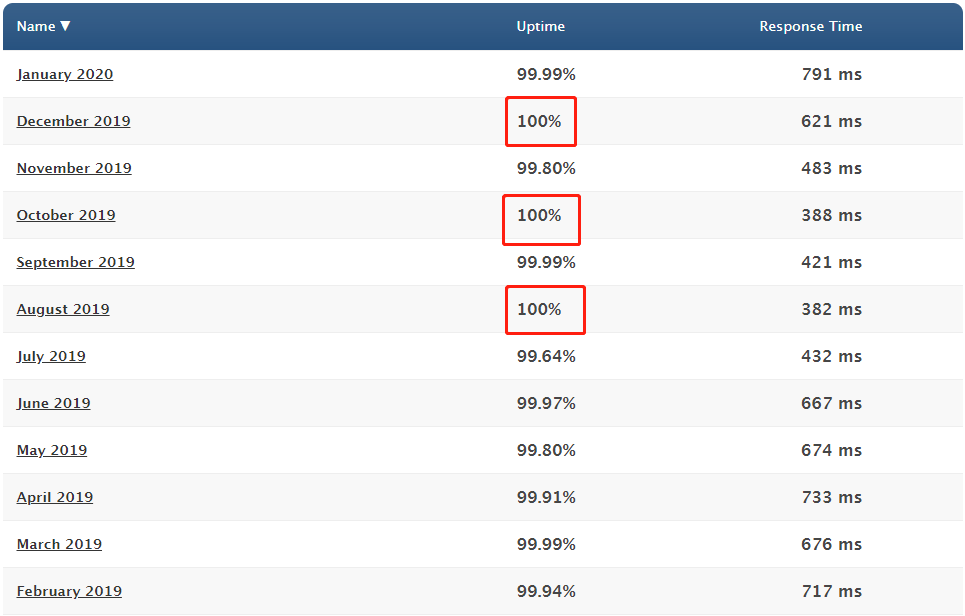 The average Dreamhost uptime is 99.94% in the latst 12 months, there were 11 hours downtime in the 2 years. It's pretty good uptime for user experiences and SEO ranking. Not 100% in all months but don't worry since they provide 100% gurantee so you can ask for credits for the downtime. Here is the details of the TOS:
DreamHost guarantees 100% uptime. A failure to provide 100% uptime will result in customer compensation pursuant to guidelines established herein.
Customer is entitled to compensation if Customer's web site, databases, email, FTP, SSH or webmail become unusable as a result of failure(s) in DreamHost systems for reasons other than previously announced scheduled maintenance, coding or configuration errors on the part of the Customer.
Customer will receive DreamHost credit equal to the Customer's current hosting cost for 1 (one) day of service for each 1 (one) hour (or fraction thereof) of service interruption, up to a maximum of 10% of customer's next pre-paid hosting renewal fee.
DreamHost's assessment of downtime begins when Customer opens a support ticket to report the problem.
Server Loading Speed
With the clean dummy wordpress blog, we got the average server response time of DreamHost in the past 1 month is 648ms, it's about 0.6-0.7s for a blog without any optimization and caching plugins. It's acceptable and normal speed for most of the popular hosting providers, Let's check a typical month: August 2019:

The average loading time for December 2019 is 382ms, that's which is incredible for a site without any performance optimization plugins. The bottom line is that DreamHost has been able to hold the average loading time consistently (Please check the Uptime Snapshot above), so you should be able to expect the same.
Dreamhost offers a variety of hosting plans, ranging from Shared and WordPress hosting. Beyond these two plans, DreamHost also offers dedicated servers and VPS/cloud hosting for high-traffic sites, but those are not recommended by us. All of DreamHost's plans use SSD storage for faster loading, and latest software with optimized servers to speed up your website. We're just going to break down the details of their Shared Hosting and WordPress hosting plans in this review.
---
Shared / Basic Wordpress Hosting
Shared hosting is always the first choice for most small business, beginners or small website with low traffic volume, it's the most affordable hosting option to host your website and present your business online. Meanwhile, the shareed hosting means each server may host multiple sites that share the resources of the hardware, including CPU and RAM. So you may need to upgrade your hosting plans later as your website grows. DreamHost has two tiers of shared hosting plans: Starter and Unlimited, here's a quick overview: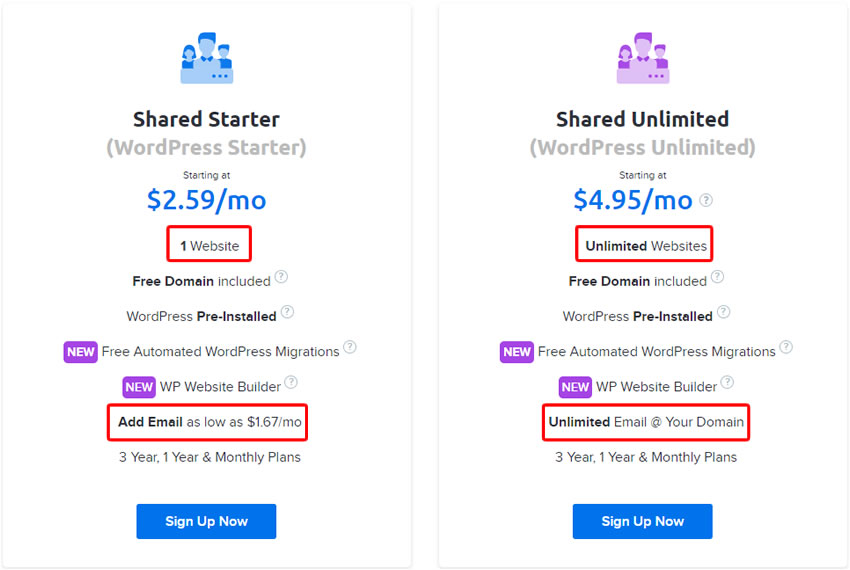 DreamHost has merged the Shared Hosting and Basic Wordpress Hosting together to make it easy to choose.
Shared hosting is great to start, but you'll neet to upgrade your plan if your project grows a lot.
DreamHost uses custom-built control panel, It may take a bit of time to master for those used to cPanel.
Features: All the 2 plans come with the same essentials: Free Domain for First Year, Unlimited Bandwidth, All SSD Storage, Free SSL Certificate, Free Automated WordPress Migrations and WP Website Builder, Free Automated Daily Backups, plus with 24*7 ticket support and a 97 day money back guarantee. Let's take a look at what's the difference between each plan.
Shared Starter ($2.59 per month): This is the choice for kick-starting a SINGLE site, with 50GB SSD Storage and 6 MySQL Databases limitation, and the email hosting is not included, it can be added for $1.67/mo per mailbox on a yearly email plan, or you need to upgrade to the Shared Unlimited.
Shared Unlimited ($5.95 per month): This plan doesn't have a cap on how many websites you can host, it's great for those who want host MULTIPLE websites. You can host unlimited websites with unlimited traffic, unlimited SSD storage, multiple SSL certificates, and email hosting.
Pricing: Pay for 3 years of hosting upfront and get the discount prices starting at $2.59/month.
| Pricing | Monthly | One Year | Three Year |
| --- | --- | --- | --- |
| Shared Starter | $4.95/mo | $3.95/mo | $2.59/mo |
| Shared Unlimited | $10.95/mo | $6.95/mo | $5.95/mo |
[wpcd_coupon id=4440]
---
DreamPress / Managed WordPress Hosting
Recommended by Wordpress.org
Although you can install WordPress on the Shared or Basic Wordpress Hosting plans, and have the your WordPress blog installed automatically during sign up, those looking for higher-performance WordPress hosting may find the DreamPress (Managed Wordpress Hosting) plans more appealing. DreamPress is more faster than their shared hosting. The servers are optimized for WordPress, and can handle traffic spikes without your site going down. The DreamPress hosting is available in 3 different plans: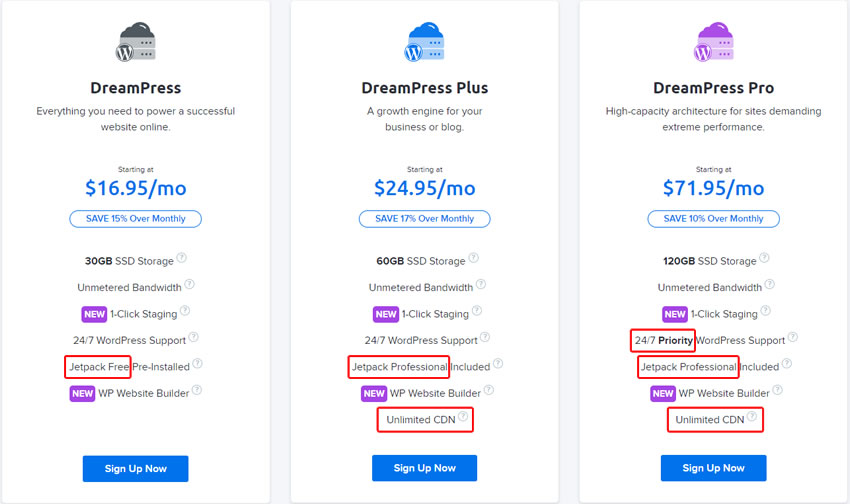 Essential Features:
1-Click Staging: Create a staging site with just one click and safely test new plugins, themes, and code before pushing.
Bulletproof Backups: Automatically back up your account every day. Plus, create backups on-demand whenever you want.
Built-in Caching: Get better results with a faster site — without all the extra work of implementing caching yourself.
Jetpack Included: The best plugin to help design your site, grow your audience, and keep it all secure.
Website Builder: All DreamPress plans include access to a quickstart wizard, 200+ design themes, and a drag-and-drop editor.
Free WordPress Migrations: Migrate your WordPress site over to DreamHost using the free DreamHost Migration plugin.
All the 3 plans come with the same essentials, plus Unlimited Email, Unmetered Bandwidth, Free SSL Certificate Pre-Installed, Free WP Website Builder and more.
Basic DreamPress plan comes with 30GB of SSD storage, it's recommended for traffic below 100K per month.
DreamPress Plus doubles the storage, increases the visitors cap to 300K monthly, plus Jetpack Professional version with content delivery network (CDN) included to speed up site loading.
DreamPress Pro comes with verything in DreamPress Plus, and even more resources: 120GB of SSD storage, working well for 1Million visitors per month, also you can enjoy their 24/7 Priority WordPress Support with this plan.
The Visitors Cap: It is roughly how many monthly visitors to a typical WordPress site can be supported by the plan. This is a soft limit, Dreamhost won't shut down your website! Performance can vary though by how well your website is optimized. You can easily upgrade to a more powerful plan if you need more resources.

Pricing: Pay for 1 years of hosting upfront and get the discount prices starting at $16.95/month. or you can choose the monthly payment.
| Pricing | Monthly | One Year |
| --- | --- | --- |
| DreamPress | $12.00 for first 3month and then $19.95/mo | $16.95/mo |
| DreamPress Plus | $14.00 for first 3month and then $29.95/mo | $24.95/mo |
| DreamPress Pro | $79.95/mo | $71.95/mo |
---
Woocommerce Hosting
WooCommerce hosting is another available option under Dreampress hosting plans. It comes with all the features of Dreampress and latest WooCommerce version will be pre-installed with battle-tested themes and plugins, letting you launch your online store and start selling fast.

[wpcd_coupon id=4440]
---
Other Hosting Plans
Managed VPS Hosting
No root access since managed
DreamHost offers 4 different VPS web hosting plans for businesses/websites that need servers with more power than what shared hosting offers. All VPS plans are managed, meaning you won't have to worry about dealing directly with any servers. This is fully handled by the support teams at DreamHost.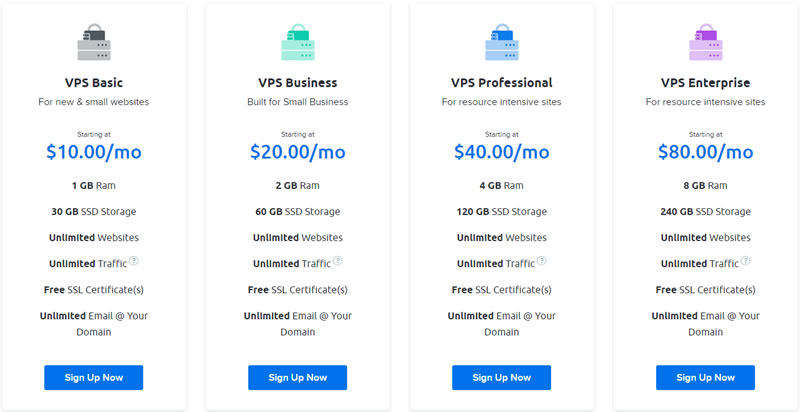 There is no root access for the managed vps, you can manage your VPS via their VPS Control Panel.
Cloud Hosting
DreamHost's all-SSD Cloud servers enable you to run applications on the Linux OS of your choice. Whether you require MongoDB, Redis or node.js, ruby, python, DreamCompute has your back. Carefully engineered around OpenStack and Ceph, DreamHost supports standard APIs and the most popular developer tools.
DreamHost's Cloud is comprised of DreamCompute and DreamObjects. DreamCompute is much better than VPS because you can deploy and customize your cloud servers. With DreamObjects, you'll have a completely scalable storage service for all your data and you can access it any time.

Dedicated Server
If you want maximum web hosting power, you need to get a dedicated server. It can be fully managed for you and is ideal for apps and sites with a lot of traffic as well as resellers and agencies. This is also the most expensive type of hosting. Dedicated hosting at DreamHost starts at $149 per month.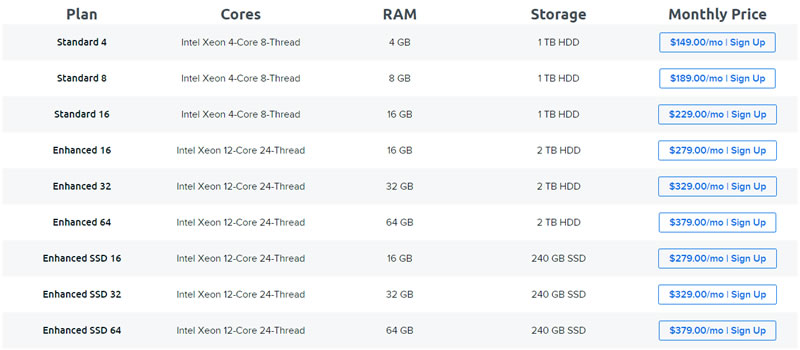 Email Hosting
DreamHost email works with any domain name you own - even if it's registered, hosted, or parked somewhere else. Their email hosting plans can be purchased at $1.67 per month and include a 25 GB mailbox, IMAP support, and advanced security features like spam, virus, and phishing protection.

BTW: All of DreamHost's web hosting plans except for Starter Shared, DreamCompute, and DreamObjects include email hosting. DreamHost email plans are perfect for these customers, as well as anyone with a 'parked' domain registration without hosting. [wpcd_coupon id=4440]
DreamHost Customer Service
DreamHost claim they offering 24/7 support via live chat and a ticket system. But seems it's not easy to get answers from their support team via live chat in real time. YOU NEED TO WAIT! It's not user friendly for new customers.
Live Chat: Only available from 5:30AM–9:30PM Pacific time.
We tested their live chat system when working time, but there is no reply from human sales rep for hours. And their Dreambot chat robot trying to automate the live chat process but have limited responses. Personally, I don't like that, I just want there is a real human behind the screen and help me with my questions, no matter the pre-sale or tech support.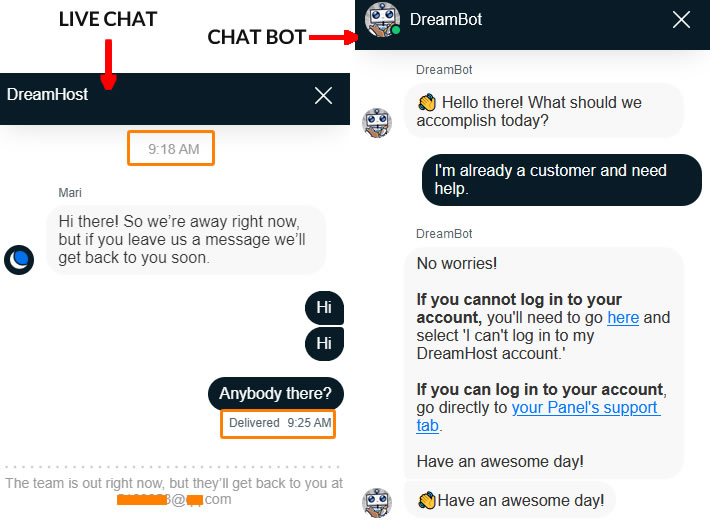 Call Back: Paid telephone call service, you can add three callbacks per month to your account for a nominal monthly fee. DreamHost does NOT provide a call-in telephone number, all phone support issues are handled as callbacks. and callbacks cannot be made for numbers outside the United States and Canada.
DreamPress 'Plus' plans include 3 free callbacks per month.
DreamPress 'Pro' plans include 5 free callbacks per month.
Ticket Email System: This is recommended by Dreamhost, customers can open ticket or request for support through your customer dashboard.Support is able to answer most questions you may have and also provide you with links, examples, and so on that assist you in diagnosing an issue you're experiencing.
Discussion Forum: Dreamhost has an official forum where you can ask questions and get reply in hours, or search for answers from threads posted by other members. But not easy for new customers too.
Knowledge Base and Academy: DreamHost maintains an extensive knowledgebase on their website that answers the most common questions users have about hosting. There are many useful wordpress tutorials in the Academy page.
Dreamhost offers an incredible 97 day money back guarantee while many other hosting companies will give you only 30-day refund period (Hostgator will give you 45 days). That means that if you cancel your account within 97 days of signing up, you'll receive a full refund of all hosting fees.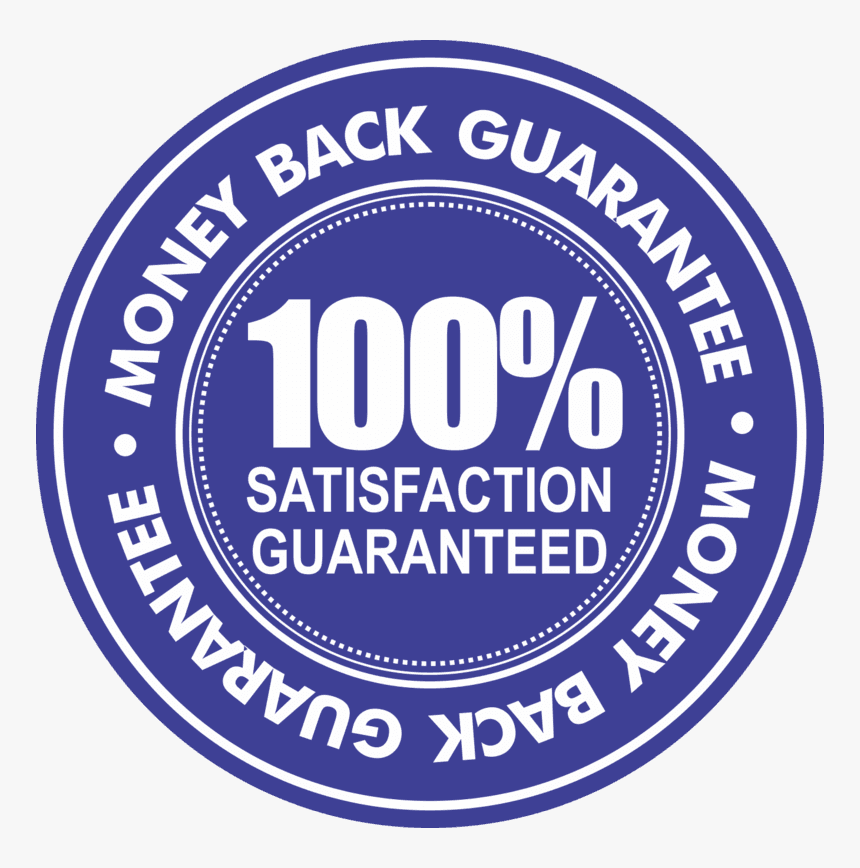 DreamHost Money-Back Policy:
Money Back Policy covers monthly and yearly Orders for their Shared Hosting and Dreampress Hosting and most additional features.
Shared Hosting / Website Builder:
DreamHost offers a full refund on Shared monthly and yearly hosting fees if your plan is canceled within the first 97 days of opening the account. Yearly plans are refunded the current subscription cost if within 30 days of the annual subscription renewal.
DreamPress Hosting:
DreamHost offers a full refund on DreamPress monthly and yearly hosting fees if your plan is canceled within the first 30 days of opening the account. Yearly plans are refunded the current subscription cost if within 30 days of the annual subscription renewal.
VPS / Dedicated Server:
Yearly plans are refunded the current subscription cost if within 30 days of the annual subscription renewal. Monthly NOT refundable!
Services not covered by Refund Policy: Cloud Hosting plans, include DreamCompute and DreamShield; Paid email plan, SSL Certificates, Unique IPs, Domain registrations

Quick Facts
Performance: Good uptime rate, optimized for wordpress and been recommended by wordpress.org.
Customer Support: NOT Immediate, new customers may get bad experiences with this.
Ease of Signup: Easy one-page sign-up process and quick account activation.
Payment Methods: Credit Card, Electronic Check / ACH, PayPal, Check or Money Order.
Hidden Fees: No hidden fees. All price is clear and the renewal price is the same.
Upselling Addons: Only a few, choose as you wish!
Money-Back: 97-days for shared hosting and 30-days for vps and dedicated hosting money-back guarantee.
Easy of Usage: NOT Cpanel, need time to get used to it for the first time.
More: SSD storage, managed wordpress, built-in Caching, wordpress staging, free CDN, free SSL, etc!
Is DreamHost RIGHT FOR YOU?
For the performance:
As one of the oldest hosting provider, DreamHost has delivered rock solid uptime rate for their network and they focus a lot on server optimization to speedup wordpress loading time, and thus, they been officially recommended by Wordpress.org.
For the price:
Their price is pretty cheap for the Shared / Basic Wordpress hosting plans, no hidden fees if choose monthly payment. And the limits for the hosting are pretty high too, they offering a bunch of "Unlimited" options for storage, bandwidth, etc.
For the support:
That's the downside of Dreamhost. Limited live chat, email ticket is wasting time for urgent issues, and telephone support only available for high plan. It's always important to get immediate response from human supporter for online business.
Our conclusion : DreamHost is a company offering fully-featured products. Its Shared / Basic Wordpress hosting service is up there with the very best on the market. Ready to get started with Dreamhost? Click here to select your hosting plan now.
DreamHost Coupon Code and Discounts
You can currently get an exclusive 63% Off discount on Dreamhost hosting plans.
[wpcd_coupon id=4440]