Bluehost Review Summary
Bluehost is one of the biggest and top rated hosting companies by offerring outstanding hosting features as well as excellent customer support. As an Official Recommended web host by Wordpress.org and powering over 2 million websites worldwide, Bluehost has become the largest brand name in the crowed web host market. With their 1-Click installations and 24/7 expert support via phone, email, or live chat, Bluehost is the primary choice for personal websites and small businesses.
We have been a happy Bluehost customer for more than 5 years, In this detailed BlueHost review, we will take a thorough look at BlueHost. Read our BlueHost Review and get the latest Bluehost Coupon Codes before buying, and get the answer for the question: "Is it the best choice for you? is there any coupon codes for BlueHost?"
[lwptoc numerationSuffix="dot" title="Table of Review Contents" width="auto" float="right" backgroundColor="#eeeeee" skipHeadingText="Uptime|Server Loading Speed|Pros|Cons"]
About Bluehost
Bluehost was founded in 2003 and was acquired by EIG (Endurance International Group, which owns various hosting providers, such as HostGator or iPage) in 2011. Bluehost offers a wide range of hosting servcies for beginners to larger businesses, including shared hosting, WordPress Hosting (Recommended by Wordpress.org), VPS hosting, dedicated hosting, reseller hosting and more.
Overall Bluehost Review
Our Rating: Best overall hosting provider on the market.
Hosting Plans: Shared, Reseller, WordPress, VPS, Dedicated
Features: Unmetered bandwidth and storage, Free Domain and SSL
Uptime: Regularly 99.99% rate but no official guarantee
Help & Support: 24/7 expert support via live chat, phone, email
PRICING: Shared Hosting Starting at $2.75/month (renews at $7.99/month)
Uptime
Uptime is always one of important factors when choosing a web host, Bluehost offers reliable hosting, but different with most of other web hosting provider, there is no offcial uptime guarantee. However, they regularly delivers the 99.9% uptime rate and been trusted by 2 millions websites. In our 5 years experiences we got almost 99.99% uptime rate from Bluehost, that means there are only 4 minutes of downtime each month, which is excellent.
We've been monitoring Bluehost's uptime performance over the past few years with a clean wordpress blog with dummy content and default Twenty Seventeen theme, there is no any caching plugin installed, and here's what we see:

The average Bluehost uptime is 99.99% in the latst 25 months, there were only 2 hours downtime in more than 2 years. Let's step to check the monthly breakdown of the past 10 months: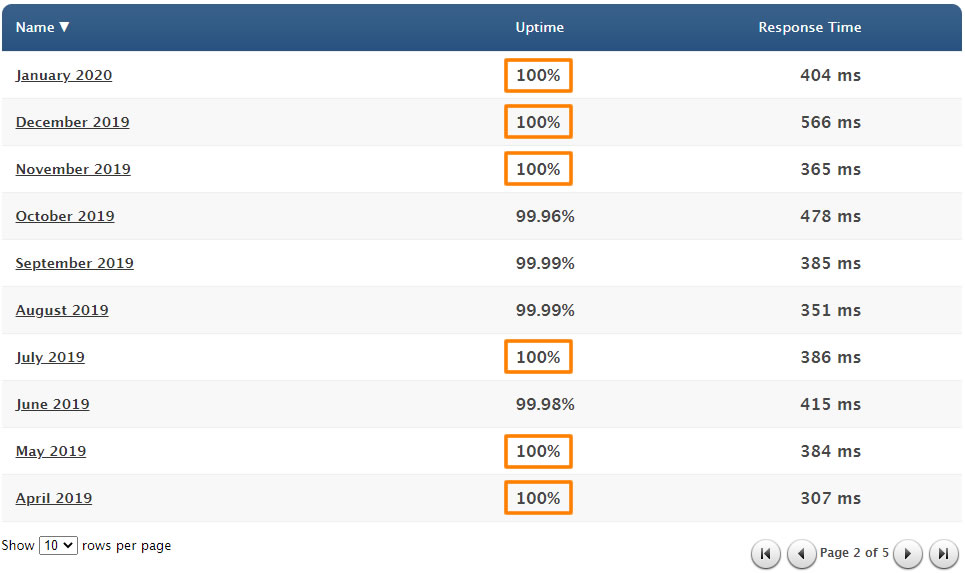 As you can see that they delivered 100% uptime in 6 months of the 10, that's perfect for user experience and SEO ranking. So our conclusion is that Bluehost is one of the most reliable web hosting provider.
Server Loading Speed
We can get the average response time of the testing website is about 350-400ms in last 10 months from the snapshot above, it's about 0.3-0.4s and all less than 1 second, it's acceptable and pretty normal for most of the popular hosting providers, but let's check a typical month: Mar 2019

YES, the average response time is only 236ms in this month. It's unbelieveable super fast loading time for a wordpress blog without any caching plugins. Bluehost is always the top rated one by us according testing.
BY THE WAY, don't forget the response time of a website will be affected by many factors, such as js code, css files and images size! You can speed up your blog with caching plugins and CDN services.
Bluehost Hosting Plans Features and Pricing
Bluehost offers variety of hosting for all budgets and sizes: Shared Hosting, WordPress Hosting, WooCommerce Hosting, VPS Hosting, and Dedicated Servers. We've broken down the details of each type in this bluehost review, but let's take a look at the features first.
Shared Hosting: The cheapest and easiest general service to start a new website with low traffic volume.
Wordpress Hosting: Perfect choice to host WordPress blog. Optimized to run WordPress and have many other features.
WooCommerce hosting: Designed to be the best way to start online stores powered by Wordpress WooCommerce plugin.
VPS Hosting (Virtual Private Server): Dedicated hosting resources allocated with your account and get root access.
Dedicated Server Hosting: Have all resources to yourself. It's the most expensive but also the most powerful hosting.
1-Click Installation Wordpress included with all Bluehost hosting plans. All plans come with an easy to use hosting control panel where you can manage your hosting, add domain, create databases, create email accounts etc. Professional knowledge needed for VPS and Dedicated hosting.
Shared Hosting (Optimized for Wordpress)
If you are looking for something cheap and basic, Bluehost Shared Hosting is probably a good option for you, and this is suitable for most beginners and small businesses. You can easily setup your website / blog with their user-friendly control panel, there is no professional skilles needed and you can upgrade your hosting plans later as your website grows. Their shared hosting is available in 4 different plans: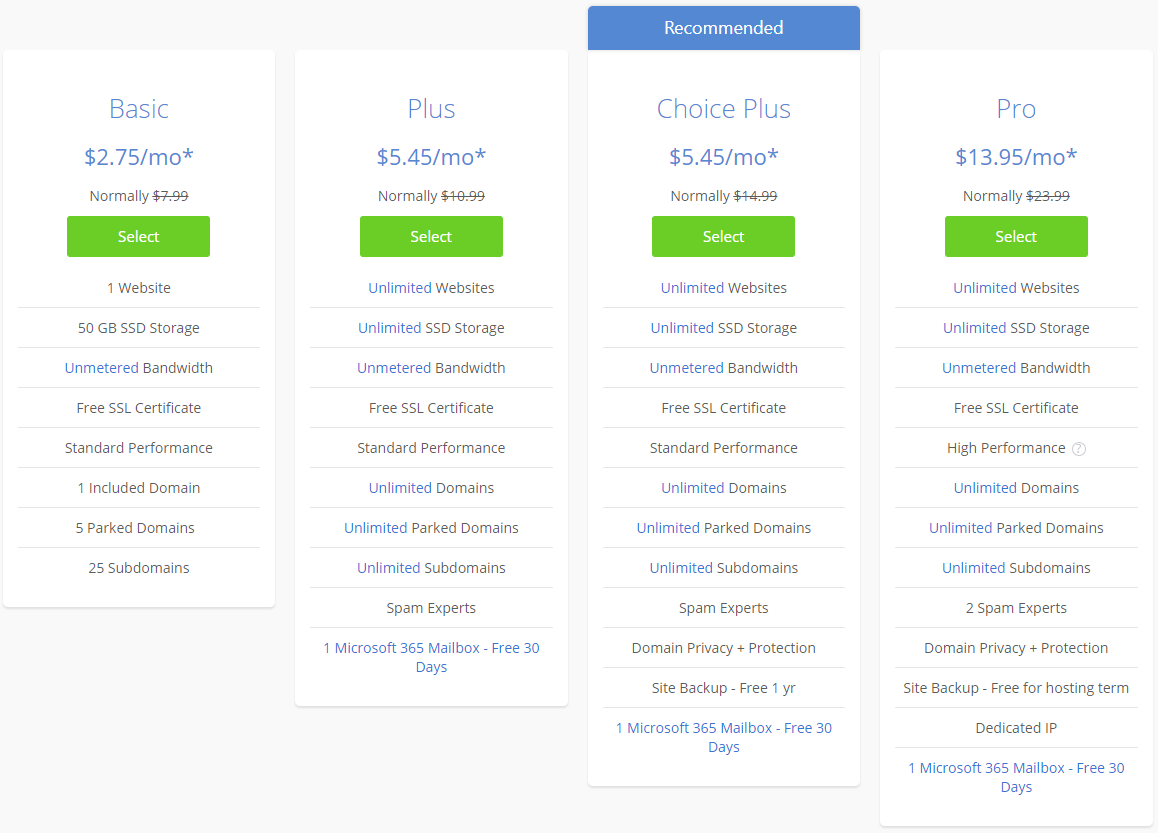 Features: Bluehost using Cpanel control panel for their shared hosting, and all the 4 plans include: Free 1year Domain, Free SSL Certificate, and Unmetered Bandwidth. Let's take a look at what's the difference between each plan.
Basic: This is the cheapest plan but only 1 website allowed and 50 GB SSD Storage limited, but you still get Unmetered Bandwidth and Free SSL Certificate service for your website. You can create only 5 email accounts with this plan but their is 100M limitation for each email box, so this plan is only a choice for single personal blog.
Plus: Can host Unlimited Websites with Unlimited SSD Storage and Unmetered Bandwidth, and more, there is no limits for email accounts with Unlimited Storage and spam protection by Google, which can filter out harmful and unwanted content before it reaches your inbox. This plan is a Good Choice for small / startup business.
Choice Plus: Almost the same with the Plus Plan but you get free Domain Privacy + Protection service, which will hide your personal domain registeration info and keep it private. And also a Free 1-year Site Backup service been included in this plan, don't need to worry about lossing your data anymore.
Pro: All the features of Choice Plus plan included, plus you will get lifetime site backup service, and a Dedicated IP for your websites. A dedicated IP means the IP will only be used by you, that is very important factor for user experience and SEO ranking, it will keep your sites safe if the shared IP been abused.
Pricing: Prices start at $2.75/month, renew at $7.99/month.

Wordpress Hosting (Recommended by Wordpress.org)
Managed WordPress hosting is the fastest and most integrated way to host a WordPress site. Bluehost offers a Pro Managed WordPress focused hosting service. It's deeply optimized for WordPress sites and comes with several perks. Their are 3 plans available for this services.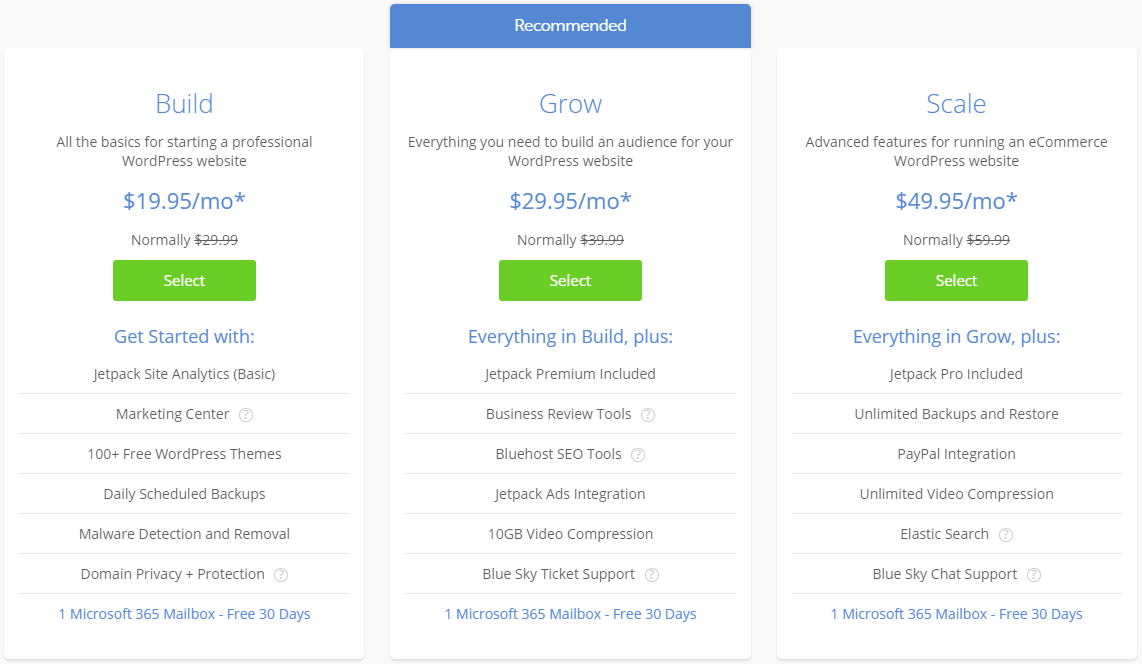 Features: All of the 3 Bluehost's wordpress hosting plans comes with the featuers below:
Unlimited Websites: Build as many websites as you need or want.
Unlimited Web Storage: No limits on data storage or the size of your websites.
Staging Environment: : Allows you to test your website before publishing it live.
No Traffic Limits: Drive as much traffic to your websites as you can without limits.
Free SSL: Encrypt the connection between your server and visitors.
1-Click Wordpress Install & Auto-Updates: Keep everything easy, start building quickly.
CDN Enabled: Get fast page load speeds and improved server utilization.
Get Verified on Google My Business: List your local business online to quickly connect with customers in your area.
More: 100+ Free WordPress Themes, Daily Scheduled Backups, Malware Detection and Removal, Domain Privacy + Protection and more.
Let's check the difference:
Build Plan: All the basics for starting a professional WordPress website. Get all the features above
Grow Plan: Everything you need to build an audience for your WordPress website. Comes with everything in the Build Plan, plus with more services such as Video Compression and Jetpack Premium account. You can get assistance with design, functionality, or general questions from real WordPress experts 24/7 at no additional cost with their Blue Sky Ticket Support.
Scale Plan: Advanced features for running an eCommerce WordPress website. You'll get everything in the Grow Plan, plus with more paid functions specialized for Woocommerce such as PayPal Integration.
Pricing: Prices start at $19.95/month and renew at $29.99/month.
Woocommerce Hosting
Bluehost makes it easy to get started with WooCommerce web hosting. Simply choose the hosting plan that is right for your website needs, and then create or add your existing domain. They will automatically install WooCommerce on top of your WordPress website while also providing a free WooCommerce SSL to keep your site and transactions secure. Setup takes only a few minutes and then you can begin selecting a theme for your online store. Shortly after you've selected a WooCommerce theme, you can begin adding your products and payment information.
Features of Woocommerce Hosting:
1 Free Domain: A great website starts with a great domain name. Bluehost gives you one for free.
WooCommerce Auto-Install: Bluehost install WooCommerce for you so you can start building faster.
Get Verified on Google My Business: List your local business online to quickly connect with customers in your area.
Marketing Credits: Receive $100 for Microsoft Advertising and $100 for Google Ads.

Additional Services
Website Builder
Bluehost has partnered with Weebly to provide users with an easy-to-use website builder. It features a drag-and-drop interface which makes it easy for someone with no HTML and CSS skills to create their own website. You'll get a selection of pre-designed websites to choose from. Then you swap out the images and text with your own content.
You can also go to the Mojo Marketplace via control panel to download other content-management systems or site builders. There are many apps and themes listed in the market place to expand your site's capabilities.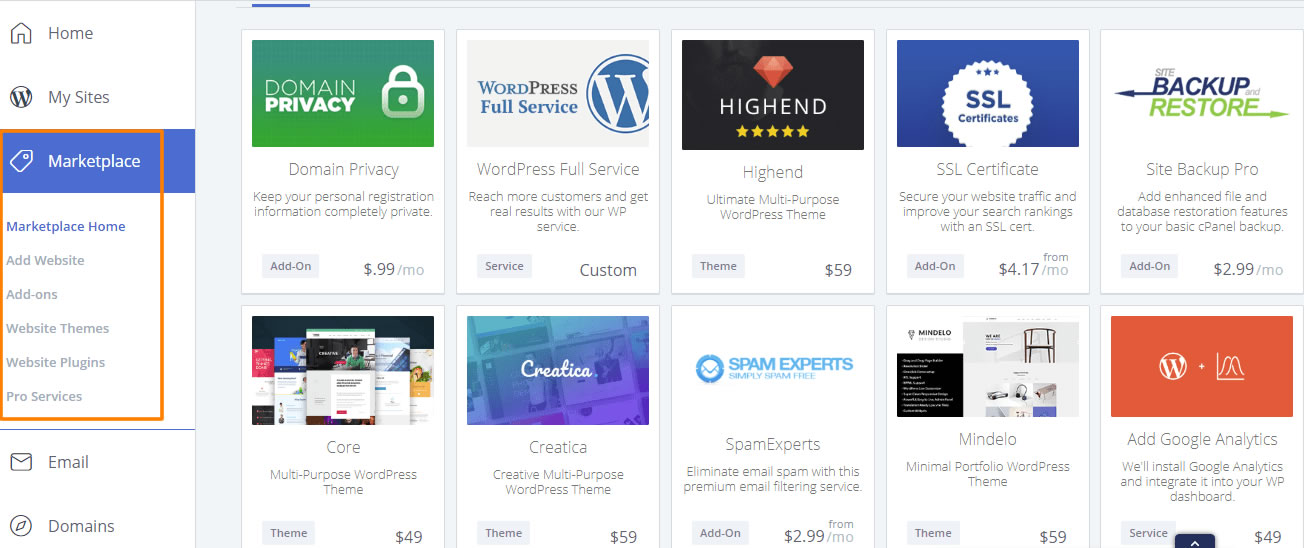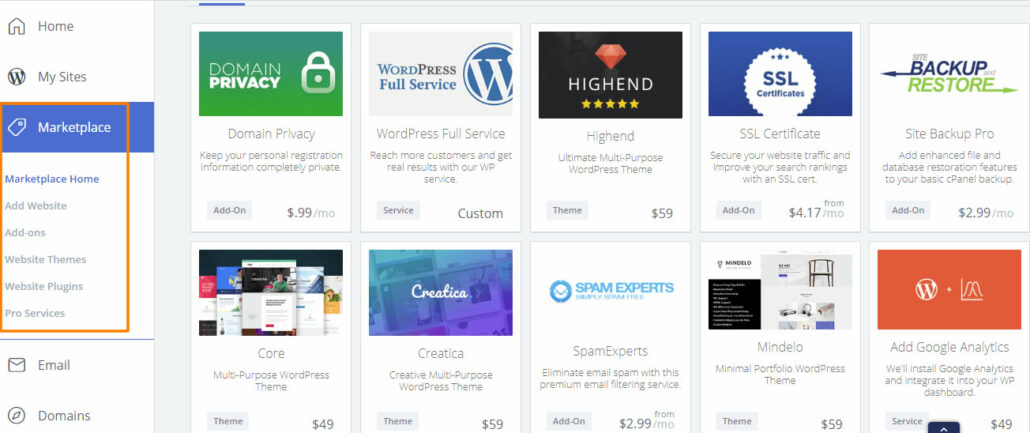 Email Account
The basic email services been included in the hosting plans, you can create up to 5 accounts with storage limitation with the Basic Shared Hosting plan or unlimited with higher plans. But if you want enterprise-grade email services, you should choose the Bluehost Email service partnering with Microsoft Office 365 (Domain names required).
Get professional domain name email for your business with all the Apps you need, incluedes: Word, Excel, PowerPoint, Outlook, and more.

Marketing Services
You will get $200 Marketing Credits with Bluehost shared / wordpress hosting plans. They also provide paid professional marketing services to help with your design and marketing needs so you can stay focused on your business, includes:
Full-Service Website: The expert team provide ongoing design, marketing, and content assistance for your website.
SEO Services: Help you to improve your visibility on search engines such as Google, and Bing to get more customers.
Pay-Per-Click Services: Bluehost experts will create various campaigns to market your website to target potential customers.
Website Migration Service: Get free migration for 1 site or paid migration service includes up to 5 websites.
Bluehost Customer Service
It is really important that you choose a web hosting company that offers help and support in time when you need it. Bluehost offers 24/7 telephone support, online web chat, a email-based ticket system, and we tried out their live chat, Alyssa from Bluehost got connected within 5 seconds.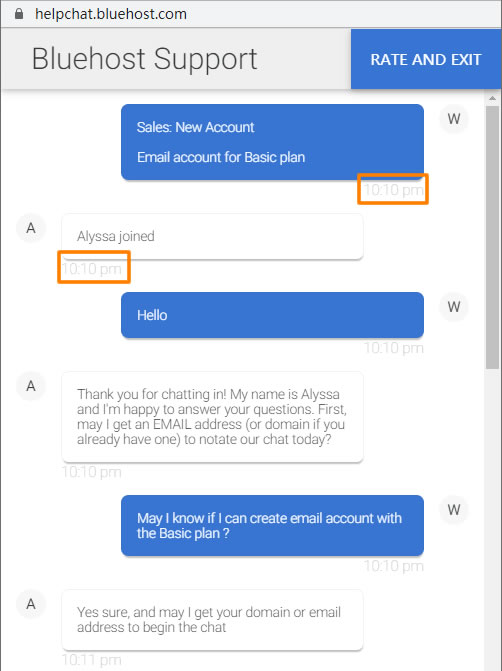 If you prefer to begin with self-help support, Bluehost maintains a huge library of FAQs, articles, step by step guides, and video tutorials on a wide array of web hosting topics as part of their extensive knowledge base. A wide range of possible issues can be quickly resolved by this knowledgebase. It's a good place to start if you're new to web hosting.
Bluehost offers a 30-day money-back guarantee, means that you get some time to test out the performance and see if it's right for you. But remeber it's not exactly a no-questions-asked policy like we've seen from some hosts. So make sure you're OK with those points before signing up. Here is their Refund Terms: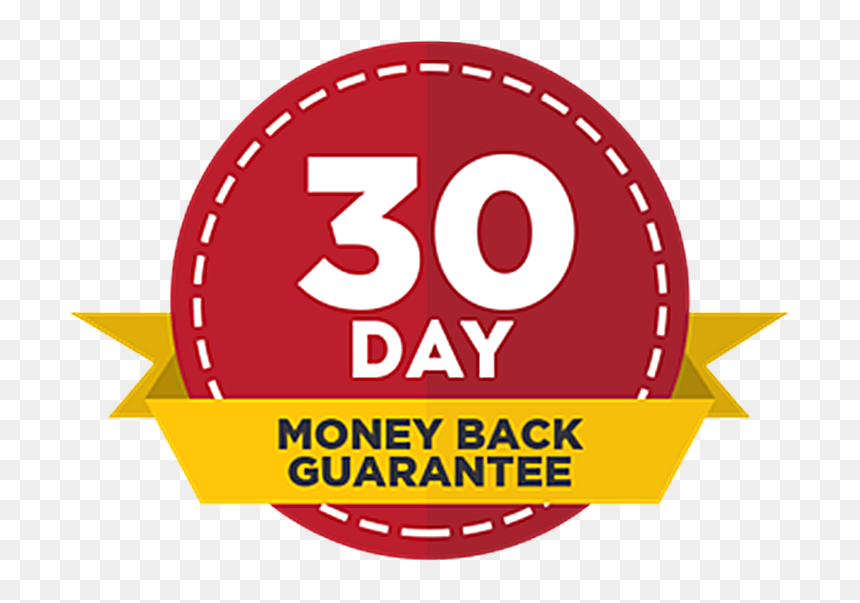 | Canceled | Policy |
| --- | --- |
| 3-30 Days | Between 3-30 days, you are eligible for a refund on all hosting services. We are not able to refund domain registration fees during initial purchase or renewals. |
| Within 3 Days | If canceled within the first 3 days, you are able to receive a full refund for the Hosting (minus $15 for the domain, if applicable). |
| 30+ Days | No refunds are offered after 30 days. |
All web hosting providers have their pros and cons. Is Bluehost the best choice for you? It really depends upon your needs. Here are the Pros and Cons of Bluehost that we have learned.
Pros
Reliable and Solid server performance: Bluehost delivers the 99.9% uptime rate according our testing and been trusted by 2 millions websites.
Deeply Optimized for Wordpress: WordPress is the most widely used CMS on the market. Bluehost optimized their hosting for wordpress and got Official Recommendation.
Easy to Use for Beginners: The enhanced cPanel is really easy to use and offers fast access to features. You just need to point and click in most cases.
30-Day Money-Back Guarantee: Bluehost offers 30 days money-back guaranteed for their services. You have 1 month to test the performance and get money back if not satisfied.
FREE 24/7 CUSTOMER SUPPORT: Bluehost provide 24/7 support via live chat, telephone call, email based ticket system as well as a content rich knowledge base.
Cons
Price: The first term is cheap, but be aware of the high renewal rates. The best way to get the low price is to prepay for one, two, or even three years upfront.
Upselling Addons: They have an aggressive upselling process during ordering, which gets annoying.But you can easily uncheck all the addons if you don't need them.
No monthly shared hosting plans: The minimal payment cycle for the shared hosting is 12 months, but you can get cheaper price with this payment cycle.
IF BLUEHOST IS RIGHT FOR YOU?
Bluehost started in 2003 and become a leading provider in the hosting market and have powered over 2 millions websites. As a budget-friendly hosting provider, Bluehost offer a wide range of hosting plans with tons of features that will meet the needs of many customers. Bluehost is often ranked #1 hosting company by many review sites for their performance, reliability, affordability. Despite some negative feedbacks, the majority of customers are quite happy with Bluehost's services. And more, Bluehost is recommended by Wordpress.org.
Our conclusion is: If you are looking for a web host with a rock-solid reputation, Bluehost is the one you can trust to meet your business or personal hosting needs. Ready to get started with Bluehost? Click here to select your hosting plan.
Bluehost Coupon Code and Discounts
Yes – you can currently get an exclusive 60% Off discount and a free domain on Bluehost hosting plans.