ChangeIP is a subsidiary corporation of famous SharkTech offering fast and reliable website hosting services. ChangeIP offers a wide range of web hosting services that are designed for everyone - Shared hosting, VPS Hosting, DNS Manager service and VPN services.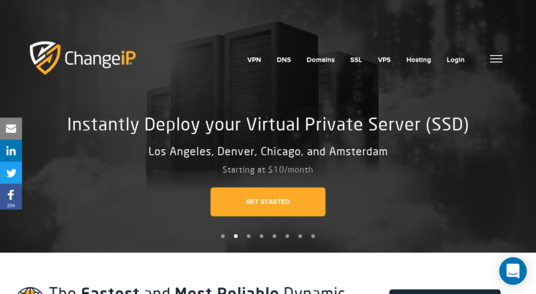 ChangeIP Special Coupon Code
zhujiceping
Get 25% Recurring Discount on All Network Plans on the Website!
ChangeIP KVM SSD VPS PLANS 2018
---
| RAM | CPU | Disk STORAGE | BANDWIDth | PRICE | ORDER LINK |
| --- | --- | --- | --- | --- | --- |
| 512M RAM | 1 Core | 20G SSD | 0.5T / 100Mbit | $24/year | Link Here |
| 1G RAM | 1 Core | 25G SSD | 1.0T / 100Mbit | $34/year | Link Here |
| 2G RAM | 1 Core | 40G SSD | 2.0T / 100Mbit | $67/year | Link Here |
| 4G RAM | 2 Core | 60G SSD | 3.0T / 100Mbit | $137/year | Link Here |
| 8G RAM | 4 Core | 100G SSD | 4.0T / 100Mbit | $274/year | Link Here |
| 16G RAM | 6 Core | 200G SSD | 5.0T / 100Mbit | $534/year | Link Here |
ChangeIP KVM SSD VPS UNMETERED Transfer PLANS
---
| RAM | CPU | Disk STORAGE | BANDWIDth | PRICE | ORDER LINK |
| --- | --- | --- | --- | --- | --- |
| 256M RAM | 1 Core | 5G SSD | Unmetered | $17/year | Link Here |
| 512M RAM | 1 Core | 20G SSD | Unmetered | $33/year | Link Here |
| 1G RAM | 1 Core | 30G SSD | Unmetered | $52/year | Link Here |
| 2G RAM | 2 Core | 40G SSD | Unmetered | $187/year | Link Here |
| 4G RAM | 2 Core | 50G SSD | Unmetered | $337/year | Link Here |
| 8G RAM | 4 Core | 70G SSD | Unmetered | $637/year | Link Here |
| 16G RAM | 4 Core | 130G SSD | Unmetered | $1237/year | Link Here |
ChangeIP VPS Network Info
Ping IP "174.128.247.171" From Texas, USA:

Starting PING to: 174.128.247.171	0.00s
$] ping -O -v -c8 -i0.2 -W5 174.128.247.171

PING 174.128.247.171 (174.128.247.171) 56(84) bytes of data.	0.00s
64 bytes from 174.128.247.171: icmp_seq=1 ttl=51 time=41.2 ms	
64 bytes from 174.128.247.171: icmp_seq=2 ttl=51 time=41.2 ms	0.25s
64 bytes from 174.128.247.171: icmp_seq=3 ttl=51 time=41.2 ms	0.45s
64 bytes from 174.128.247.171: icmp_seq=4 ttl=51 time=41.1 ms	0.65s
64 bytes from 174.128.247.171: icmp_seq=5 ttl=51 time=41.2 ms	0.85s
64 bytes from 174.128.247.171: icmp_seq=6 ttl=51 time=41.3 ms	1.05s
64 bytes from 174.128.247.171: icmp_seq=7 ttl=51 time=41.2 ms	1.25s
64 bytes from 174.128.247.171: icmp_seq=8 ttl=51 time=41.1 ms	1.45s
--- 174.128.247.171 ping statistics ---	
8 packets transmitted, 8 received, 0% packet loss, time 405ms	
rtt min/avg/max/mdev = 41.119/41.193/41.321/0.211 ms	
Ping complete
512M KVM SSD VPS Tested by China customers
=========================================================
\                 Superbench.sh  Script                 /
\       Basic system info, I/O test and speedtest       /
\                   v1.1.5 (14 Jun 2019)                /
\                   Created by Oldking                  /
=========================================================

Intro: https://www.oldking.net/350.html
Copyright (C) 2019 Oldking [email protected]
Happy New Year!

Installing Speedtest-cli ...
Installing tools.py ...
Installing Fast.com-cli ...
----------------------------------------------------------------------
Superbench.sh -- https://www.oldking.net/350.html
Mode  : Standard    Version : 1.1.5
Usage : wget -qO- git.io/superbench.sh | bash
----------------------------------------------------------------------
CPU Model            : Intel(R) Xeon(R) CPU           X5660  @ 2.80GHz
CPU Cores            : 1 Cores @ 2800.098 MHz x86_64
CPU Cache            : 4096 KB
OS                   : CentOS 7.7.1908 (64 Bit) KVM
Kernel               : 5.1.14-1.el7.elrepo.x86_64
Total Space          : 5.5 GB / 20.0 GB
Total RAM            : 130 MB / 481 MB (333 MB Buff)
Total SWAP           : 138 MB / 999 MB
Uptime               : 11 days 20 hour 39 min
Load Average         : 0.00, 0.00, 0.00
TCP CC               : BBR
ASN & ISP            : AS46844, Sharktech
Organization         : Sharktech
Location             : Los Angeles, United States / US
Region               : California
----------------------------------------------------------------------
I/O Speed( 1.0GB )   : 638 MB/s
I/O Speed( 1.0GB )   : 620 MB/s
I/O Speed( 1.0GB )   : 544 MB/s
Average I/O Speed    : 600.7 MB/s
----------------------------------------------------------------------
Node Name        Upload Speed      Download Speed      Latency     
Speedtest.net    712.84 Mbit/s     652.37 Mbit/s       10.012 ms  
Fast.com         0.00 Mbit/s       106.6 Mbit/s        -           
Wuhan     CT     42.41 Mbit/s      41.00 Mbit/s        -         
Hangzhou  CT     9.52 Mbit/s       32.72 Mbit/s        -         
Lanzhou   CT     0.78 Mbit/s       0.96 Mbit/s         -         
Shanghai  CU     84.59 Mbit/s      83.35 Mbit/s        -         
Heifei    CU     49.59 Mbit/s      29.25 Mbit/s        -         
Xizang    CM     1.16 Mbit/s       1.59 Mbit/s         -         
----------------------------------------------------------------------
Finished in  : 3 min 56 sec
Timestamp    : 2019-11-14 18:58:28 GMT+8
Results      : /root/superbench.log
----------------------------------------------------------------------
Share result:
· http://www.speedtest.net/result/8761972383.png
· /p/3Wh8j6Ds73/
----------------------------------------------------------------------