Get the latest Ruvds Promo Codes / discount coupon codes and read our Ruvds review with benchmark testing before buying! International cloud provider RUVDS offers VS or VPS/VDS hosting services. You no longer have to purchase and store hardware or maintain and monitor your server's operationality. We do this for you 24/7. You can order hosting or cancel your order in just one click at any given time.

Overall Ruvds Review
Hosting Service: VPS / VDS (Virtual Dedicated Server)
Russia Location: MosCow, Saint Petersburg, Kazan, Yekaterinburg, Novosibirsk
Other Datacenter:London, UK | Zurich, Switzerland | Frankfurt, France | Amsterdam, Netherlands
Payment Methods: Credit Card, Paypal, WebMoney, Yandex, Qiwi and other 3rd payment
Refund Policy: Not clear, but can be refund via ticket system
Network Uptime: 99.999% uptime SLA
Customer Service: 24/7 phone call and ticket system
TOS: DMCA Ignored
Ruvds Promo Codes / Discount Coupon Codes
With the coupon code to get the cheapest vps from Ruvds.
| | |
| --- | --- |
| cheap30 | Choose the 130₽ plan, and get the price 65Rubles($0.8)/ month for yearly payment |
| FVH-XEM-WCR | Special coupon code only for Waikey. Get 15% recurring discount. |
You can custom the VPS via order page or choose the standard price plan below:


CHEAP
1 x 2.0HZ CPU
0.5GB RAM
10GB SSD
1 IP
Price: $0.6/month
START
1 x 2.2HZ CPU
0.5GB RAM
10GB SSD
1 IP
Price: $2.6/month
START SSD
1 x 2.2HZ CPU
0.5GB RAM
10GB SSD
1 IP
Price: $3.8/month
START HIT
1 x 2.2HZ CPU
1GB RAM
20GB SSD
1 IP
Price: $4.8/month
How to use the coupon code

Go to RuVDS official site and click the "Choose VPS" tab

Choose one of the first 2 locations under the "STANDARD PRICE PLANS" tab, choose the 130₽ STARTER plan.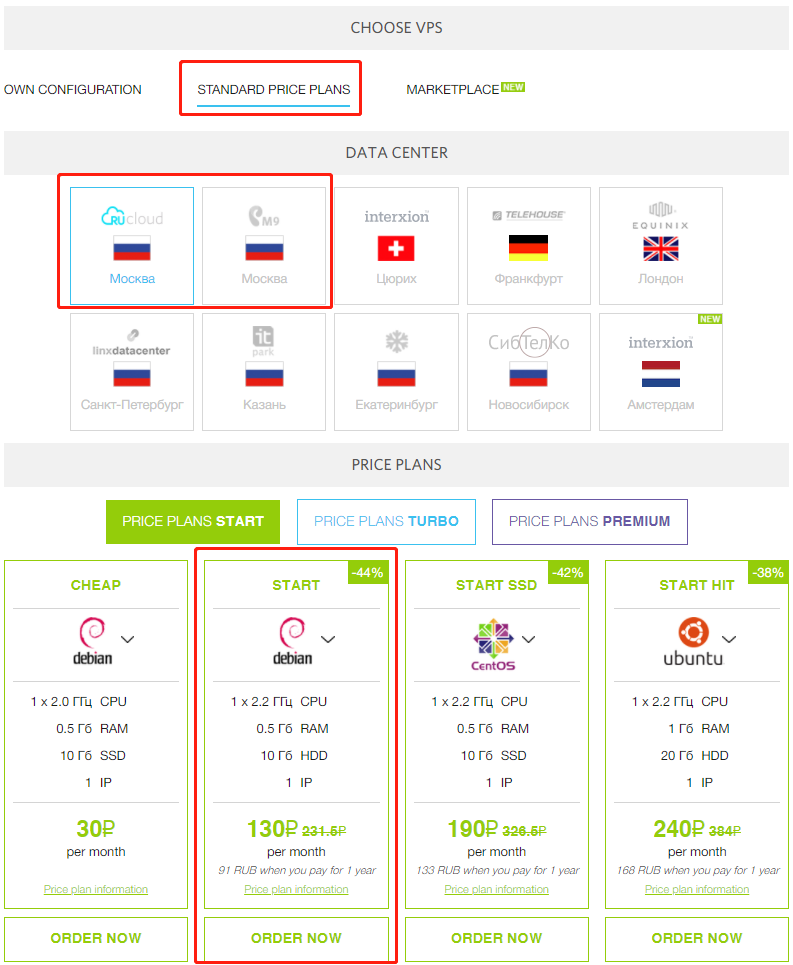 Fill in the coupon code in the next page and get the 30% dicount.

Ruvds Review: Benchmark Testing
-------------------------------------------------
 nench.sh v2019.07.20 -- https://git.io/nench.sh
 benchmark timestamp:    2020-01-25 03:07:57 UTC
-------------------------------------------------

Processor:    Intel(R) Xeon(R) CPU E5-2660 v4 @ 2.00GHz
CPU cores:    1
Frequency:    1999.845 MHz
RAM:          418M
Swap:         -
Kernel:       Linux 4.9.0-8-amd64 x86_64

Disks:
sda     10G  HDD

CPU: SHA256-hashing 500 MB
    5.218 seconds
CPU: bzip2-compressing 500 MB
    7.855 seconds
CPU: AES-encrypting 500 MB
    2.704 seconds

ioping: seek rate
    min/avg/max/mdev = 48.4 ms / 155.7 ms / 1.56 s / 307.3 ms
ioping: sequential read speed
    generated 49 requests in 5.03 s, 12.2 MiB, 9 iops, 2.44 MiB/s

dd: sequential write speed
    1st run:    1.05 MiB/s
    2nd run:    1.24 MiB/s
    3rd run:    1.62 MiB/s
    average:    1.30 MiB/s

IPv4 speedtests
    your IPv4:    45.141.xxx.xxxx

    Cachefly CDN:         26.30 MiB/s
    Leaseweb (NL):        3.80 MiB/s
    Softlayer DAL (US):   1.72 MiB/s
    Online.net (FR):      4.19 MiB/s
    OVH BHS (CA):         2.29 MiB/s

IPv6 speedtests
    your IPv6:    2001:470:xx:xxxx

    Leaseweb (NL):        3.89 MiB/s
    Softlayer DAL (US):   3.42 MiB/s
    Online.net (FR):      4.32 MiB/s
    OVH BHS (CA):         2.79 MiB/s
-------------------------------------------------