BuyVM is a very famous hosting company providing low end vps hosting for several years and got many positive reviews! Their cheap KVM Slice Servers are still available and now have more datacenter!
BuyVM is part of Frantech Solutions, a pioneer of the affordable virtual server market since 2010. We have grown BuyVM from a hopeful startup into a sustainable business that other companies try to imitate.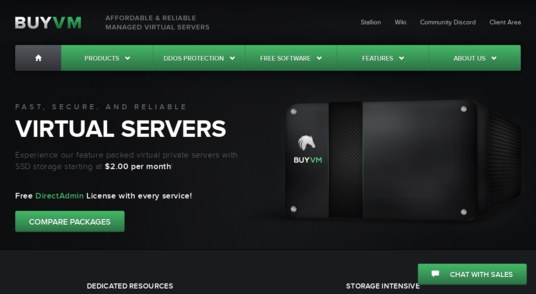 Cheap KVM VPS Packages
DirectAdmin is now included with all plans at no additional cost!
Free Microsoft® Windows Server™ included except the 512 package!
1 Core @ 3.50+ GHz
Fair Share CPU Usage
512 MB Memory
10 GB SSD Storage
Unmetered Bandwidth
1 IPv4 Address
1 Core @ 3.50+ GHz
Fair Share CPU Usage
1024 MB Memory
20 GB SSD Storage
Unmetered Bandwidth
1 IPv4 Address
1 Core @ 3.50+ GHz
Fair Share CPU Usage
2048 MB Memory
40 GB SSD Storage
Unmetered Bandwidth
1 IPv4 Address
1 Core @ 3.50+ GHz
Fair Share CPU Usage
4096 MB Memory
80 GB SSD Storage
Unmetered Bandwidth
1 IPv4 Address
BuyVM Network Information
Las Vegas:
IPv4 Test IP Address: 209.141.56.135
IPv6 Test IP Address: 2605:6400:20:78::1
100MB Test File: http://speedtest.lv.buyvm.net/100MB.testNew York:
IPv4 Test IP Address: 198.98.53.31
IPv6 Test IP Address: 2605:6400:0010:0053::1
100MB Test File: https://speedtest.ny.buyvm.net/100MB.test

Luxembourg:
IPv4 Test IP Address: 104.244.76.191
IPv6 Test IP Address: 2605:6400:30:fdd5::1
100MB Test File: https://speedtest.lu.buyvm.net/100MB.test

Ping Test from Texas, USA to 209.141.56.135


Starting PING to: 209.141.56.135	0.00s
$] ping -O -v -c8 -i0.2 -W5 209.141.56.135

PING 209.141.56.135 (209.141.56.135) 56(84) bytes of data.	0.00s
64 bytes from 209.141.56.135: icmp_seq=1 ttl=49 time=68.7 ms	
64 bytes from 209.141.56.135: icmp_seq=2 ttl=49 time=67.10 ms	0.27s
64 bytes from 209.141.56.135: icmp_seq=3 ttl=49 time=68.0 ms	0.47s
64 bytes from 209.141.56.135: icmp_seq=4 ttl=49 time=70.1 ms	0.68s
64 bytes from 209.141.56.135: icmp_seq=5 ttl=49 time=67.9 ms	0.87s
64 bytes from 209.141.56.135: icmp_seq=6 ttl=49 time=67.9 ms	1.07s
64 bytes from 209.141.56.135: icmp_seq=7 ttl=49 time=67.10 ms	1.27s
64 bytes from 209.141.56.135: icmp_seq=8 ttl=49 time=67.8 ms	1.48s
--- 209.141.56.135 ping statistics ---	
8 packets transmitted, 8 received, 0% packet loss, time 404ms	
rtt min/avg/max/mdev = 67.835/68.296/70.118/0.785 ms	
Ping complete


-------------------------------------------------
 nench.sh v2019.07.20 -- https://git.io/nench.sh
 benchmark timestamp:    2020-04-30 03:51:29 UTC
-------------------------------------------------

Processor:    AMD Ryzen 9 3900X 12-Core Processor
CPU cores:    1
Frequency:    3792.870 MHz
RAM:          483Mi
Swap:         509Mi
Kernel:       Linux 4.19.0-8-amd64 x86_64

Disks:
vda     10G  HDD

CPU: SHA256-hashing 500 MB
    2.323 seconds
CPU: bzip2-compressing 500 MB
    4.207 seconds
CPU: AES-encrypting 500 MB
    0.931 seconds

ioping: seek rate
    min/avg/max/mdev = 76.9 us / 151.9 us / 72.1 ms / 1.18 ms
ioping: sequential read speed
    generated 7.96 k requests in 5.00 s, 1.94 GiB, 1.59 k iops, 397.8 MiB/s

dd: sequential write speed
    1st run:    1144.41 MiB/s
    2nd run:    1049.04 MiB/s
    3rd run:    1144.41 MiB/s
    average:    1112.62 MiB/s

IPv4 speedtests
    your IPv4:    redacted

    Cachefly CDN:         78.43 MiB/s
    Leaseweb (NL):        9.20 MiB/s
    Softlayer DAL (US):   36.48 MiB/s
    Online.net (FR):      7.79 MiB/s
    OVH BHS (CA):         16.51 MiB/s

IPv6 speedtests
    your IPv6:    redacted

    Leaseweb (NL):        4.39 MiB/s
    Softlayer DAL (US):   6.95 MiB/s
    Online.net (FR):      9.26 MiB/s
    OVH BHS (CA):         17.90 MiB/s
-------------------------------------------------