NameCheap is offering a Diwali Sale on .in domian registrations, transfers, and renewals — plus save on .co.in and .com registrations.

NameCheap Diwali Sale Offers
Save 60% OFF on your new .IN this Diwali, plus renew & transfer
Save big on registering .in and .co.in — India's local domains. Plus, renew your existing .in, or transfer one to us from another provider. As if that's not enough, you can also get 10% off .com registrations. Apply promo code below on checkout page.
---
Save 56% OFF on Shared Hosting
Choose Stellar for flexible cPanel hosting with a huge set of tools to build and develop your website, or EasyWP to get a WordPress site up-and-running in under 90 seconds. Whatever your needs, we've got you covered. Apply promo code below on checkout page.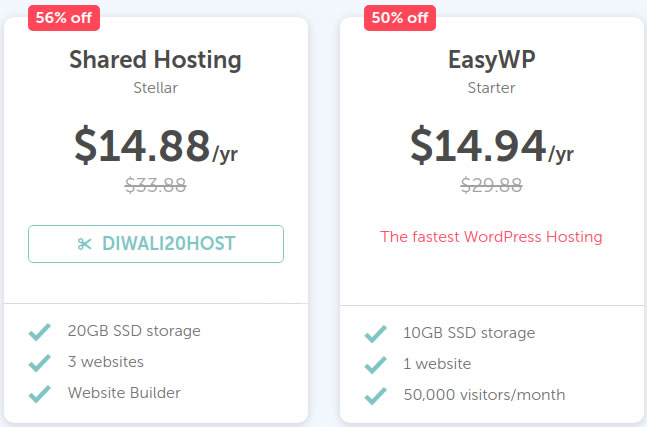 Namecheap is an ICANN-accredited domain registrar and technology company founded in 2000 by CEO Richard Kirkendall. It is one of the fastest-growing American companies according to the 2018 Inc. 5000. Celebrating nearly two decades ​of​ ​providing​ ​unparalleled levels​ ​of​ ​service,​ ​security,​ ​and​ ​support,​ ​Namecheap​ ​has​ ​been​ ​steadfast​ ​in​ ​customer​ ​satisfaction. With over 10 million domains under management, Namecheap is among the top domain registrars and web hosting providers in the world.
What is Diwali Sale
Diwali is the Indian festival of lights, usually lasting five days and celebrated during the Hindu Lunisolar month Kartika. One of the most popular festivals of Hinduism, Diwali symbolizes the spiritual "victory of light over darkness, good over evil, and knowledge over ignorance". The festival dates back to at least the first millennium (if not earlier) and is one of the most important festivals in India.