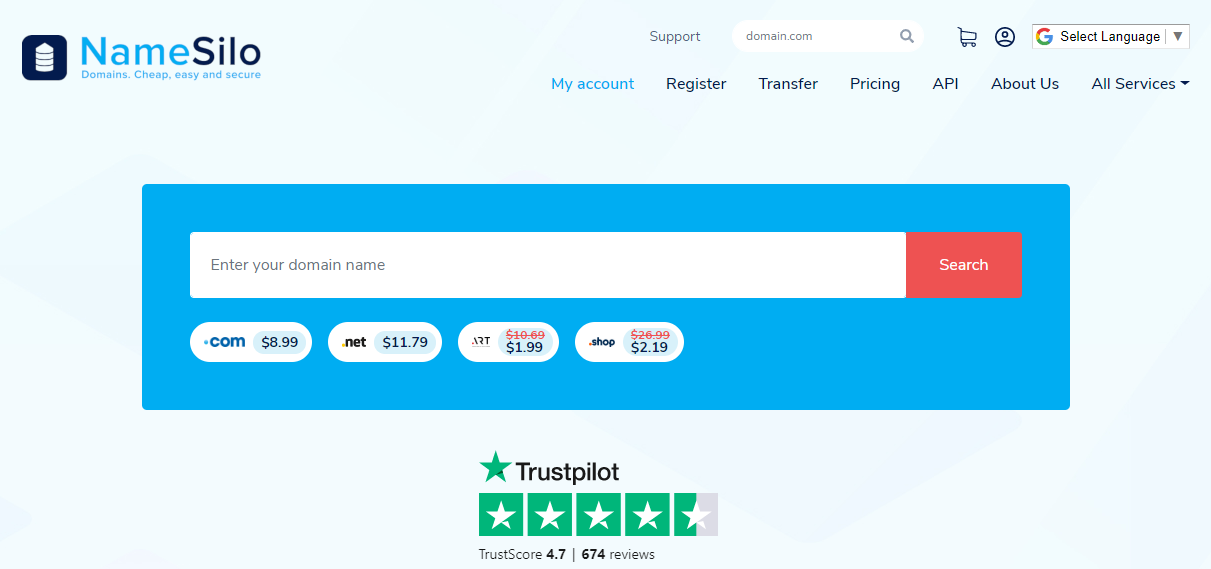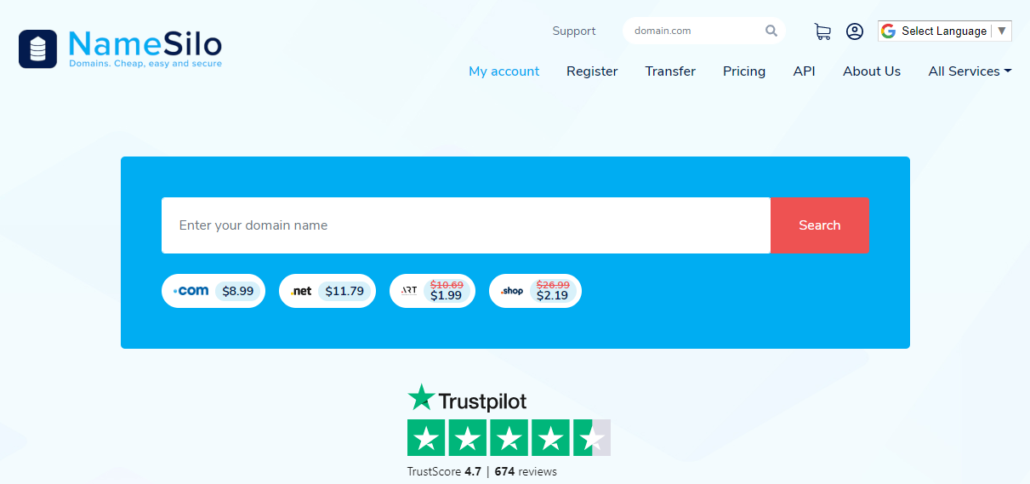 Namesilo is company providing domain the lowest everyday domain prices on the Internet. Namesilo also provide hosting, website builder, SSL, premium DNS and email for a one-stop shop! Let's straight to the point:
1: Cheap Domain Registration: Get the everyday lowest prices to have your 1st or 1000th domains.
2: Powerful Domain Management: Manage your domains individually, in bulk, or through our API.
3: 100% free WHOIS Privacy, Email Forwarding, Domain Defender Protection, Custom WHOIS Records and DNS Management!
Namesilo Coupon Codes 2023
| | |
| --- | --- |
| welCOM | $5.95 for new .COM registrations (both old and new customers) |
| BYEDADDY | $1 discount for any new registrations or transfers. (Only 1 used) |
Namesilo Payment Accepted
Paypal, Credit Card, Alipay, Apple Pay, Google Pay, Skrill and more...
Namesilo Domain Promotions
Most .CO premium domain names are now 40% off until September 30. Register your .CO premium names at Namesilo You will receive FREE WHOIS privacy, defender, e-mail & more with your order.
There's no time like now to start your #eCommerce business. Claim your .shop domain name for $2.19!
Register new .ORG domains with ptice $8.88. This promo is only for 1st year registrations.The promotion will endup to the end of this year.
Register your new .AT domains with price $11.99 and go to transfer your existing domain names (transfers don't cost anything but will not qualify for free year's renewal).
Register your new .NL domains with price $5.98 (reg price $7.99) and go to transfer your existing domain names.
And here are other promotions:
| TLD(S) | DATES | ORDER TYPES | PRICE | DETAILS |
| --- | --- | --- | --- | --- |
| .icu | November 22, 2018 9:30AM EST – November 26, 2018 12:00am EST | registration | $0.99 | First-year registration only |
| .io | November 22, 2018 9:30AM EST – while supplies last | registration | $32.88 | First-year registration only |
| .io | November 22, 2018 9:30AM EST – while supplies last | renewal | $34.65 | |
| .io | November 22, 2018 9:30AM EST – while supplies last | transfer | $31.99 | |
| .top | October 20, 2018 9:30PM EST – Dec. 31, 2018 12:00pm EST | registration | $1.49 | First-year registration only |
| .xyz | November 22, 2018 – November 26, 2018 | registration | $1.89 | First-year registration only |
| .top | March 6, 2017 – December 31, 2018 | registration | $2.19 | First-year registration only |
| .info | Sept. 6, 2018 – Dec. 31, 2018 | registration | $2.99 | First-year registration only |
| .pro | January 1, 2017 – December 31, 2018 | registration | $3.99 | First-year registration only |
| .me | January 1, 2018 – December 31, 2018 | registration | $6.99 | First-year registration only |
| .ws | August 24, 2017 – Ongoing | registration | $5.99 | First-year registration only |
| .cloud | March 1, 2017 – December 31, 2018 | registration | $6.29 | Price available for all registrations, even multi-year |
| .green, .lgbt, .organic, | March 1, 2017 – December 31, 2018 | registration | $11.79 | This promotion offers great savings for first-year registrations of the listed TLDs. |
| .archi, .bio, .black, .ski | March 1, 2017 – September 1, 2018 | registration | $11.79 | This promotion offers great savings for first-year registrations of the listed TLDs. |
| .blue, .kim, .mobi, .pet, pink, .promo, .red | March 1, 2017 – Septmeber 1, 2018 | registration | $4.29 | This promotion offers great savings for first-year registrations of the listed TLDs. |
| .online | July 1, 2018 – December 31, 2018 | registration | $3.39 | First-year registration only |
| .online | July 1, 2018 – December 31, 2018 | renewal | $16.99 | Renewal pricing only |
| .site | July 1, 2018 – December 31, 2018 | registration | $2.19 | First-year registration only |
| .site | July 1, 2018 – December 31, 2018 | renewal | $15.79 | Renewal pricing only |
| .tech | July 1, 2018 – December 31, 2018 | registration | $8.99 | First-year registration only |
| .tech | July 1, 2018 – December 31, 2018 | renewal | $24.79 | Renewal pricing only |
| .store | July 1, 2018 – December 31, 2018 | registration | $8.39 | First-year registration only |
| .store | July 1, 2018 – December 31, 2018 | renewal | $43.99 | Renewal pricing only |
| .website | July 1, 2018 – December 31, 2018 | registration | $2.19 | First-year registration only |
| .website | July 1, 2018 – December 31, 2018 | renewal | $14.99 | Renewal pricing only |
| .fun | July 1, 2018 – December 31, 2018 | registration | $2.19 | First-year registration only |