Get the lates VPSCheap promo codes / discount coupon codes, and read the VPSCheap review benchmark data before buying.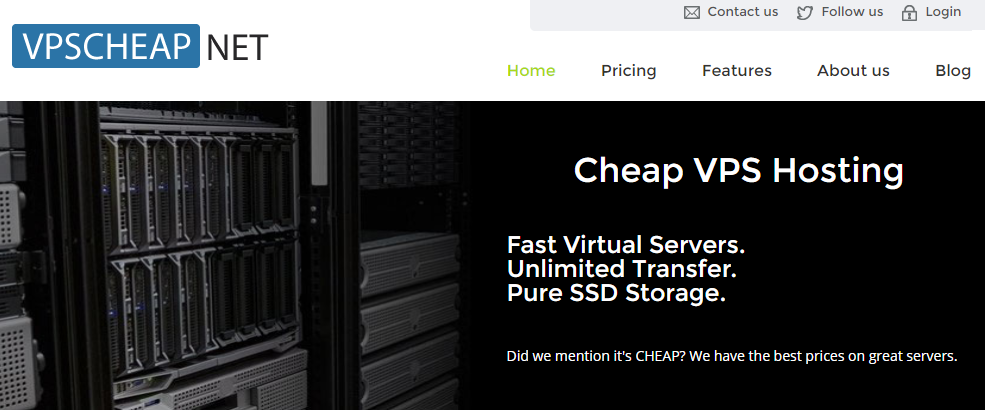 About VPSCheap
VPSCheap.net was founded back in mid 2010 with the idea of offering the best service for its price. We specialize in offering a wide range of vps products including Linux and Windows servers, as well as web hosting solutions. We recognize that our customers rely on us to provide them with affordable, reliable VPS hosting, and we pride ourselves on maintaining high uptime with low prices. We currently have colocate our servers in Atlanta and in Dallas, USA.

We don't offer shared hosting. We don't have dedicated servers. We don't do web design, logo creation, SEO or other marketing services. What we do offer is low cost, rock solid VPS hosting. It's all we do, and we do it well. By focusing on just one thing, we're able to align everything around that one service. We're constantly getting better at it. All of our efforts go towards making us better at our one thing.

So if you're looking for cheap VPS hosting, go with the experts. At VPSCheap we eat, sleep and breath virtual private servers. Give us a try. We know you'll love it!
VPSCheap Promo Codes / Discount Coupon Codes
| | |
| --- | --- |
| LEBXLUSIVE1 | Get 20% Recurring Discount on VPS Hosting offers below. |
Lifetime 20% discount off our entire Budget HDD series located in Dallas, TX, USA.
[go_pricing id="vpscheap-of"]

Ping IP "192.243.96.159" From Texas, USA:

Starting PING to: 192.243.96.159	0.00s
$] ping -O -v -c8 -i0.2 -W5 192.243.96.159

PING 192.243.96.159 (192.243.96.159) 56(84) bytes of data.	0.00s
64 bytes from 192.243.96.159: icmp_seq=1 ttl=49 time=38.7 ms	
64 bytes from 192.243.96.159: icmp_seq=2 ttl=49 time=39.2 ms	0.24s
64 bytes from 192.243.96.159: icmp_seq=3 ttl=49 time=37.6 ms	0.44s
64 bytes from 192.243.96.159: icmp_seq=4 ttl=49 time=37.7 ms	0.64s
64 bytes from 192.243.96.159: icmp_seq=5 ttl=49 time=37.6 ms	0.85s
64 bytes from 192.243.96.159: icmp_seq=6 ttl=49 time=37.6 ms	1.05s
64 bytes from 192.243.96.159: icmp_seq=7 ttl=49 time=37.7 ms	1.25s
64 bytes from 192.243.96.159: icmp_seq=8 ttl=49 time=37.7 ms	1.45s
--- 192.243.96.159 ping statistics ---	
8 packets transmitted, 8 received, 0% packet loss, time 407ms	
rtt min/avg/max/mdev = 37.608/37.986/39.228/0.644 ms	
Ping complete
VPSCheap Review Benchmark Data

System Info
-----------
Processor       : Intel(R) Xeon(R) CPU E5-1620 0 @ 3.60GHz
CPU Cores       : 4
Frequency       : 3600.013 MHz
Memory          : 4096 MB
Swap            :  MB
Uptime          : 1 day, 12:12,

OS              : Ubuntu 16.04.1 LTS
Arch            : x86_64 (64 Bit)
Kernel          : 2.6.32-042stab116.2
Hostname        : XXXXXX


Speedtest (IPv4 only)
---------------------
Your public IPv4 is 199.175.XXX.XXX

Location                Provider        Speed
CDN                     Cachefly        29.2MB/s

Atlanta, GA, US         Coloat          13.6MB/s
Dallas, TX, US          Softlayer       26.0MB/s
Seattle, WA, US         Softlayer       25.6MB/s
San Jose, CA, US        Softlayer       24.7MB/s
Washington, DC, US      Softlayer       15.8MB/s

Tokyo, Japan            Linode          10.1MB/s
Singapore               Softlayer       8.15MB/s

Rotterdam, Netherlands  id3.net         10.9MB/s
Haarlem, Netherlands    Leaseweb        17.2MB/s


Disk Speed
----------
I/O (1st run)   : 433 MB/s
I/O (2nd run)   : 293 MB/s
I/O (3rd run)   : 237 MB/s
Average I/O     : 321 MB/s