Read the Photonvps Review and get latest Photonvps promo codes / discount coupon codes before buying. PhotonVPS is based out of Los Angeles, California where we own and operate our facility and network. PhotonVPS features an array of NVME Cloud Hosting solutions to meet the needs of any prospective customer. Over the past 10 years, Photonvps has delivered 100,000+ virtual machines to our customers globally. We currently offers location in 16 cities in North America, South America, Europe, Africa, Asia.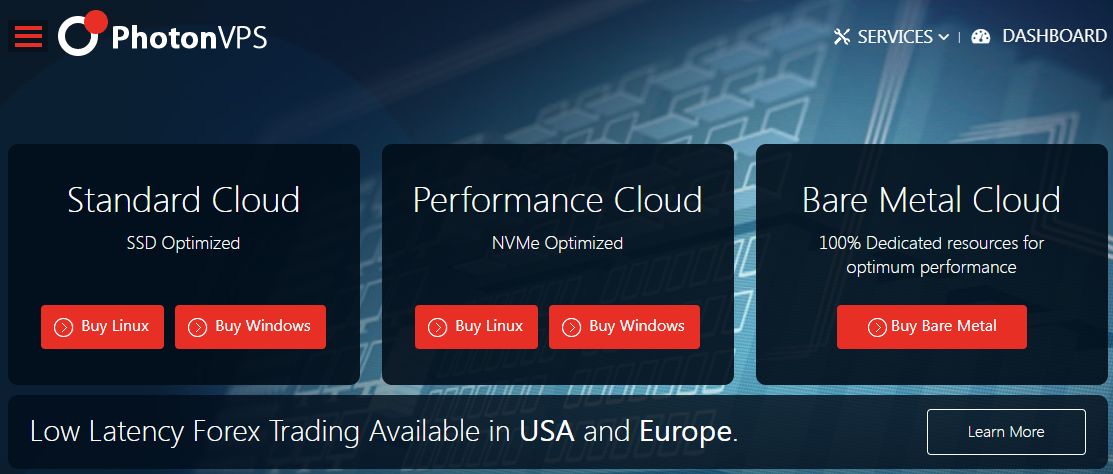 Overall Photonvps Review
Hosting Service: Windows / Linux Cloud, Forex Cloud, Bare Metal Cloud, Backup
Datacenter Location: Dallas, Ashburn, Los Angeles, Chicago, USA | London, United Kingdom | Amsterdam, Netherlands | Johannesburg, South Africa | Taiwan, China | Tokyo, Japan | Mumbai, India | Seoul, Korea | Singapore | Sydney, Austrilia | Moscow, Russia | Barcelona, Spain | Sao Paulo, Brazil |
Payment Methods: PayPal, Credit Card, Alipay
Refund Policy: 30 Day Money Back Guarantee
Network Uptime: 99.9% Uptime Satisfaction
Customer Service: Phone call and ticket system
TOS: Only legal contents allowed
Photonvps Promo Codes / Discount Coupon Codes
Their is no coupon codes for Photonvps now, but you can get
75% off RECURRING with NVME
Free DirectAdmin/cPanel/Plesk with any NVME3 or higher plans!
Photonvps NVMe Optimized Cloud VPS Plans
| SSD Drive | Dedicated (MB) | CPU Cores | Disk Space (GB) | Bandwidth (GB) | Network | DDoS Protection | cPanel/Plesk | Price | |
| --- | --- | --- | --- | --- | --- | --- | --- | --- | --- |
| NVMe - X | 1024 | 1 | 30 | 2000 | 100 Mbps | 10 Gbps | N/A | $5.00 | |
| NVMe - 1 | 2048 | 1 | 60 | 4000 | 100 Mbps | 10 Gbps | $20/month* | $10.00 | |
| NVMe - 2 | 4096 | 2 | 80 | 8000 | 100 Mbps | 10 Gbps | $20/month* | $20.00 | |
| NVMe - 3 | 8192 | 2 | 160 | 16000 | 100 Mbps | 10 Gbps | Free* | $40.00 | |
| NVMe - 4 | 16390 | 4 | 320 | 32000 | 1 Gbps | 10 Gbps | Free* | $80.00 | |
| NVMe - 5 | 32768 | 4 | 640 | 64000 | 1 Gbps | 10 Gbps | Free* | $160.00 | |
Ping IP "104.149.18.203" From Texas, USA:

Starting PING to: 104.149.18.203
0.00s
$] ping -O -v -c8 -i0.2 -W5 104.149.18.203

PING 104.149.18.203 (104.149.18.203) 56(84) bytes of data.
0.00s
64 bytes from 104.149.18.203: icmp_seq=1 ttl=54 time=64.8 ms
64 bytes from 104.149.18.203: icmp_seq=2 ttl=54 time=64.9 ms
0.27s
64 bytes from 104.149.18.203: icmp_seq=3 ttl=54 time=64.7 ms
0.47s
64 bytes from 104.149.18.203: icmp_seq=4 ttl=54 time=65.8 ms
0.68s
64 bytes from 104.149.18.203: icmp_seq=5 ttl=54 time=64.8 ms
0.88s
64 bytes from 104.149.18.203: icmp_seq=6 ttl=54 time=64.8 ms
1.08s
64 bytes from 104.149.18.203: icmp_seq=7 ttl=54 time=64.8 ms
1.28s
64 bytes from 104.149.18.203: icmp_seq=8 ttl=54 time=64.9 ms
1.48s
--- 104.149.18.203 ping statistics ---
8 packets transmitted, 8 received, 0% packet loss, time 407ms
rtt min/avg/max/mdev = 64.749/64.941/65.782/0.408 ms
Ping complete
Virpus Review: Benchmark Testing

Node Name	IPv4 address	Download Speed
---------------------------------------------------------------------------
CacheFly	                205.234.175.175	106MB/s
Linode, Tokyo, JP	        139.162.65.37	8.34MB/s
Linode, London, UK	        176.58.107.39	7.72MB/s
Linode, Fremont, CA	        50.116.14.9	86.5MB/s
Softlayer, Seattle, WA		
Softlayer, Singapore, SG	119.81.28.170	8.31MB/s
Softlayer, HongKong, CN	        119.81.130.170	10.0MB/s
---------------------------------------------------------------------------