Get the latest LimitlessHosting promo codes / discount coupon codes and read our LimitlessHosting review with benchmark testing before buying. Limitless Hosting was found in 2016 by first providing the game server hosting. When the game servers went great, it was a time for expansion to company and to move to provide more digital services. In 2017, web hosting was introduced and the most common one and famous was the 50 cents per month web hosting. Now, Limitless Hosting still provides 50 cents per month web hosting along with other digital services.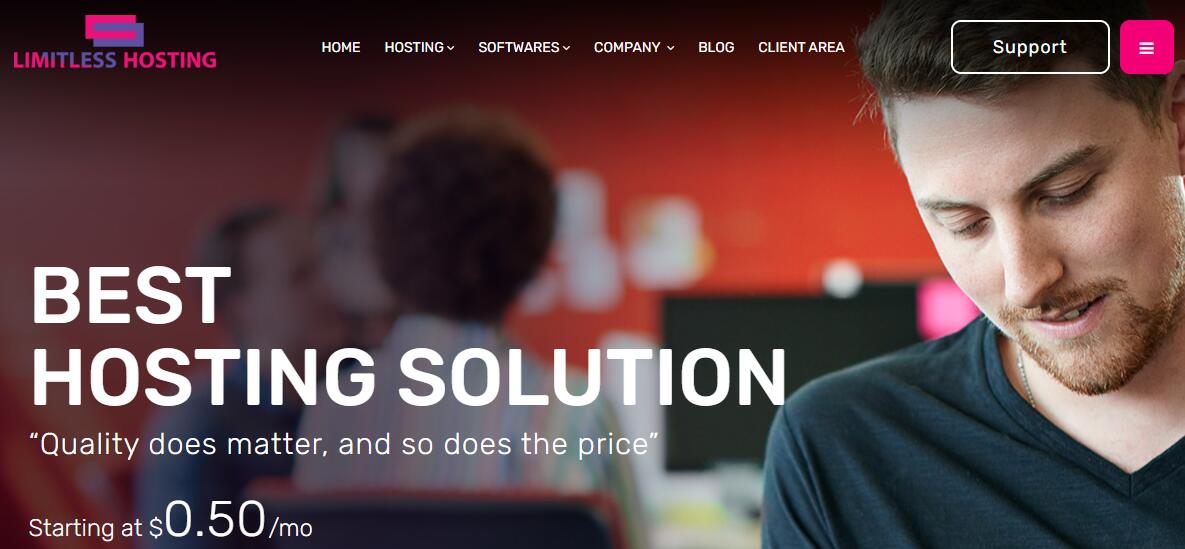 Overall Limitless Hosting Review
Hosting Service: Shared Hosting / Reseller Hosting / VPS Hosting
Datacenter Location: Nuremberg, Germany | Chicago, IL (US)
Payment Methods: Perfect Money, Skrill, 2Checkout (PayPal, Credit/Debit Card), Bitcoin
Refund Policy: 3 Day Money back guarantee, No refunds for PerfectMoney, No refunds for domain
Network Uptime: Limitless Hosting guarantees 99% uptime on all hosting plans
Customer Service: Live chat / Ticket System
TOS: Only legal contents or activities allowed!
Limitless Hosting Promo Codes / Discount Coupon Codes
KVMNVME1

Get promotion price $4/month for the KVM NVME 1 special offer below

KVMNVME2

Get promotion price $6/month for the KVM NVME 2 special offer below
Coupon Codes for Black Friday 2020 (Limited and Expire Soon)

KVMSTARTER, KVM1, KVM2, KVM3

Get promotion price for the same name VPS plans special offer below
Limitless Hosting AMD RYZEN NVMe VPS Hosting
KVM NVME Starter
0.5 CPU
512MB RAM
5GB NVME SSD
500 GB / 1Gbps
1 ipv4
Price: $3.5/month
KVM NVME 1
1 vCPU Core
1 GB RAM
10 GB RAID-10 SSD
1 x IPv4 + 3 x IPv6
1 TB Bandwidth
Price: $7.0/month
KVM NVME 2
2 vCPU Core
2 GB RAM
20 GB RAID-10 SSD
1 x IPv4 + 3 x IPv6
2 TB Bandwidth
Price: $10.0/month
KVM NVME 3
3 CPU
4GB RAM
40GB NVME SSD
4TB / 1Gbps
1 ipv4
Price: $20.0/month
LimitlessHosting Network Info
Ping IP "173.249.28.29" From Texas, USA:

Starting PING to: 173.249.28.29	0.00s
$] ping -O -v -c8 -i0.2 -W5 173.249.28.29

PING 173.249.28.29 (173.249.28.29) 56(84) bytes of data.	0.00s
64 bytes from 173.249.28.29: icmp_seq=1 ttl=51 time=109 ms	
64 bytes from 173.249.28.29: icmp_seq=2 ttl=51 time=109 ms	0.32s
64 bytes from 173.249.28.29: icmp_seq=3 ttl=51 time=109 ms	0.52s
64 bytes from 173.249.28.29: icmp_seq=4 ttl=51 time=109 ms	0.72s
64 bytes from 173.249.28.29: icmp_seq=5 ttl=51 time=109 ms	0.92s
64 bytes from 173.249.28.29: icmp_seq=6 ttl=51 time=111 ms	1.12s
no answer yet for icmp_seq=7	1.41s
1.63s
--- 173.249.28.29 ping statistics ---	
8 packets transmitted, 6 received, 25% packet loss, time 404ms	
rtt min/avg/max/mdev = 109.003/109.363/110.525/0.601 ms	
Ping complete
LimitlessHosting Review: Benchmark Testing

OS : CentOS 7.7.1908 (64 Bit)
Virt/Kernel : KVM / 3.10.0-1062.1.1.el7.x86_64
CPU Model : AMD Ryzen 5 3600 6-Core Processor
CPU Cores : 4 @ 3593.250 MHz x86_64 512 KB Cache
CPU Flags : AES-NI Enabled & VM-x/AMD-V Disabled
Load Average : 0.16, 0.05, 0.02
Total Space : 78G (1.4G ~2% used)
Total RAM : 7821 MB (108 MB + 294 MB Buff in use)
Total SWAP : 1022 MB (0 MB in use)
Uptime : 0 days 0:2
ASN & ISP : AS24940, Hetzner Online GmbH
Organization :
Location : Frankfurt am Main, Germany / DE
Region : Hesse
Geekbench v5 CPU Benchmark:
Single Core : 1244 (EXCELLENT)
Multi Core : 4282

IO Test
CPU Speed:
bzip2 : 142 MB/s
sha256 : 1.2 GB/s
md5sum : 618 MB/s

RAM Speed:
Avg. write : 3413.3 MB/s
Avg. read : 10888.5 MB/s

Disk Speed:
1st run : 563 MB/s
2nd run : 634 MB/s
3rd run : 635 MB/s
Average : 610.7 MB/s

Global Speedtest
Location Upload Download Ping
Nearby 358.50 Mbit/s 771.14 Mbit/s * 63.575 ms
USA, New York (Sprint) 116.27 Mbit/s 210.41 Mbit/s 101.447 ms
USA, Chicago (Windstream) 167.71 Mbit/s 126.39 Mbit/s 116.983 ms
USA, Dallas (Frontier) 109.55 Mbit/s 145.75 Mbit/s 145.509 ms
USA, Miami (Frontier) 113.98 Mbit/s 123.65 Mbit/s 131.900 ms
USA, Los Angeles (Spectrum) 120.88 Mbit/s 160.23 Mbit/s 163.505 ms
UK, London (toob Ltd) 132.53 Mbit/s 313.60 Mbit/s 31.070 ms
France, Lyon (SFR) 349.26 Mbit/s 467.03 Mbit/s 42.911 ms
Germany, Berlin (DNS:NET) 363.69 Mbit/s 396.18 Mbit/s 30.798 ms
Spain, Madrid (MasMovil) 335.22 Mbit/s 523.52 Mbit/s 47.635 ms
Italy, Rome (Unidata) 236.71 Mbit/s 345.89 Mbit/s 55.645 ms
Russia, Moscow (MTS) 66.56 Mbit/s 439.24 Mbit/s 39.037 ms
Israel, Haifa (013Netvision) 181.03 Mbit/s 216.64 Mbit/s 79.019 ms
India, New Delhi (GIGATEL) 15.54 Mbit/s 123.25 Mbit/s 170.869 ms
Singapore (FirstMedia) 44.27 Mbit/s 22.91 Mbit/s 205.572 ms
Japan, Tsukuba (SoftEther) 18.84 Mbit/s 58.33 Mbit/s 247.691 ms
Australia, Sydney (Optus) 13.30 Mbit/s 8.98 Mbit/s 400.766 ms
RSA, Randburg (Cool Ideas) 94.24 Mbit/s 245.84 Mbit/s 197.079 ms
Brazil, Sao Paulo (Criare) 11.41 Mbit/s 149.63 Mbit/s 206.858 ms
Finished in : 9 min 9 sec
Timestamp : 2020-08-05 12:48:33 GMT