Hostus was founded in 2012 as a Limited Liability Company operating out of Delaware, United States. HostUS offers a diverse selection of web hosting services ranging from low cost Shared cPanel hosting to VPSes to large dedicated servers. HostUS strives to provide quality web hosting services at affordable rates. With ten worldwide hosting locations, HostUS probably has a location to suit your needs.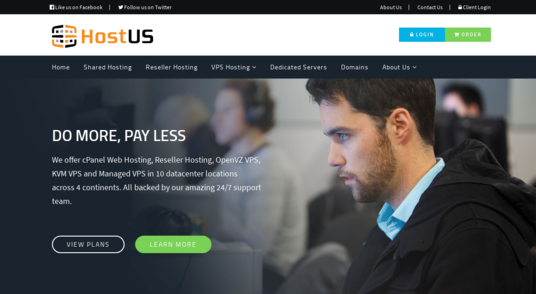 DataCenters: Atlanta, Charlotte, Dallas, Los Angeles, Washington, D.C., London, Amsterdam, Hong Kong, Sydney, Singapore.
Hostus launched their KVM VPS hosting packages in Singapore softlayer datacenter this year, and here are some special offers as well as coupon code available!
Hostus Coupon Code
:
VPS15OFF
P.S.: Only for normal KVM vps packages available on the official website!
Hostus KVM VPS Special Offer
Hostus Network Information
Hostus Looking Glass

Dallas, Texas Datacenter:
IPv4 Test Address: 104.128.239.2
IPv6 Test Address: 2602:ffc5:1f::14fd:d790
Speed Test Files: http://dal-lg.hostus.us/100MB.test
Looking Glass: http://dal-lg.hostus.us/Los Angeles, California Datacenter:
IPv4 Test Address: 216.189.149.3
IPv6 Test Address: 2602:ffc5:20::1:e257
Speed Test Files: http://la-lg.hostus.us/100MB.test
Looking Glass: http://la-lg.hostus.us/Singapore Datacenter:
IPv4 Test Address: 210.16.120.5
IPv6 Test Address: 2403:5680::1:8888
Speed Test Files: https://sgp-lg.hostus.us/100MB.test
Looking Glass: http://sgp-lg.hostus.us/




Starting PING to: 104.128.239.2	0.00s
$] ping -O -v -c8 -i0.2 -W5 104.128.239.2

PING 104.128.239.2 (104.128.239.2) 56(84) bytes of data.	0.00s
64 bytes from 104.128.239.2: icmp_seq=1 ttl=48 time=36.3 ms	
64 bytes from 104.128.239.2: icmp_seq=2 ttl=48 time=36.3 ms	0.24s
64 bytes from 104.128.239.2: icmp_seq=3 ttl=48 time=37.4 ms	0.44s
64 bytes from 104.128.239.2: icmp_seq=4 ttl=48 time=36.3 ms	0.64s
64 bytes from 104.128.239.2: icmp_seq=5 ttl=48 time=36.4 ms	0.84s
64 bytes from 104.128.239.2: icmp_seq=6 ttl=48 time=36.4 ms	1.04s
64 bytes from 104.128.239.2: icmp_seq=7 ttl=48 time=36.4 ms	1.24s
64 bytes from 104.128.239.2: icmp_seq=8 ttl=48 time=36.3 ms	1.45s
1.45s
--- 104.128.239.2 ping statistics ---	
8 packets transmitted, 8 received, 0% packet loss, time 406ms	
rtt min/avg/max/mdev = 36.274/36.478/37.366/0.411 ms	
Ping complete

Hostus Singapore 512M Bencmark

----------------------------------------------------------------------
CPU Model            : AMD Ryzen 9 3900X 12-Core Processor
CPU Cores            : 1 Cores 3792.878 MHz x86_64
CPU Cache            : 512 KB
OS                   : CentOS 7.8.2003 (64 Bit) KVM
Kernel               : 4.14.129-bbrplus
Total Space          : 3.2 GB / 15.0 GB
Total RAM            : 111 MB / 480 MB (142 MB Buff)
Total SWAP           : 0 MB / 1023 MB
Uptime               : 0 days 14 hour 7 min
Load Average         : 0.00, 0.00, 0.00
TCP CC               : bbrplus
ASN & ISP            : AS7489, HostUS
Organization         :
Location             : Queenstown Estate, Singapore / SG
Region               :
----------------------------------------------------------------------
I/O Speed( 1.0GB )   : 1.2 GB/s
I/O Speed( 1.0GB )   : 1.2 GB/s
I/O Speed( 1.0GB )   : 1.2 GB/s
Average I/O Speed    : 1228.8 MB/s
----------------------------------------------------------------------