FtpIt is a privately-held professional hosting company founded in Ohio, USA. They provide VPS hosting and dedicated servers mainly located in USA. For now they have 4 datacenter in Dallas, Fremont, Los Angeles and New York. The cheap OpenVZ VPS by FTPit got many positive reviews in the hosting communites.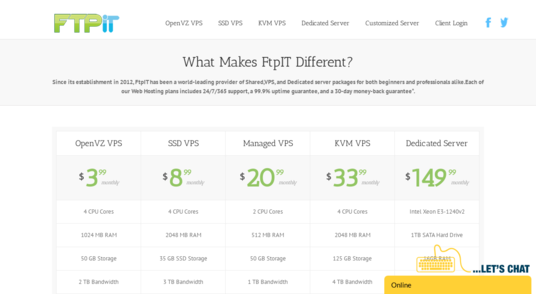 FTPit Summer Promotion Coupon Code
SUMMER
- get 50% discount on all OpenVZ HDD and SSD offers.
OpenVZ HDD Plans
| | | | | | | | | |
| --- | --- | --- | --- | --- | --- | --- | --- | --- |
| PLAN | RAM | CPU | HHD DISK | BANDWIDTH | IP V4 | OS | PRICE | LOCATION |
| OpenVZ HDD1 | 512 MB | 2 Cores | 30 GB | 1TB @ 1Gbps | 1 | OpenVZ/SolusVM | $1.99/mo | Link Here |
| OpenVZ HDD2 | 1 GB | 4 Cores | 50 GB | 2TB @ 1Gbps | 1 | OpenVZ/SolusVM | $3.99/mo | Link Here |
| OpenVZ HDD3 | 2 GB | 4 Cores | 80 GB | 3TB @ 1Gbps | 1 | OpenVZ/SolusVM | $6.99/mo | Link Here |
| OpenVZ HDD4 | 4 GB | 4 Cores | 140 GB | 4TB @ 1Gbps | 1 | OpenVZ/SolusVM | $13.99/mo | Link Here |
| OpenVZ HDD5 | 6 GB | 4 Cores | 200 GB | 4TB @ 1Gbps | 1 | OpenVZ/SolusVM | $20.99/mo | Link Here |
| OpenVZ HDD6 | 8 GB | 4 Cores | 260 GB | 4TB @ 1Gbps | 1 | OpenVZ/SolusVM | $27.99/mo | Link Here |
OpenVZ SSD Plans
| | | | | | | | | |
| --- | --- | --- | --- | --- | --- | --- | --- | --- |
| PLAN | RAM | CPU | SSD DISK | BANDWIDTH | IP V4 | OS | PRICE | LOCATION |
| OpenVZ SSD1 | 512 MB | 2 Cores | 10 GB | 1TB @ 1Gbps | 1 | OpenVZ/SolusVM | $2.99/mo | Link Here |
| OpenVZ SSD2 | 1 GB | 4 Cores | 20 GB | 2TB @ 1Gbps | 1 | OpenVZ/SolusVM | $4.99/mo | Link Here |
| OpenVZ SSD3 | 2 GB | 4 Cores | 35 GB | 3TB @ 1Gbps | 1 | OpenVZ/SolusVM | $8.99/mo | Link Here |
| OpenVZ SSD4 | 4 GB | 4 Cores | 60 GB | 4TB @ 1Gbps | 1 | OpenVZ/SolusVM | $16.99/mo | Link Here |
| OpenVZ SSD5 | 6 GB | 4 Cores | 75 GB | 4TB @ 1Gbps | 1 | OpenVZ/SolusVM | $24.99/mo | Link Here |
| OpenVZ SSD6 | 8 GB | 4 Cores | 160 GB | 4TB @ 1Gbps | 1 | OpenVZ/SolusVM | $32.99/mo | Link Here |
Ping Dallas IP "192.175.23.110" From Texas, USA:


Starting PING to: 192.175.23.110	0.00s
$] ping -O -v -c8 -i0.2 -W5 192.175.23.110

PING 192.175.23.110 (192.175.23.110) 56(84) bytes of data.	0.00s
64 bytes from 192.175.23.110: icmp_seq=1 ttl=55 time=46.6 ms	
64 bytes from 192.175.23.110: icmp_seq=2 ttl=55 time=46.7 ms	0.26s
64 bytes from 192.175.23.110: icmp_seq=3 ttl=55 time=46.6 ms	0.46s
64 bytes from 192.175.23.110: icmp_seq=4 ttl=55 time=46.6 ms	0.66s
64 bytes from 192.175.23.110: icmp_seq=5 ttl=55 time=49.8 ms	0.87s
64 bytes from 192.175.23.110: icmp_seq=6 ttl=55 time=46.5 ms	1.06s
64 bytes from 192.175.23.110: icmp_seq=7 ttl=55 time=46.7 ms	1.26s
64 bytes from 192.175.23.110: icmp_seq=8 ttl=55 time=46.6 ms	1.47s
--- 192.175.23.110 ping statistics ---	
8 packets transmitted, 8 received, 0% packet loss, time 408ms	
rtt min/avg/max/mdev = 46.544/47.014/49.787/1.076 ms	
Ping complete
FTPit VPS Hosting Benchmark
512M HDD VPS run benchmark by Chinese Customer