Digital-VM was founded in 2018, still a new hosting company so there is only a little infomation on the internet! They have vps infrastructure located in several areas around the world. If you are looking for an Asia Optimized VPS, Digital-VM is good choice since they have network located in Japand Singapore. Digital-VM is specialized in "exotic" locations, like Asia, UAE, South America.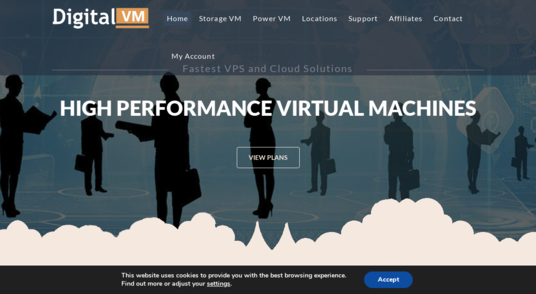 Digital-VM Summer Sale Coupon Code
summer40
- 40% Off for All VPS Quarterly, Semi-year and Annual Plans.
Power VM Plan
PLAN
RAM
CPU
SSD DISK
BANDWIDTH
IP V4
IP V6
PRICE
LOCATION
The coupon code can be applied for quaterly, semi-year, annual payment
Power VM 1
1 GB
2 Core
20 GB
UNMETERED @ 10 Gbps
1
/64
$9/mo, $92/year
Link Here
Power VM 2
2 GB
4 Cores
30 GB
UNMETERED @ 10 Gbps
1
/64
$19/mo, $194/year
Link Here
Power VM 3
4 GB
6 Cores
50 GB
UNMETERED @ 10 Gbps
3
/64
$34/mo, $347/year
Link Here
Power VM 4
8 GB
8 Cores
80 GB
UNMETERED @ 10 Gbps
5
/64
$54/mo, $551/year
Link Here
Storage VM Plan
PLAN
RAM
CPU
SSD DISK
BANDWIDTH
IP V4
IP V6
PRICE
LOCATION
The coupon code can be applied for quaterly, semi-year, annual payment
Storage VM 1
512 MB
1 Core
30 GB
5TB @ 1Gbps
1
/64
$4/mo, $41/year
Link Here
Storage VM 2
1 GB
1 Core
60 GB
5TB @ 1Gbps
1
/64
$9/mo, $92/year
Link Here
Storage VM 3
1.5 GB
2 Cores
100 GB
10TB @ 1Gbps
2
/64
$19/mo, $194/year
Link Here
Storage VM 4
2 GB
2 Cores
150 GB
10TB @ 1Gbps
3
/64
$29/mo, $296/year
Link Here
Ping Los Angeles "speed.la.us.digital-vm.com" From Texas, USA:

Starting PING to: speed.la.us.digital-vm.com	0.00s
Resolved IP address to: 38.95.108.12	
$] ping -O -v -c8 -i0.2 -W5 38.95.108.12

PING 38.95.108.12 (38.95.108.12) 56(84) bytes of data.	0.1s
64 bytes from 38.95.108.12: icmp_seq=1 ttl=54 time=63.6 ms	
64 bytes from 38.95.108.12: icmp_seq=2 ttl=54 time=62.6 ms	0.3s
64 bytes from 38.95.108.12: icmp_seq=3 ttl=54 time=62.7 ms	0.5s
64 bytes from 38.95.108.12: icmp_seq=4 ttl=54 time=62.6 ms	0.7s
64 bytes from 38.95.108.12: icmp_seq=5 ttl=54 time=62.6 ms	0.9s
64 bytes from 38.95.108.12: icmp_seq=6 ttl=54 time=62.6 ms	1.1s
64 bytes from 38.95.108.12: icmp_seq=7 ttl=54 time=62.7 ms	1.3s
64 bytes from 38.95.108.12: icmp_seq=8 ttl=54 time=62.6 ms	1.5s
--- 38.95.108.12 ping statistics ---	
8 packets transmitted, 8 received, 0% packet loss, time 408ms	
rtt min/avg/max/mdev = 62.575/62.744/63.601/0.410 ms	
Ping complete
1G Storage VPS Plan by @bench.sh
----------------------------------------------------------------------
 CPU Model            : QEMU Virtual CPU version 2.5+
 CPU Cores            : 1 Cores @ 2099.996 MHz x86_64
 CPU Cache            : 16384 KB 
 OS                   : CentOS 7.1.1503 (64 Bit) KVM
 Kernel               : 4.11.8-1.el7.elrepo.x86_64
 Total Space          : 1.7 GB / 30.0 GB 
 Total RAM            : 91 MB / 487 MB (355 MB Buff)
 Total SWAP           : 0 MB / 255 MB
 Uptime               : 23 days 15 hour 7 min
 Load Average         : 0.05, 0.04, 0.00
 TCP CC               : bbr
 ASN & ISP            : AS9009, M247 Ltd
 Organization         : Digital Virtualisation Solutions Los Angeles
 Location             : Los Angeles, United States / US
 Region               : California
----------------------------------------------------------------------
 I/O Speed( 1.0GB )   : 416 MB/s
 I/O Speed( 1.0GB )   : 660 MB/s
 I/O Speed( 1.0GB )   : 661 MB/s
 Average I/O Speed    : 579.0 MB/s
----------------------------------------------------------------------
 Node Name        Upload Speed      Download Speed      Latency     
 Speedtest.net    197.45 Mbit/s     678.96 Mbit/s       2.61 ms    
 Fast.com         0.00 Mbit/s       144.8 Mbit/s        -           
 Singapore, SG    67.31 Mbit/s      130.49 Mbit/s       -          
 Singapore, SG    17.29 Mbit/s      24.61 Mbit/s        -          
 London, UK       126.59 Mbit/s     60.29 Mbit/s        -          
 Frankfurt, DE    125.43 Mbit/s     56.26 Mbit/s        -          
 Frankfurt, DE    65.95 Mbit/s      34.00 Mbit/s        -          
 Fremont, CA      298.65 Mbit/s     377.42 Mbit/s       -          
 Fremont, CA      143.15 Mbit/s     407.71 Mbit/s       -          
 Dallas, TX       221.91 Mbit/s     479.89 Mbit/s       -          
 Seattle, WA      257.65 Mbit/s     315.03 Mbit/s       -          
 Seattle, WA      371.29 Mbit/s     324.13 Mbit/s       -          
 HongKong, CN     70.30 Mbit/s      73.80 Mbit/s        -          
 HongKong, CN     98.94 Mbit/s      44.95 Mbit/s        -          
 Atlanta, GA      189.07 Mbit/s     168.41 Mbit/s       -          
 San Jose, CA     2.08 Mbit/s       5.15 Mbit/s         -          
 Washington, WA   70.26 Mbit/s      97.84 Mbit/s        -          
 Paris, FR, WA    68.24 Mbit/s      47.39 Mbit/s        -          
 Paris, FR, WA    102.37 Mbit/s     150.54 Mbit/s       -          
----------------------------------------------------------------------
 Finished in  : 6 min 51 sec
 Timestamp    : 2020-02-24 08:15:17 GMT+8
 Results      : /root/superbench.log
----------------------------------------------------------------------