81VPS is still a new hosting company who providing the VPS and dedicated services located in Los Angeles psychz data center. They are now have a new offer on their KVM VPS lineup – including a great deal on a Windows KVM VPS with 2.5GB of RAM for just $4.99/month – a really excellent deal!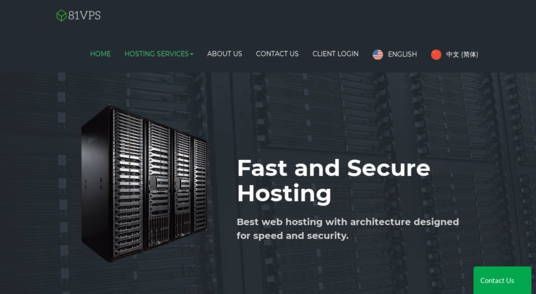 About 81VPS
81VPS provides a robust, reliable, and solid VPS platform that is built for developers, webmasters, business owners, ecommerce stores, and more. Our infrastructure is fully SSD powered with Dual Intel Xeon processors.

We take great responsibility in making sure that our clients succeed – our mantra since day one is that we only succeed as much as our clients succeed. Hundreds of 81VPS customers rely on our infrastructure for their living, so we take this very seriously. 81VPS is a full-time venture managed by a team of developers & entrepreneurs – you do not need to worry about incompetence or lack of dedication, as we do hosting for a living, not as a part time job. We welcome you to reach out to us at anytime, our team is strategically positioned to make sure that we are always available at any given time.

Payment: PayPal, Credit Cards and Alipay as payment methods.
Cheap 81VPS Offer
1.5GB KVM VPS
2.5GB KVM VPS (Free Windows)

1 CPU Cores
1.5 GB RAM
30 GB SSD Storage
1 TB Monthly Transfer
1000Mbps Network Port
20Gbps DDoS Protection
1x IPv4 Address
KVM & Virtualizor Panel

2 CPU Cores
2.5 GB RAM
50 GB SSD Storage
3 TB Monthly Transfer
1000Mbps Network Port
20Gbps DDoS Protection
1x IPv4 Address
KVM & Virtualizor Panel

$2.99/mo
$30.49/year

$4.99/mo
$50.89/year

Some Useful Coupon Codes
DOUBLEBW - Double Bandwidth from 100T to 200T
IPCHANGE - Free to change 1 IP every year
FREEMONTH - Free 1 month VPS
MORERAM - Free extra 512M RAM
MORESSD - Free extra 10G SSD
Flash Sale on KVM VPS
| | | | | | |
| --- | --- | --- | --- | --- | --- |
| RAM | CPU | SSD DISK | NETWORK | PRICE | LINK |
| 2GB | 2 Core | 50GB SSD | 100TB/Month | $5.00/Month | |
| 3GB | 3 Core | 70GB SSD | 100TB/Month | $6.00/Month | |
| 4GB | 4 Core | 80GB SSD | 100TB/Month | $8.00/Month | |
| 8GB | 4 Core | 120GB SSD | 100TB/Month | $15.00/Month | |
Special KVM VPS Semi-Annually Promos
| | | | | | |
| --- | --- | --- | --- | --- | --- |
| RAM | CPU | SSD DISK | NETWORK | PRICE | LINK |
| 1GB | 1 Core | 20GB SSD | 100TB/Month | $15.22/Semi-Annually | |
| 2GB | 2 Core | 30GB SSD | 100TB/Month | $28.88/Semi-Annually | |
| 4GB | 4 Core | 50GB SSD | 100TB/Month | $36.23/Semi-Annually | |
| 8GB | 4 Core | 100GB SSD | 100TB/Month | $78.22/Semi-Annually | |
Network Information:
NETWORK INFO:

Psychz Networks – Los Angeles, CA, USA
Test IPv4: 104.149.18.203
Test file: http://lg.lax.psychz.net/200MB.test

Host Node Specifications:

Dual Intel Xeon E5-2620 V2 CPU's
256GB RAM
8x 2TB SSD's
Hardware RAID10 w/ CVM
Dual Power Supply Server
Dual 1Gbps Uplink
PHP compile time	9m4s
Disk IO	275 MB/s write, 157 MB/s read, buffered reads 205 MB/s, cached reads 1165 MB/s
Network	458 Mbits/sec down, 456 Mbits/sec up to Fremont, CA
141 Mbits/sec down, 140 Mbits/sec up to Netherlands