LaunchVPS Founded in 2014 and based in the Philadelphia suburbs and offers performance optimized SSD virtual servers and web hosting solutions. Today's offer is for three different packages between 512MB RAM 3GB RAM KVM VPS hosted at their Philadelphia datacenter location.
We own our server and network hardware running in a secure Philadelphia datacenter consisting of Supermicro servers packed with fast ECC RAM, SSDs in ZFS RAID for ~1Gbps I/O, hexa-core Intel CPUs, and A+B power all linked to our multi-homed BGP redundant network. Additionally, our single inclusive control panel is fully functional including an HTML5 console, power options, boot options, snapshots, backups, template & ISO library, and usage graphs.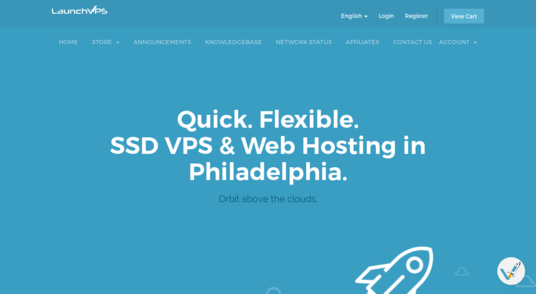 LaunchVPS KVM VPS Cheap Offer
Plans
CPU
RAM
DISK
BW
IPv4
IPv6
Virtualization
PRICE
LINK
512MB KVM VPS
1
512 MB
10 GB
512 GB
1
1
KVM/Proxmox
$5.95 /quarter or
$22.61 /year
ORDER
1.5GB KVM VPS
2
1.5 GB
30 GB
1 TB
1
1
KVM/Proxmox
$6.95 /month or
$45.03 /year
ORDER
3GB KVM VPS
2
3 GB
50 GB
2 TB
1
1
KVM/Proxmox
$5.95 /month or
$67.83 /year
ORDER
LaunchVPS 10% Off for Life Coupon Code for New Users:
104LIFE
NOTICE: The coupon code only for new users but can't applied to the speical offers above!
NETWORK

Network Info:

PHL1 – Philadelphia, PA USA
Test IPv4: 38.123.137.253
Test IPv6: 2001:550:1703:5::2
Test file: http://38.123.137.253/100.mb
Looking Glass: https://looking.house/point.php?id=205

Host Node:

2 x Intel E5 Xeon CPUs 2.4Ghz to 3.4 Ghz
128-256 GB ECC RAM
4 x 1 TB SSDs
ZFS RAID
1 Gbps Uplink

Ping test IP from Texas:

Starting PING to: 38.123.137.253	0.00s
$] ping -O -v -c8 -i0.2 -W5 38.123.137.253

PING 38.123.137.253 (38.123.137.253) 56(84) bytes of data.	0.00s
64 bytes from 38.123.137.253: icmp_seq=1 ttl=55 time=4.12 ms	0.01s
64 bytes from 38.123.137.253: icmp_seq=2 ttl=55 time=4.08 ms	0.21s
64 bytes from 38.123.137.253: icmp_seq=3 ttl=55 time=4.08 ms	0.41s
64 bytes from 38.123.137.253: icmp_seq=4 ttl=55 time=4.03 ms	0.61s
64 bytes from 38.123.137.253: icmp_seq=5 ttl=55 time=4.15 ms	0.81s
64 bytes from 38.123.137.253: icmp_seq=6 ttl=55 time=4.01 ms	1.01s
64 bytes from 38.123.137.253: icmp_seq=7 ttl=55 time=4.05 ms	1.22s
64 bytes from 38.123.137.253: icmp_seq=8 ttl=55 time=4.00 ms	1.42s
--- 38.123.137.253 ping statistics ---	
8 packets transmitted, 8 received, 0% packet loss, time 404ms	
rtt min/avg/max/mdev = 4.003/4.064/4.150/0.059 ms	
Ping complete


512M Plans by @YetAnotherBench in 03/2020
## ## ## ## ## ## ## ## ## ## ## ## ## ## ## ## ##
Yet-Another-Bench-Script
v2020-02-10
https://github.com/masonr/yet-another-bench-script
## ## ## ## ## ## ## ## ## ## ## ## ## ## ## ## ##
Thu Feb 13 02:05:33 EST 2020

Basic System Information:
Processor : Intel(R) Xeon(R) CPU E5-2637 v2 @ 3.50GHz
CPU cores : 1 @ 3499.996 MHz
AES-NI : ✔ Enabled
VM-x/AMD-V : ✔ Enabled
RAM : 492M
Swap : 999M
Disk : 9.8G

fio Disk Speed Tests (Mixed R/W 50/50):
Block Size	4kb (IOPS)	64kb (IOPS)
Read	59.16 MB/s (14.7k)	472.90 MB/s (7.3k)
Write	59.27 MB/s (14.8k)	475.39 MB/s (7.4k)
Total	118.43 MB/s (29.6k)	948.29 MB/s (14.8k)
Block Size	512kb (IOPS)	1mb (IOPS)
------	----- ----	--- ----
Read	769.15 MB/s (1.5k)	551.36 MB/s (538)
Write	810.02 MB/s (1.5k)	588.08 MB/s (574)
Total	1.57 GB/s (3.0k)	1.13 GB/s (1.1k)
iperf3 Network Speed Tests (IPv4):
Provider | Location (Link) | Send Speed | Recv Speed
| | |
Online.net | Paris, FR (10G) | 386 Mbits/sec | 483 Mbits/sec
WorldStream | The Netherlands (10G) | 363 Mbits/sec | 480 Mbits/sec
Hurricane Electric | Fremont, CA, US (10G) | busy | busy

Geekbench 5 Benchmark Test:
Test | Value
|
Single Core | 722
Multi Core | 711
Full Test | https://browser.geekbench.com/v5/cpu/1211630