HostSlick was found in 2011. In the beginning HostSlick offered WebHosting/VPS Services in various forum/board communities to only a small amount of users. Then run fully own Network in The Netherlands - AS208046 HostSlick from 2016. HostSlick provide Layer4 - 100Gbps Anti DDoS for their hositng plans, they also accept various payment methods, such as PayPal, Credit Card, Bitcoin, Mollie.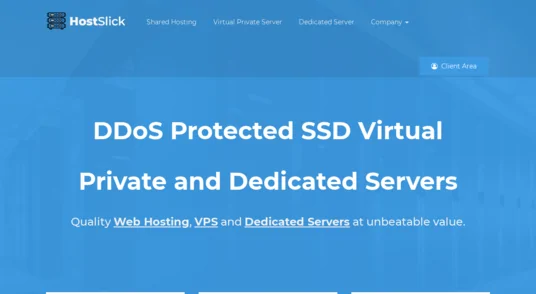 HostSlick Netherlands E5 Dedicated Servers Offer
High Quality Dedicated Servers in The Netherlands. High Specifications for great value of money. Perfect for your mission critical Business.
Premium Hardware by Hewlett Packard Enterprise. Serving you only with the best together with our own Network AS208046. All include Free complimentary 100Gbps Layer3/4 DDoS Protection. Network Equipment consists of market-leading Juniper and Cisco.
Anti-DDos: We utilize Corero SmartWall DDoS Protection to be able to mitigate up to 100Gbps of malicious traffic, guaranteeing your service to be online always!
E5-1650-V3-8GB-1x480SSD
E5-2640-V1-16GB-2x480SSD
E5-2620-V3-16GB-2x480GBSSD
Location – Lelystad, Netherlands

Intel Xeon E5-1650-V3 3.50Ghz
Cores/Threads – 6 Cores, 12 Threads
RAM – 8GB DDR4 ECC RAM
SSD/HDD – 480GB SSD
Port Speed – 1 Gbps
Bandwidth – 30TB
IP Addresse(s) – 1
KVM/Managment – Yes

Intel Xeon E5-2640-V1 2.50Ghz
Cores/Threads – 6 Cores, 12 Threads
RAM – 16GB DDR3 ECC RAM
SSD/HDD – 2x 480GB SSD
Port Speed – 1 Gbps
Bandwidth – 30TB
IP Addresse(s) – 1
KVM/Managment – Yes

Intel Xeon E5-2620-V3 2.40Ghz
Cores/Threads – 6 Cores, 12 Threads
RAM – 16GB DDR4 ECC RAM
SSD/HDD – 2x 480GB SSD
Port Speed – 1 Gbps
Bandwidth – 30TB
IP Addresse(s) – 1
KVM/Managment – Yes

Normal Price: 59€/month
Price: 44.99€/month recurring

Normal Price: 65€/month
Price: 55€/month recurring

Price: 65€/month recurring
COUPON: NYLPYLO454

ORDER HERE
ORDER HERE
ORDER HERE
What Makes HostSlick Different
Fastest SSDs with any Dedicated
Easy-to-use Control Panel which also allows our clients to re-sell Dedicated servers.
Wide range of Payment methods accepted
Complimentary 100Gbps Corero SmartWalls DDoS Protection with any Dedicated!
Additional IPs on request at anytime!
Own Hardware, Network. We are not resellers!
Network based on industry leading Juniper Equipment
All Dedicated servers include IPMI/ILO4/… Full control over your Server!
Support On-Site 24×7
Free IP Announcements (Have a IP range? We will announce it with NO FEE on our Router and ASN!)
| CPU | Cores/Clock | RAM | SSD/HD | Port/Bandwidth | Price | |
| --- | --- | --- | --- | --- | --- | --- |
| Intel Xeon E5-2643 | 4cores, 8 threads @3,30Ghz | 8GB DDR3 ECC | 480GB SSD | 1Gbps | 45€ / month | Config Here |
| Intel Xeon E5-1650-V3 | 6cores, 12 threads @3,50Ghz | 8GB DDR4 ECC | 480GB SSD | 1Gbps | 59€ / month | Config Here |
| Dual Intel Xeon L5640 | 6cores, 12 threads @2,27Ghz | 32GB DDR3 ECC | 2x1TB SSD | 1Gbps | 59€ / month | Config Here |
| Intel Xeon E5-2640 V1 | 6cores, 12 threads @2,40Ghz | 16GB DDR3 ECC | 2x480GB SSD | 1Gbps | 65€ / month | Config Here |
| Intel Xeon E5-2620 V3 | 6cores, 12 threads @2,40Ghz | 16GB DDR4 ECC | 2x480GB SSD | 1Gbps | 75€ / month | Config Here |
| Intel Xeon E5-2650 V2 | 8cores, 16 threads @2,60Ghz | 32GB DDR3 ECC | 2x1TB SSD | 1Gbps | 89€ / month | Config Here |
| Intel Xeon E5-2680 V3 | 12cores, 24 threads @2,50Ghz | 32GB DDR4 ECC | 2x1TB SSD | 1Gbps | 99€ / month | Config Here |
| 2x Intel Xeon E5-2650 V2 | 16cores, 32 threads @2,60Ghz | 64GB DDR3 ECC | 2x1TB SSD | 1Gbps | 119€ / month | Config Here |
| Intel Xeon E5-2680 V3 | 12cores, 24 threads @2,60Ghz | 64GB DDR4 ECC | 2x1TB SSD | 1Gbps | 119€ / month | Config Here |
| 2x Intel Xeon E5-2650 V2 | 16cores, 32 threads @2,60Ghz | 128GB DDR3 ECC | 2x1TB SSD | 1Gbps | 149€ / month | Config Here |
NETWORK

Datacenter: Cellnex Tower, Lelystad, Netherlands, Europe
Test IPv4: 5.253.86.28
Test file: http://5.253.86.28/100mb.testn


Ping test IP from Texas, USA:


Starting PING to: 5.253.86.28	0.00s
$] ping -O -v -c8 -i0.2 -W5 5.253.86.28

PING 5.253.86.28 (5.253.86.28) 56(84) bytes of data.	0.00s
64 bytes from 5.253.86.28: icmp_seq=1 ttl=54 time=79.2 ms	
64 bytes from 5.253.86.28: icmp_seq=2 ttl=54 time=78.9 ms	0.28s
64 bytes from 5.253.86.28: icmp_seq=3 ttl=54 time=78.10 ms	0.48s
64 bytes from 5.253.86.28: icmp_seq=4 ttl=54 time=79.1 ms	0.68s
64 bytes from 5.253.86.28: icmp_seq=5 ttl=54 time=78.8 ms	0.88s
64 bytes from 5.253.86.28: icmp_seq=6 ttl=54 time=78.9 ms	1.08s
64 bytes from 5.253.86.28: icmp_seq=7 ttl=54 time=79.1 ms	1.29s
64 bytes from 5.253.86.28: icmp_seq=8 ttl=54 time=78.10 ms	1.49s
--- 5.253.86.28 ping statistics ---	
8 packets transmitted, 8 received, 0% packet loss, time 404ms	
rtt min/avg/max/mdev = 78.826/79.001/79.198/0.334 ms	
Ping complete