Virmach is a very famous and respected cheap affordable VPS provider within the hosting community. VirMach specializes in providing extremely affordable VPS services for many applications and with various different specifications, located in multiple reliable datacenters. Virmach offers cheap Windows VPS plans as well as some of the cheapest Linux plans and dedicated servers, without sacrificing great support and uptime.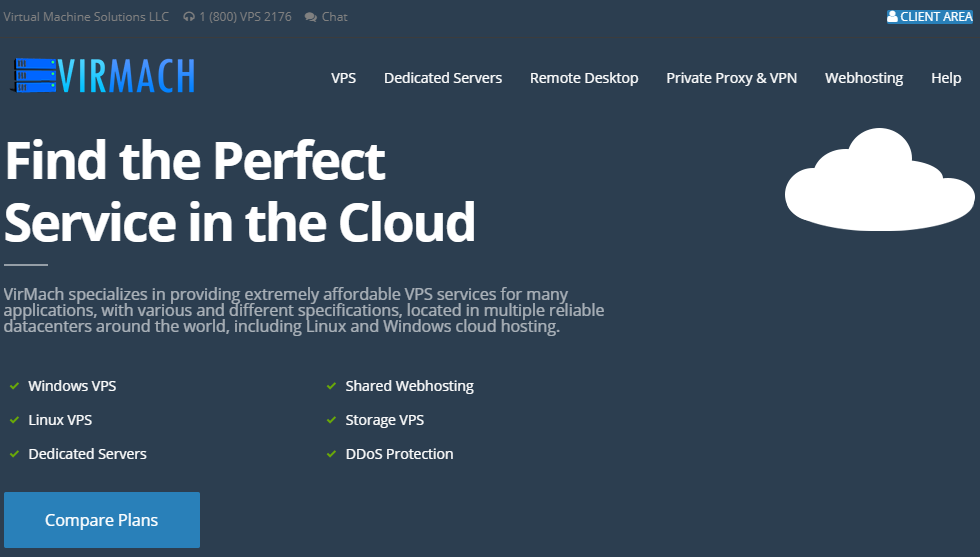 Eleven Available Cloud Locations: Buffalo, NY | Los Angeles, CA | Piscataway, NJ (NYC) | Chicago, IL | Dallas, TX | Frankfurt, DE | Atlanta, GA | San Jose, CA | Seattle, WA | Phoenix, AZ | Amsterdam, NL
VIRMACH Promo Coupon Codes 2020
Here we list some cheap packages from Virmach as well as the benchmark testing, ping speed testing data for you to choose!
KVM Lite Plans (All Cheap Plasn)
PLAN
RAM
CPU
SSD DISK
BANDWIDTH
IP V4
DDoS Protection
PRICE
LOCATION
Order annually to get 2 months of free
Micro+
192 MB
1 Core @ 1GHz
10 GB
250GB @ 1 Gbps
1
✔
$1.00/mo
Link Here
Value+
512 MB
1 Core @ 2GHz
20 GB
500GB @ 1 Gbps
2
✔
$2.25/mo
Link Here
Elite+
1 GB
2 Cores @ 2GHz
30GB
1000GB @ 1 Gbps
4
✔
$4.00/mo
Link Here
Pro+
2 GB
3 Cores @ 2GHz
50 GB
2000GB @ 1 Gbps
8
✔
$7.00/mo
Link Here
Enterprise+
8 GB
4 Cores @ 2 GHz
100 GB
3000GB @ 1 Gbps
16
✔
$12.00/mo
Link Here
Cheap KVM & SSD Windows VPS
PLAN
RAM
CPU
SSD DISK
BANDWIDTH
IP V4
OS
PRICE
LOCATION
Order annually to get 2 months of free
SSD1G
1 GB
1 Core
25 GB
1TB @ 1-10 Gbps
1
WINDOWS / Linux
$5.00/mo
Link Here
SSD2G
2 GB
2 Cores
40 GB
2TB @ 1-10 Gbps
1
WINDOWS / Linux
$10.00/mo
Link Here
SSD4G
4 GB
3 Cores
75 GB
4TB @ 1-10 Gbps
1
WINDOWS / Linux
$20.00/mo
Link Here
SSD8G
8 GB
4 Cores
100 GB
6TB @ 1-10 Gbps
1
WINDOWS / Linux
$40.00/mo
Link Here
SSD16G
16 GB
6 Cores
250 GB
8TB @ 1-10 Gbps
1
WINDOWS / Linux
$80.00/mo
Link Here
SSD32G
32 GB
8 Cores
500 GB
10TB @ 1-10 Gbps
1
WINDOWS / Linux
$160.00/mo
Link Here
Cheap Pre-configured Unmanaged Servers in New York
E3-HDLE3-1240/1270v1,2,3+4c/8t, 3.3GHz+16GB1x 1TB HDD10TB/1GbpsN/A5$79 $45/moLink Here
PAN
CPU
RAM
Disk
BW
Anti-DDoS
IPV4
Price
Location
Order annually to get 2 months of free
E3-SD
E3-1240v2/E3-1270+
4c/8t, 3.4GHz+
32GB
2x 120GB SSD
10TB/1Gbps
5Gbps
13

$117

$49/mo
Link Here
E3-HD
E3-1240v2/E3-1270+
4c/8t, 3.4GHz+
32GB
2x 1TB HDD
10TB/1Gbps
5Gbps
13

$117

$49/mo
Link Here
E3-SD+
E3-1240v2/E3-1270+
4c/8t, 3.4GHz+
32GB
1x 240GB SSD
10TB/1Gbps
5Gbps
13

$127

$49/mo
Link Here
E3-HD+
E3-1240v2/E3-1270+
4c/8t, 3.4GHz+
32GB
1x 2TB HDD
10TB/1Gbps
5Gbps
13

$127

$49/mo
Link Here
Ping Dallas IP 172.245.210.3 Test From Texas, USA:

Starting PING to: 172.245.210.3	0.00s
$] ping -O -v -c8 -i0.2 -W5 172.245.210.3

PING 172.245.210.3 (172.245.210.3) 56(84) bytes of data.	0.00s
64 bytes from 172.245.210.3: icmp_seq=1 ttl=52 time=42.0 ms	0.05s
64 bytes from 172.245.210.3: icmp_seq=2 ttl=52 time=42.9 ms	0.25s
64 bytes from 172.245.210.3: icmp_seq=3 ttl=52 time=41.9 ms	0.45s
64 bytes from 172.245.210.3: icmp_seq=4 ttl=52 time=42.1 ms	0.65s
64 bytes from 172.245.210.3: icmp_seq=5 ttl=52 time=41.10 ms	0.85s
64 bytes from 172.245.210.3: icmp_seq=6 ttl=52 time=46.8 ms	1.06s
64 bytes from 172.245.210.3: icmp_seq=7 ttl=52 time=42.10 ms	1.25s
64 bytes from 172.245.210.3: icmp_seq=8 ttl=52 time=43.0 ms	1.45s
--- 172.245.210.3 ping statistics ---	
8 packets transmitted, 8 received, 0% packet loss, time 405ms	
rtt min/avg/max/mdev = 41.859/42.958/46.817/1.531 ms	
Ping complete
Virmach Benchmark Data Collection
Black Friday Special Offer: 1C/1G/5G SSD/ by @ bench.sh
---------------------------------------------------------------------------
 OS           : CentOS 7.7.1908 (64 Bit)
 Virt/Kernel  : KVM / 5.4.2-1.el7.elrepo.x86_64
 CPU Model    : QEMU Virtual CPU version (cpu64-rhel6)
 CPU Cores    : 1 @ 2499.998 MHz x86_64 4096 KB Cache
 CPU Flags    : AES-NI Disabled & VM-x/AMD-V Disabled
 Load Average : 0.47, 0.14, 0.05
 Total Space  : 4.7G (2.2G ~48% used)
 Total RAM    : 984 MB (124 MB + 655 MB Buff in use)
 Total SWAP   : 255 MB (0 MB in use)
 Uptime       : 206 days 7:45
---------------------------------------------------------------------------
 ASN & ISP    : AS36352, ColoCrossing
 Organization : New Wave NetConnect, LLC
 Location     : Clarence Center, United States / US
 Region       : New York
---------------------------------------------------------------------------

 ## Geekbench v4 CPU Benchmark:

  Single Core : 1388  (POOR)
   Multi Core : 1391

 ## IO Test

 CPU Speed:
    bzip2     :  50.2 MB/s
   sha256     :  96.6 MB/s
   md5sum     : 265 MB/s

 RAM Speed:
   Avg. write : 1147.1 MB/s
   Avg. read  : 2594.1 MB/s

 Disk Speed:
   1st run    : 106 MB/s
   2nd run    : 130 MB/s
   3rd run    : 133 MB/s
   -----------------------
   Average    : 123.0 MB/s

 ## Global Speedtest

 Location                       Upload           Download         Ping   
---------------------------------------------------------------------------
 Nearby                         238.00 Mbit/s    198.26 Mbit/s    47.864 ms
---------------------------------------------------------------------------
 USA, New York (Sprint)         212.66 Mbit/s    202.08 Mbit/s    66.746 ms
 USA, Chicago (Windstream)      214.86 Mbit/s    181.93 Mbit/s    48.021 ms
 USA, Dallas (Frontier)         310.23 Mbit/s    319.13 Mbit/s    37.719 ms
 USA, Miami (Frontier)          221.10 Mbit/s    195.29 Mbit/s    68.009 ms
 USA, Los Angeles (Spectrum)    374.05 Mbit/s    334.10 Mbit/s    10.249 ms
 UK, London (toob Ltd)          21.80 Mbit/s     101.22 Mbit/s   137.172 ms
 France, Lyon (SFR)             70.35 Mbit/s     40.82 Mbit/s    149.426 ms
 Germany, Berlin (DNS:NET)      88.27 Mbit/s     73.22 Mbit/s    165.297 ms
 Spain, Madrid (MasMovil)       74.93 Mbit/s     13.78 Mbit/s    165.718 ms
 Italy, Rome (Unidata)          79.26 Mbit/s     68.13 Mbit/s    169.326 ms
 Russia, Moscow (MTS)           70.10 Mbit/s     69.66 Mbit/s    185.603 ms
 Israel, Haifa (013Netvision)   65.03 Mbit/s     53.47 Mbit/s    207.783 ms
 India, New Delhi (GIGATEL)     21.20 Mbit/s     67.01 Mbit/s    256.721 ms
 Singapore (FirstMedia)         67.10 Mbit/s     26.55 Mbit/s    166.643 ms
 Japan, Tsukuba (SoftEther)     128.01 Mbit/s    69.51 Mbit/s    109.169 ms
ping: s1.speedtest.syd.optusnet.com.au: Name or service not known
 RSA, Randburg (Cool Ideas)     12.74 Mbit/s     50.09 Mbit/s    307.349 ms
 Brazil, Sao Paulo (Criare)     59.40 Mbit/s     71.89 Mbit/s    197.543 ms
---------------------------------------------------------------------------

 Finished in : 15 min 41 sec
 Timestamp   : 2020-07-01 09:09:26 GMT
 Saved in    : /root/speedtest.log
Black Friday Special Offer: 2C/2G/30G SSD/ by @ bench.sh
----------------------------------------------------------------------
CPU model            : QEMU Virtual CPU version (cpu64-rhel6)
Number of cores      : 2
CPU frequency        : 2099.998 MHz
Total size of Disk   : 30.0 GB (1.7 GB Used)
Total amount of Mem  : 4419 MB (134 MB Used)
Total amount of Swap : 255 MB (0 MB Used)
System uptime        : 0 days, 0 hour 16 min
Load average         : 0.00, 0.02, 0.05
OS                   : CentOS 7.7.1908
Arch                 : x86_64 (64 Bit)
Kernel               : 3.10.0-1062.4.3.el7.x86_64
----------------------------------------------------------------------
I/O speed(1st run)   : 169 MB/s
I/O speed(2nd run)   : 345 MB/s
I/O speed(3rd run)   : 346 MB/s
Average I/O speed    : 286.7 MB/s
----------------------------------------------------------------------
Node Name                       IPv4 address            Download Speed
CacheFly                        205.234.175.175         48.8MB/s
Linode, Tokyo2, JP              139.162.65.37           3.32MB/s
Linode, Singapore, SG           139.162.23.4            3.04MB/s
Linode, London, UK              176.58.107.39           5.52MB/s
Linode, Frankfurt, DE           139.162.130.8           7.48MB/s
Linode, Fremont, CA             50.116.14.9             7.02MB/s
Softlayer, Dallas, TX           173.192.68.18           27.6MB/s
Softlayer, Seattle, WA          67.228.112.250          17.4MB/s
Softlayer, Frankfurt, DE        159.122.69.4            5.22MB/s
Softlayer, Singapore, SG        119.81.28.170           5.00MB/s
Softlayer, HongKong, CN         119.81.130.170          5.83MB/s
----------------------------------------------------------------------
New Year Special Offer: 2C/1G/40G SSD/ by @ bench.sh in China
----------------------------------------------------------------------
 CPU Model            : QEMU Virtual CPU version (cpu64-rhel6)
 CPU Cores            : 2 Cores @ 2199.998 MHz x86_64
 CPU Cache            : 4096 KB 
 OS                   : CentOS 7.6.1810 (64 Bit) KVM
 Kernel               : 4.14.91-bbrplus
 Total Space          : 3.9 GB / 37.0 GB 
 Total RAM            : 635 MB / 3001 MB (136 MB Buff)
 Total SWAP           : 0 MB / 3071 MB
 Uptime               : 2 days 3 hour 59 min
 Load Average         : 0.30, 0.22, 0.38
 TCP CC               : bbrplus
 ASN & ISP            : AS36352, ColoCrossing
 Organization         : Virtual Machine Solutions LLC
 Location             : Los Angeles, United States / US
 Region               : California
----------------------------------------------------------------------
 I/O Speed( 1.0GB )   : 200 MB/s
 I/O Speed( 1.0GB )   : 179 MB/s
 I/O Speed( 1.0GB )   : 172 MB/s
 Average I/O Speed    : 183.7 MB/s
----------------------------------------------------------------------
 Node Name        Upload Speed      Download Speed      Latency     
 Speedtest.net    214.74 Mbit/s     252.93 Mbit/s       (*) 90.072 ms
 Fast.com         0.00 Mbit/s       193.7 Mbit/s        -           
 Nanjing   CT     6.07 Mbit/s       19.44 Mbit/s        -          
 Xiangyang CT     13.15 Mbit/s      112.00 Mbit/s       -          
 Hangzhou  CT     11.04 Mbit/s      12.55 Mbit/s        -          
 Chongqing CT     2.96 Mbit/s       5.34 Mbit/s         -          
 Shanghai  CU     6.16 Mbit/s       16.65 Mbit/s        -          
 Xi'an     CU     3.95 Mbit/s       3.35 Mbit/s         -          
 Chongqing CU     2.45 Mbit/s       5.79 Mbit/s         -          
 Chengdu   CM     2.57 Mbit/s       0.95 Mbit/s         -          
 Kunming   CM     0.96 Mbit/s       2.35 Mbit/s         -          
Black Friday Offer: E3-HDL Dedicated Server in LA by @ superbench.sh in China
----------------------------------------------------------------------
Superbench.sh -- https://www.oldking.net/350.html
Mode  : Standard    Version : 1.1.6
Usage : wget -qO- git.io/superbench.sh | bash
----------------------------------------------------------------------
CPU Model            : Intel(R) Xeon(R) CPU E3-1241 v3 [url=home.php?mod=space&uid=175]@[/url] 3.50GHz
CPU Cores            : 8 Cores 3500.136 MHz x86_64
CPU Cache            : 8192 KB
OS                   : CentOS 7.7.1908 (64 Bit) Dedicated
Kernel               : 3.10.0-514.26.1.el7.x86_64
Total Space          : 1.9 GB / 901.2 GB
Total RAM            : 244 MB / 15845 MB (1807 MB Buff)
Total SWAP           : 0 MB / 16382 MB
Uptime               : 1 days 15 hour 49 min
Load Average         : 1.12, 1.03, 0.56
TCP CC               : cubic
ASN & ISP            : AS36352, ColoCrossing
Organization         : Virtual Machine Solutions LLC
Location             : Los Angeles, United States / US
Region               : California
----------------------------------------------------------------------
I/O Speed( 1.0GB )   : 124 MB/s
I/O Speed( 1.0GB )   : 122 MB/s
I/O Speed( 1.0GB )   : 118 MB/s
Average I/O Speed    : 121.3 MB/s
----------------------------------------------------------------------
Node Name        Upload Speed      Download Speed      Latency     
Speedtest.net    280.48 Mbit/s     462.73 Mbit/s       (*) 69.842 ms
Fast.com         0.00 Mbit/s       178.7 Mbit/s        -           
Beijing 5G   CT  7.56 Mbit/s       22.36 Mbit/s        -         
Nanjing 5G   CT  5.73 Mbit/s       175.99 Mbit/s       -         
Hefei 5G     CT  7.40 Mbit/s       68.06 Mbit/s        -         
Guangzhou 5G CT  4.75 Mbit/s       4.01 Mbit/s         -         
TianJin 5G   CU  0.71 Mbit/s       31.77 Mbit/s        -         
Shanghai 5G  CU  0.85 Mbit/s       2.98 Mbit/s         -         
Guangzhou 5G CU  0.42 Mbit/s       17.59 Mbit/s        -         
Tianjin 5G   CM  0.37 Mbit/s       10.49 Mbit/s        -         
Wuxi 5G      CM  1.47 Mbit/s       9.73 Mbit/s         -         
Nanjing 5G   CM  5.11 Mbit/s       40.31 Mbit/s        -         
Hefei 5G     CM  3.63 Mbit/s       76.01 Mbit/s        -         
Changsha 5G  CM  0.37 Mbit/s       186.57 Mbit/s       -         
----------------------------------------------------------------------
Finished in  : 6 min 31 sec
Timestamp    : 2019-12-02 10:55:50 GMT+8
Results      : /root/superbench.log
----------------------------------------------------------------------