Get thew latest HostEONS Promo Code & Review for their multi VPS hosting plans. HostEONS is a registered hosting provider in Singapore and provides hosting services in USA and many other countries. HostEONS provides various hosting services include KVM and OpenVZ VPS using Pure SSD RAID 10, shared hosting and dedicated servers.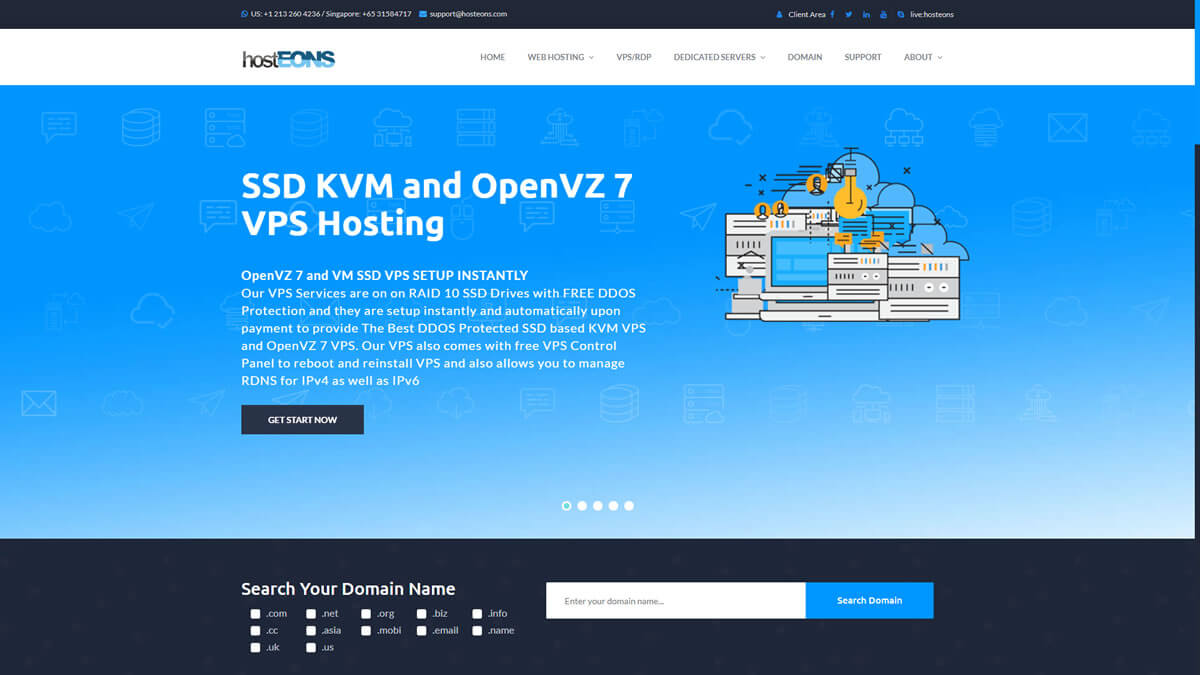 Some Features of VPS plans from HostEONS
1) All VPS plans comes with free DDOS Protection
2) Free Direct Admin License. Use coupon code "DA" in the order form to get free Direct Admin License
3) Free Blesta License. Submit a support ticket to get Blesta activated for free
4) Free Windows 2019 License with KVM VPS-3 and above packages on annual billing cycles.
HostEONS Promo Coupon Codes 2020 (All Recurring Discount)
| | |
| --- | --- |
| RECURR50 | 50% OFF recurring discount on annual billing cycles for OVZ1 - OVZ7 VPS Plans Only! (Annual billing gives additional 25% discount) |
| RECURR20 | 20% OFF on all billing cycles EXCEPT 256MB and 512 MB OVZ and 256 MB KVM VPS (Annual billing gives additional 25% discount) |
| DOUBLERAM | DOUBLE RAM, use this coupon code when checking then submit a ticket to DOUBLE your VPS RAM |
| DOUBLEDISK | DOUBLE SSD Disk Space, use this coupon code when checking then submit a ticket to DOUBLE your Disk Space (SSD RAID 10) |
| UPGRADE | Upgrade your VPS plan to next level for FREE! Use this coupon code when checking then submit a ticket to upgrade your plan for FREE! |
| DA | Free Direct Admin License - Use this code when checking and get a free Direct Admin License |
HostEONS OpenVZ VPS Plans (100Mbps Port)
| PLAN | CPU | RAM | vSWAP | SSD DISK | BANDWIDTH | IP V4/V6 | COUPON | PRICE | LOCATION |
| --- | --- | --- | --- | --- | --- | --- | --- | --- | --- |
| OVZ256 MB | 1 vCPU | 256 MB | 256 MB | 5 GB | Unmetered @ 100Mbps | 1 / /64 | NO | $12/year | LA ||| NY |
| OVZ512 MB | 1 vCPU | 512 MB | 256 MB | 10 GB | Unmetered @ 100Mbps | 1 / /64 | NO | $18/year | LA ||| NY |
| OVZ 1 | 1 vCPU | 1 G | 512 MB | 30 GB | Unmetered @ 100Mbps | 1 / /64 | YES | $2.4/mo | LA ||| NY |
| OVZ 2 | 2 vCPU | 2 G | 1024 MB | 50 GB | Unmetered @ 100Mbps | 1 / /64 | YES | $4.8/mo | LA ||| NY |
| OVZ 3 | 2 vCPU | 4 G | 2048 MB | 60 GB | Unmetered @ 100Mbps | 1 / /64 | YES | $9.6/mo | LA ||| NY |
| OVZ 4 | 2 vCPU | 6 G | 3072 MB | 80 GB | Unmetered @ 100Mbps | 1 / /64 | YES | $14.4/mo | LA ||| NY |
| OVZ 5 | 2 vCPU | 8 G | 4096 MB | 100 GB | Unmetered @ 100Mbps | 1 / /64 | YES | $19.2/mo | LA ||| NY |
| OVZ 6 | 2 vCPU | 16 G | 8192 MB | 150 GB | Unmetered @ 100Mbps | 1 / /64 | YES | $28.8/mo | LA ||| NY |
| OVZ 7 | 4 vCPU | 24 G | 8192 MB | 200 GB | Unmetered @ 100Mbps | 1 / /64 | YES | $40/mo | LA ||| NY |
HostEONS KVM SSD VPS Plans (100Mbps)
| PLAN | CPU | RAM | SSD DISK | BANDWIDTH | IP V4/V6 | COUPON | PRICE | LOCATION |
| --- | --- | --- | --- | --- | --- | --- | --- | --- |
| 256 MB | 1 vCPU | 256 MB | 5 GB | Unmetered @ 100Mbps | 1 / /64 | NO | $21 / year | LA ||| NY |
| KVM 1 | 1 vCPU | 512 MB | 5 GB | Unmetered @ 100Mbps | 1 / /64 | YES | $2.4 / mo | LA ||| NY |
| KVM 2 | 2 vCPU | 1 G | 10 GB | Unmetered @ 100Mbps | 1 / /64 | YES | $3.2 / mo | LA ||| NY |
| KVM 3 | 2 vCPU | 1.5 G | 15 GB | Unmetered @ 100Mbps | 1 / /64 | YES | $4.0 / mo | LA ||| NY |
| KVM 4 | 2 vCPU | 2 G | 20 GB | Unmetered @ 100Mbps | 1 / /64 | YES | $5.6 / mo | LA ||| NY |
| KVM 5 | 3 vCPU | 4 G | 30 GB | Unmetered @ 100Mbps | 1 / /64 | YES | $8.0 / mo | LA ||| NY |
| KVM 6 | 4 vCPU | 6 G | 50 GB | Unmetered @ 100Mbps | 1 / /64 | YES | $16 / mo | LA ||| NY |
| KVM 7 | 6 vCPU | 8 G | 100 GB | Unmetered @ 100Mbps | 1 / /64 | YES | $24 / mo | LA ||| NY |
| CUSTOM | 1 - 6 | 512 - 12G | 5 - 200 GB | Unmetered @ 100Mbps | 1-30 / /64 | YES | from $3.01/mo | LA ||| NY |
HostEONS Gigabit Port KVM SSD VPS Plans
PLAN
CPU
RAM
SSD DISK
BANDWIDTH
IP V4/V6
COUPON
PRICE
LOCATION
G-KVM 1
1 vCPU
512 MB
10 GB
500GB @ Gigabit
1 / /64
NO
$21/year
LA ||| NY
G-KVM 2
2 vCPU
1 G
15 GB
1TB @ Gigabit
1 / /64
YES
$3.2 / mo
LA ||| NY
G-KVM 3
2 vCPU
1.5 G
20 GB
2TB @ Gigabit
1 / /64
YES
$4.0 / mo
LA ||| NY
G-KVM 4
2 vCPU
2 G
30 GB
3TB @ Gigabit
1 / /64
YES
$4.8 / mo
LA ||| NY
G-KVM 5
3 vCPU
3 G
40 GB
4TB @ Gigabit
2 / /64
YES
$5.6 / mo
LA ||| NY
G-KVM 6
3 vCPU
4 G
50 GB
5TB @ Gigabit
2 / /64
YES
$8.0 / mo
LA ||| NY
G-KVM 7
4 vCPU
6 G
70 GB
6TB @ Gigabit
2 / /64
YES
$16 / mo
LA ||| NY
G-KVM 8
6 vCPU
8 G
100 GB
7TB @ Gigabit
4 / /64
YES
$24 / mo
LA ||| NY
G-KVM 9
8 vCPU
12 G
150 GB
8TB @ Gigabit
4 / /64
YES
$40 / mo
LA ||| NY
G-KVM 10
10 vCPU
16 G
200 GB
10TB @ Gigabit
6 / /64
YES
$60 / mo
LA ||| NY
Ping IP "103.114.160.9" From Texas, USA:

Starting PING to: 103.114.160.9	0.00s
$] ping -O -v -c8 -i0.2 -W5 103.114.160.9

PING 103.114.160.9 (103.114.160.9) 56(84) bytes of data.	0.00s
64 bytes from 103.114.160.9: icmp_seq=1 ttl=51 time=72.3 ms	
64 bytes from 103.114.160.9: icmp_seq=2 ttl=51 time=73.2 ms	0.28s
64 bytes from 103.114.160.9: icmp_seq=3 ttl=51 time=72.3 ms	0.48s
64 bytes from 103.114.160.9: icmp_seq=4 ttl=51 time=75.2 ms	0.68s
64 bytes from 103.114.160.9: icmp_seq=5 ttl=51 time=75.0 ms	0.88s
64 bytes from 103.114.160.9: icmp_seq=6 ttl=51 time=74.9 ms	1.08s
64 bytes from 103.114.160.9: icmp_seq=7 ttl=51 time=72.7 ms	1.28s
64 bytes from 103.114.160.9: icmp_seq=8 ttl=51 time=76.3 ms	1.49s
--- 103.114.160.9 ping statistics ---	
8 packets transmitted, 8 received, 0% packet loss, time 405ms	
rtt min/avg/max/mdev = 72.276/73.982/76.304/1.465 ms	
Ping complete
HostEONS Reciew Benchmarks
NY OVZ-1GB Benchmarks
# ## ## ## ## ## ## ## ## ## ## ## ## ## ## ## ## ## #
#              Yet-Another-Bench-Script              #
#                     v2020-02-10                    #
# https://github.com/masonr/yet-another-bench-script #
# ## ## ## ## ## ## ## ## ## ## ## ## ## ## ## ## ## #

Wed Apr 22 23:10:33 EDT 2020

Basic System Information:
---------------------------------
Processor  : Intel(R) Xeon(R) CPU E5-2650 v2 @ 2.60GHz
CPU cores  : 1 @ 3130.187 MHz
AES-NI     : ✔ Enabled
VM-x/AMD-V : ✔ Enabled
RAM        : 1.0G
Swap       : 512M
Disk       : 30G

fio Disk Speed Tests (Mixed R/W 50/50):
---------------------------------
Block Size | 4kb           (IOPS) | 64kb          (IOPS)
  ------   | ---            ----  | ----           ----
Read       | 43.95 MB/s   (10.9k) | 226.05 MB/s   (3.5k)
Write      | 44.02 MB/s   (11.0k) | 227.24 MB/s   (3.5k)
Total      | 87.97 MB/s   (21.9k) | 453.29 MB/s   (7.0k)
           |                      |
Block Size | 512kb         (IOPS) | 1mb           (IOPS)
  ------   | -----          ----  | ---            ----
Read       | 273.73 MB/s    (534) | 282.43 MB/s    (275)
Write      | 288.27 MB/s    (563) | 301.24 MB/s    (294)
Total      | 562.01 MB/s   (1.0k) | 583.67 MB/s    (569)

Geekbench 4 Benchmark Test:
---------------------------------
Test            | Value
                |
Single Core     | 3316
Multi Core      | 3160
Full Test       | https://browser.geekbench.com/v4/cpu/15424545

Geekbench 5 Benchmark Test:
---------------------------------
Test            | Value
                |
Single Core     | 772
Multi Core      | 766
Full Test       | https://browser.geekbench.com/v5/cpu/1886401